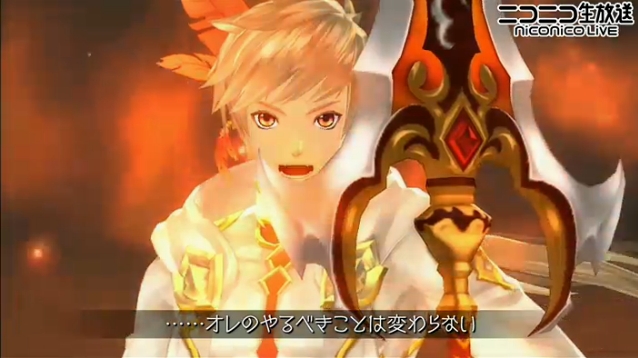 We've got a barrage of great info for Tales of Zestiria from Day 1 of Tales of Festival 2014! We've got two trailers, one featuring the animated cutscenes by ufotable, the artist for the theme song, a new character which seems to be a villain, a TV anime special, and even figures!
First off, the first new trailer!
New Trailer
This new trailer features some scenes from the game, along with a new character, battle scenes, a feature that seems to be a fusion between humans and the Divine, a glimpse of
what seems to be Lyla's Mystic Arte
. It also shows that Alicia apparently gains the ability to see some of the Divine (at least, she sees Mikulio) by forming a contract with Slay - in a similar fashion Slay forms a contract with the Divine or the Divine forms contracts with another Divine.
New Character: Zabida
The new character is named
Zabida
( ????,
zabiida
), voiced by Kenjiro Tsuda and is designed by Iwamoto. From the looks of how he's presented in the trailers, most believe him to be a villain of some sort.
Theme Song
The game's theme song will be sung by artist
Superfly
.
Battle System - Kamui

A new battle system feature called Kamui ( ??, literally God/Spirit Form) was also announced, wherein a human and a Divine can fuse together. What happens is that the character changes appearance, and is then able to use the Divine's attributes. As you can see in the screenshots, we have Slay fuse together with Lyla, giving him a new appearance, as well as her powers. That seems to be the main purpose of the character portraits being paired up in battle. Perhaps we'll even get to see Alicia and Mikulio in Kamui mode.
Skits

Skits are also back. Zestiria makes use of the full body skits like in Graces, and also uses cut-ins for dramatic effect.
Animated Cutscenes Trailer?
Later, a short trailer featuring animation by ufotable was also shown. As of the moment, it is being debated whether this trailer is showcasing the
animated cutscenes in-game
, or...
Zestiria TV Anime Special
...It could be a trailer to the announced
Tales of Zestiria - Dawn of the Priest
TV anime special by ufotable. The special (which we assume is just an episode, maybe) will be aired via a special broadcast prior to the game's release. You can also check out screenshots of the shown animated cutscenes
here
.
Slay and Alicia Figures
Bamco Japan also announced that
Slay and Alicia 1/8 scale figures
are already in production. Prototypes were shown on display during TalesFes. The Slay figure will be made by
Kotobukiya
, while the Alicia figure will be by
Alter
.
Others
The first of the
monthly Tales of Zestiria live streams on Nico Nico Douga
will be on June 20, at 8pm Japan time.
And of course, there's already a planned Tales of Zestiria collaboration with Namco's Namja Town.
After that barrage of news, it seems Tales of Zestiria is shaping up to be a pretty swell game.
For tomorrow, most of the info will be about Reve Unitia and the recently released mobile games (Tales of Asteria, Tales of Link)