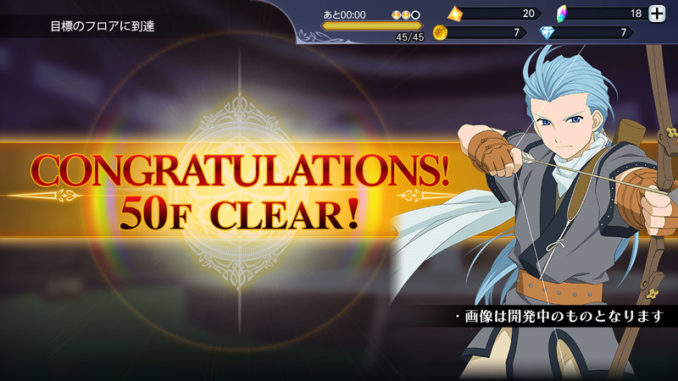 Producer Yanagisawa talks about July's events, Version 2.5.0 and Tales of the Rays Theater.

More information about some anticipated features!

♦Thanks to Justlol from the Tales of the Rays Discord for the translation. Everything quoted was translated by her!
You can check the original post, in japanese, here.
Hello to everyone enjoying Tales of the Rays.
This is Producer Yanagisawa.
Even though it's a little late, thank you for your hard work on Tales of Festival 2018.
Casually, every year I look forward to when everyone watches the opening ceremony.

During that time, everyone keeps calling the names of the characters, that's how much they love the Tales Of crew. To be able to feel that kind of tension and warm up was amazing!
A new work in development for consoles was also announced. The timing of that surprise announcement made me shiver in anticipation for more news!

With all that said, allow me to introduce the schedule for the future as usual.

◆ Future Updates ◆

First, with the 2.4.0 update, users of Android devices had a lot of trouble. We are very sorry.
Even though it was a little delayed, the staff really wanted you to enjoy the event "Raid: Barbatos Goetia".
In version 2.5.0, the long-awaited "Event Reissue function" will be implemented.
If you've missed past events, sometimes when progressing through the main story, you might wonder "How did this character join them!?" It's happening, everyone. Sorry about the wait.

With this, the promised implementation of the function we talked about on the live broadcast has come true.
I want to keep up this kind of commitment.
Of course, there are other new features and adjustments to existing ones that I will introduce.
■ Event Reissue
Players will be able to reissue past events, so no one has do rely on the event schedules!
Note that only some events will be available at first.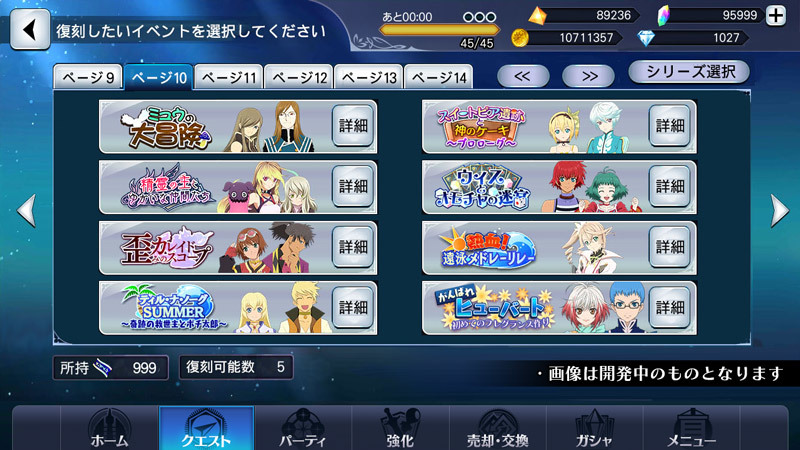 This is the headliner of this update.
Although the exact usage is still in review, it should follow along these rules.
♦Event has been reissued as a lite version
♦After a fixed period of time, the reissued lite event will be added to the Event Reissue function
♦The content will be the same as the reissued lite version ※The quest mission rewards will be modified.
♦Tickets may need to be purchased to use reissues
♦Reissued events and their limited gacha will be open for 10 days.
♦Initially, regardless of the above rule, some events will be added as soon as the reissue is ready.
■ Tower of Ancient Progenitors Changes
Floors 50~60 will now be Extra Stages! Floors up to 50 will continue as they are.
51~60F will become EXTRA STAGE. They will not contribute toward clear count.
They will be high difficulty stages intended for all you true pros.
Since usually regular pros can complete up to 50F, those who think they are true pros can take on the stages from 51F onward.
Also, as long as we're making changes, we added a little special touch. With this update, 51F and up will be more difficult than ever before. Come! Prove your worth as a challenger!
(By the way, I'm just a regular pro because I stopped at 59F. Anyone who can clear 60F is amazing!)
■ New Mirrage Borders
Since now there's so many Mirrage types, they're giving different borders for each type!
At first I didn't consider that we'd have all this variety, but we can't help but want to live up to their cool names! (They're all mirrages! But if they all have the same name it's kind of sad, right?)
---
■ Version 2.5.0 by Late July
Also, although there is an update planned for August, the main purpose will be to improve existing functionality instead of adding new features. Furthermore, development is progressing on the "Room" feature promised in the live broadcast. I hope to be able to announce more about it soon.
■ July Schedule
- As announced at the Tales of Festival 2018, Shirley and Chloe from Tales of Legendia will be joining the game as part of this year's Summer Event! Part 1 scheduled for mid-July.
Well then, swimsuits! The sea and water were represented in various forms in the work that these two are from, and they will make their introduction in the summer swimsuit event.
This time, Shirley and Chloe's swimsuits are a new design. Of course, they'll be able to wear them. Please look forward to it, kyu!!
■ Mithos joins in Mirrage Prison's Chapter 7, plus Kocis Overray Mirrage
Mithos was the boss of the first Capture Battle event, and now joins in as a chapter character. Kocis finally takes off his eyepatch in his new Overray Mirrage!
The censored parts of the raid event (■■■■■■■■) will also be revealed.
I can't tell you too much about the scenario, but there will be a turning point as we approach the middle of Season 2. Don't miss it!
■ Gaius and Muzét join!
As previously showed in July's character trailer, Gaius and Muzét from Tales of Xillia 2 will join the roster this month! They're scheduled to be on Summer Event Part 2 by late July.
His Majesty and Muzet will join together!
So, these two are from Tales of Xillia 2. However, Jude joined from the first Tales of Xillia. It'll be interesting to see. Please look forward to it!
Yesterday I saw the swimsuit models for these two, they really are something. (Especially His Majesty's muscles!)
The swimsuit events are ready to be held in July! However, in the game industry, summer is August, and the summer heat lingers until September.
Compared to last year, there's much more planned to come for Rays' hot summer.
In August and September, some anticipated characters are planned to join, as well as various surprises and events that I can't talk about. Look forward to it!

■ Tales of the Rays Theater Info
With about two weeks until the Tales of the Rays Theater stream at Nico Nico Douga, as announced before, Producer Yanagisawa talks more about it and that's all for the Producer's Note Vol.16!
Also, soon, the details of "Tales of the Rays Theatre" will be released! There will be a 24-hour broadcast and live cast special.
I was able to contribute some things to the script, it was really fun to participate!
It was a surreal anime where Ickx faces all sorts of industry, but became a work studded with Tales Of references and overflowing with love. I think finding all the small references is going to be fun!
(The amount of detail the staff put into the characters' portrayal and the small references are amazing!)

Thank you for continuing to play Tales of the Rays.
Production Producer Yanagisawa
Tales of the Rays

Tales of the Rays
is a Tales mobile game for the iOS and Android featuring characters designed by Hidenori Matsuraba and a new ADF-LMBS (Advanced Flick Linear Motion Battle System). The game tells the story of hero Ix Nieves and heroine Mileena Weiss in the world of Tir Na Nog. Characters from the previous Tales titles appear in this game. The game initially had an English version, but was short-lived and now currently runs exclusively in Japan.