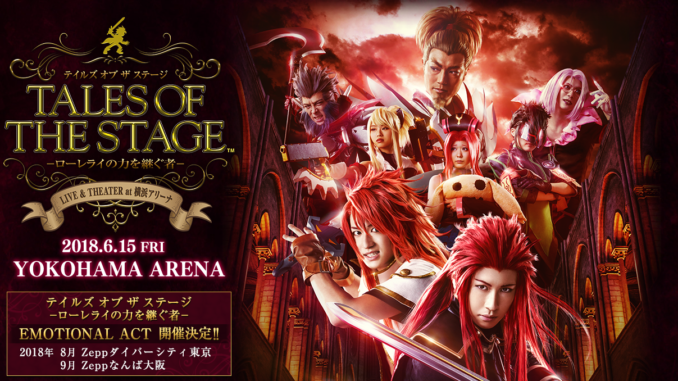 Tales of the Stage -Those Who Inherit the Power of Lorelei- is a stage play that will center on Asch the Bloody, and will unveil a new story that has never been told before.
It will be performed in Yokohama Arena on June 15, 2018, with the following confirmed as the cast:
Yuya Arai as Asch the Bloody
Kota Iwaki as Luke fon Fabre
Fuyuna Asakura as Natalia Luzu Kimlasca-Lanvaldear
Sena as Tear Grants
Ryoji as Van Grants
Saki Takahashi as Sync the Tempest/Ion
Yukima Saito as Legretta the Quick
Asami Okamoto as Arietta the Wild
Orito Kasahara as Dist the Reaper
Eiji Moriyama as Largo the Black Lion
Chihiro Kai as Anise Tatlin
Reo Kawamura as Guy Cecil
Mio Hanana as Noir
Kensuke Uchida as Mohs
Irie Oropa and Tetsuharu will still be in charge of the screenplay and direction/choreography respectively, as with the previous stage play.
Also confirmed as special guests for the June 15 showing are Chihiro Suzuki (voice of Luke fon Fabre) and Takehito Koyasu (voice of Jade Curtiss). Koyasu will be participating in the stage play as Jade's voice.
In addition to the stage play on the 15th, performances called "Emotional Act" have also been confirmed. It will focus on the main scenario and promises a "profound story" and a "close stage" which the audience can appreciate. It is also emphasized to be different from the showing in Yokohama Arena, which will have the audience interactions, subevents, talk shows, and two stages.
The performances will be sometime on August in Zepp Diver City in Tokyo, and September in Zepp Namba in Osaka. A PV has also been released for this performance, integrated with the official PV for this stage play.
Tales of the Stage -Last Score- also got a Bluray release, scheduled on June 6, 2018. It will include footage from the Tokyo and Osaka performances and some behind the scenes material, totaling 218 minutes. There is also a bonus DVD featuring a tutorial for Master Van's dance.
A promotional video for the Bluray can be found here:
Tales of the Abyss

Tales of the Abyss
is the eighth mothership title of the series initially released for the PlayStation 2 in Japan in the same year as
Tales of Legendia
. It is the Tales of Series 10th Anniversary title. The game was later ported to the Nintendo 3DS and was adapted into a
26-episode TV anime
by Sunrise. Abyss tells the story of Luke, a young noble whose life turns upside down upon meeting a mysterious girl named Tear. The game appears to be influenced by musical themes.