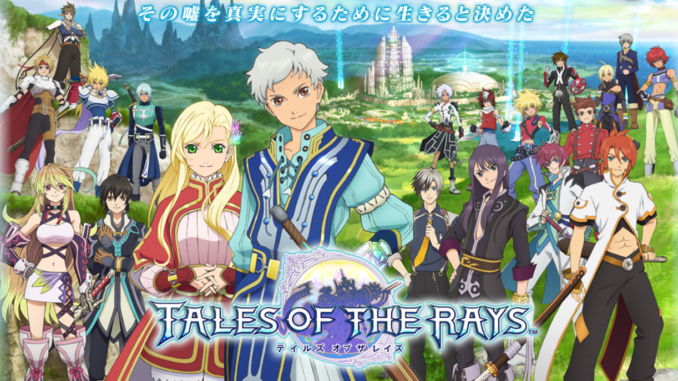 The official Tales of the Rays website was updated with a new key visual revealing all of the lead protagonists from the Mothership titles (minus Velvet Crowe from Tales of Berseria) & the lead protagonists from Tales of the Tempest and Tales of Symphonia: Dawn of the New World as well.
It is nice to see almost every major Tales of game will be represented in this title. This visual is also the featured image at the Kotobukiya Akihabara Store in Tokyo:
【テイルズ オブ ザ レイズ】コトブキヤ秋葉原館、大阪日本橋店の店頭看板に新キービジュアルが出現!本日より掲出しておりますので、立ち寄った際は記念撮影&拡散していただけると嬉しいです。※写真は秋葉原館の様子です。https://t.co/MEi9RHXJWU #ザレイズ pic.twitter.com/ksjjGPyZQG

— テイルズチャンネル+ (@tales_ch) January 20, 2017
Tales of the Rays
Tales of the Rays
is an upcoming Tales mobile game for the iOS and Android featuring characters designed by Hidenori Matsuraba and a new ADF-LMBS (Advanced Flick Linear Motion Battle System). The game tells the story of hero Icks Neve and heroine Mileena Weiss in the world of Tir Na Nog. Characters from the previous Tales titles appear in this game.