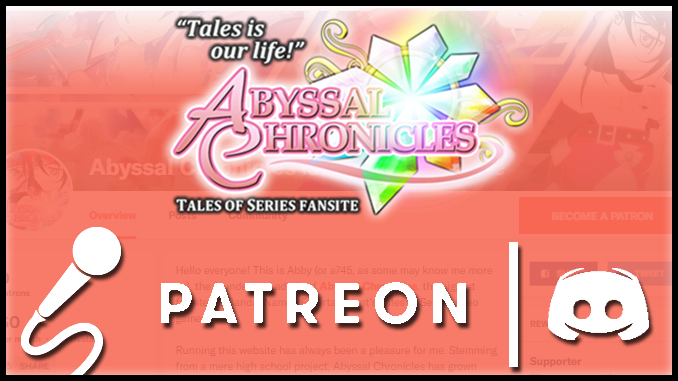 Hey guys! a745 here! I'm sorry that the Patreon's been pretty dead. Been busy with work and offline and all. It's taking us a while to readjust everything in the Patreon, but we'll hopefully get things rolling again with these new updates.
Without further ado, here are the few changes we expect.
1.) AC Radio - AC Radio schedule will be moved to monthly. We have one backlogged episode to be released next weekend, and new episodes will start pouring out from then. We hope to bring more guests into the show, too! As usual, patrons get podcasts one week before the public does.
2.) New Patron Tiers - Starting today, we've adjusted the tiers for our patrons to give more benefits for everyone. The most basic, $3, also had more features added. The new tier design follows that of the order of hierarchy in Tales of Berseria's Abbey, with the most basic tier being Orderly, and in the future up to the Shepherd, but we haven't really thought of any benefits for that yet.
Basic Tier - Orderly - $3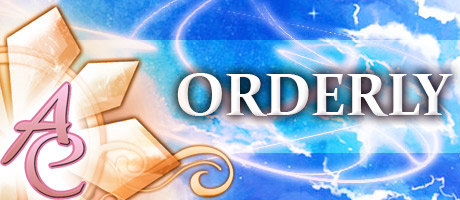 As an Orderly, you will have the following benefits:
Early access to AC Podcasts that are related to the Tales series a week before they're released to the public.

At this time, we only have one show: AC Radio.

Patrons get a chance to have give input and answers to the monthly "AC Weigh-In" column on the main site.
You will have access to the AC Patron role on our AC Discord server.
Level II Tier - Primus Praetor - $6
As a Primus Praetor, you will have all the benefits of an Orderly, plus the following:
Be included in the AC Patron Quarterly Giveaway for Tales merchandise exclusive to Primus Praetors and up (may be an actual game, merchandise, collectibles, etc.)

Shipping will be covered by AC. Winners are required to give their real name, telephone number and address for shipping purposes.
*IF YOU ARE A PATRON WHO IS PLEDGING $6 AND ABOVE BUT IS STILL UNDER ORDERLY, PLEASE READJUST YOUR PLEDGE TO PRIMUS TO AVAIL OF THE BENEFITS.
Level III - Consul Praetor - $9
As a Consul Praetor, you will have all the benefits of an Orderly and a Primus Praetor, plus the following:
Be able to submit opinion pieces/articles written by you to be published on AC under your name!

This new column will be called "Letters from the Abbey". We will have, at maximum, one (1) patron post per month. This may be adjusted in the future depending on how many entries we have.
A Consul Praetor may choose to submit one article/opinion piece maximum every 2 months. This will be reviewed by the staff. If greenlit, we will have it scheduled for publishing.
Please read the guidelines on the main site for submitting patron pieces.
*IF YOU ARE A PATRON WHO IS PLEDGING $9 AND ABOVE BUT IS STILL UNDER ORDERLY, PLEASE READJUST YOUR PLEDGE TO CONSUL TO AVAIL OF THE BENEFITS.
We also have the following tiers in the future, but we're still working out the benefits for them.
3.) AC Weigh-in - Starting next month, Patrons will also have access to our monthly AC Weigh-in column where originally, the staff gives their opinion on various matters about the Tales series. Their answers will also be included in the monthly article. Should there come a time when we have too many respondents, then Patrons will have their own exclusive article per month, too.
4.) Primus Quarterly Giveaways - All patrons Primus Praetor and up are eligible for quarterly merchandise giveaways which we will start this June. The giveaway can range from small collectibles to full on games, depending on the AC budget. Of course, all of these will be exclusively from AC and our AC budget and will not include those prizes Bandai Namco gives us for the fans - those are for everyone. Every quarter, we will automatically pick a winner from the Primus Praetors and up together with what prize they got. Winners are required to give their full name, address and contact number to get the prize, but should they choose to do so, they may also opt to not get their prize. In that event, we'll do another draw for another Patron.
5.) Letters from the Abbey - All Consul Praetors are eligible to submit an opinion piece or article about just about anything Tales related, provided they follow certain rules. These will be published monthly on AC under this column for everyone to read. Each Consul is allowed to submit one article every 2 months to avoid clutter. Of course, this is all voluntary - if the Consuls do not want to submit anything, then they can also do so. Submissions need to follow certain guidelines, as well. Please read them here.
We'll hopefully get everything rolling slowly within the next couple of months. We would like to warmly give our gratitude to all of our Patrons who still stuck it out with us during this quiet time. Rest assured that we'll get AC moving back to how it was before. Looking forward to Tales of Festival 2019!