The AC staff talk about Tales of Vesperia: Definitive Edition and the announcements from Tales of Festival 2018.
A lot has happened this month in terms of news and announcements, such as Tales of Vesperia: Definitive Edition announced at E3, and the confirmation of a new Tales of title at Tales of Festival 2018 among other minor announcements at the event.
For this edition of AC Weigh-In, we have:
a745
Head Admin,
Site Designer,
Founder
PanbanRichard
Admin,
Back-End Support, 
AC Radio Host
DimensionSlip
News Writer,
Content Writer, 
AC Radio Co-Host
Flamzeron
News Writer
Caphi
News Writer,
Content Writer
Grace
Content Writer
8ro
News Writer, 
Mobile Reporter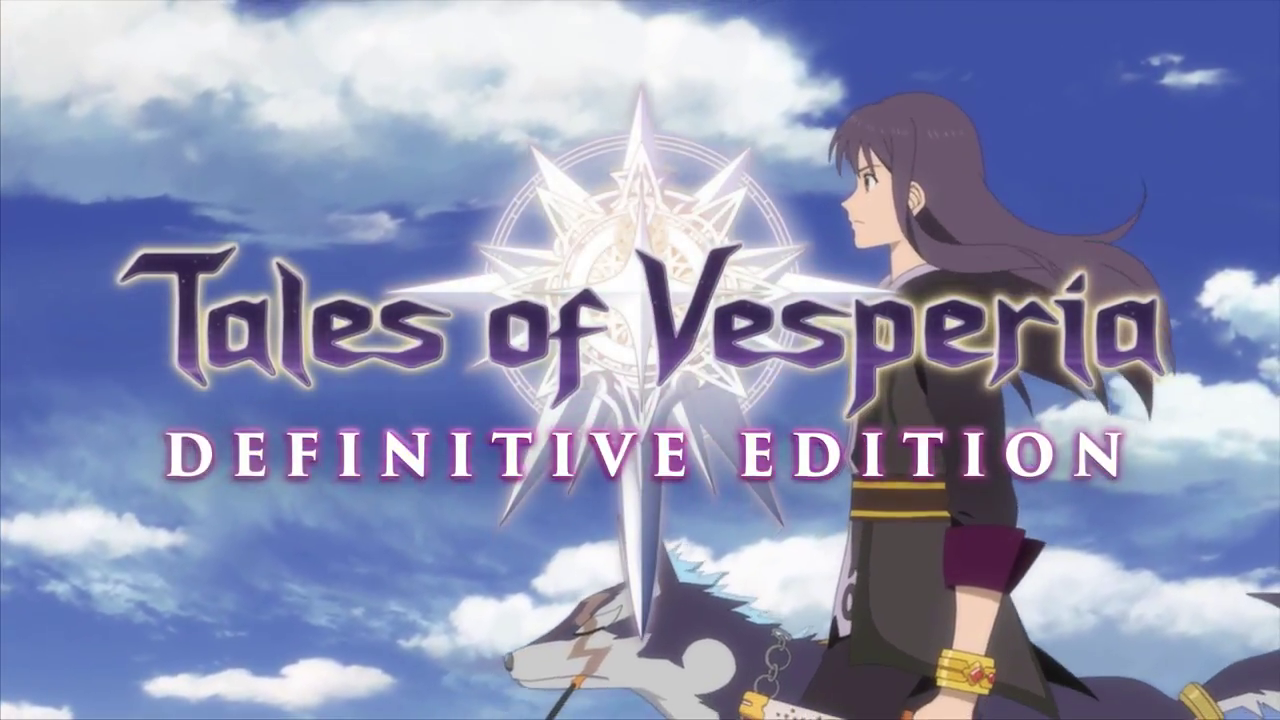 What do you think of the Tales of Vesperia: Definitive Edition announcement and which platform would you buy it for?
a745

This is honestly a great move from Bandai Namco, not just for the Western offices but for the Japan office, too, which usually has been so uptight with the multiplatform scene. I've seen nothing but good reactions about the multiplatform decision and I truly hope this will broaden the scope of fans for Tales. I'll probably get the PC edition for myself though, as this is probably the only thing I'll be able to play at work lol.

PanbanRichard

I'm still amazed that this was the game that got announced at an E3 conference by Microsoft, a Western company. The Tales of franchise has had an intriguing direction news-wise since 2015, and I'm happy to see major news stories for the franchise being revealed first in the West. We've gone a long way from still images/short clips at previous E3s to this announcement.

While I'm not the biggest fan of Vesperia, I'm still astounded by the amount of influence this game has over the West, even going as far as hearing people at a local Gamestop/EB Games casually talk about it. It was a smart marketing decision by Bandai Namco at the end of the day, and it got the West buzzing after the whole Rays localization, which definitely had some leftover sour grapes in the Western fandom. I'll most likely be getting all versions eventually--except for the Xbox One--but at launch? Probably getting both the PS4 & Switch versions.

DimensionSlip

I'm definitely happy and excited for all Vesperia fans, who have been clamoring for PS3 Vesperia for such a long time. Steam would be my go-to for it, in any case.

Flamzeron

I'm excited for it! I think most people were expecting it, myself included, so I'm very happy to see it come true. I'm also pleased that western players will be able to enjoy the content from the PS3 version in English. My only concern is the how the DLC will be handled, but I think that it it will work out well. I plan to get the game on PS4, though I can be persuaded to get the Switch version, especially if any amiibo are announced.

Caphi

I feel like I bet against long odds and lost in an upset. Vesperia PS3 getting localized was long to begin with. Getting on PC felt like winning the lottery. Getting on EVERYTHING seemed like nothing short of a genie wish.

I'm happy for everybody, really.

I played most of Vesperia PS3 back when it price dropped during the Zestiria buildup, so it's probably long enough to play it again and finish. Probably on Switch, the best form factor for a console. Doubly so if I knew someone who would co-op.

Grace

I was excited when I heard the news. Out of the Tales games that released in the West, Vesperia was the only one I did not play due to the lack of an Xbox. Now that they announced it, I'm very stoked to start an adventure that I have yet to start. Though, I can't decide if I want PS4 or Switch version.

8ro

It's such a big announcement (at least for the West), I'm kind of surprised by it being announced at E3 and not at TalesFes. Now everyone can calm down a little~ As for me, finally I'll be able to play it.

I'll probably get it on Steam.

With the short tease of a new Tales of game in development at Tales of Festival 2018, are you fine with it or did you expect more?
a745

We were all honestly not expecting that new game announcement at the end of the festival. I wasn't really expecting more info - which is good. They're still working on it, or perhaps just starting it. I want Bamco to take their time on the game. They have this knack for rushing their games with awesome features but sometimes questionable execution, so I'm hoping they'd perfect this game more.

PanbanRichard

To be honest? This was the tease that I expected last year, though I suppose some time was required since then to figure out what to do with the franchise. At the very least, it definitely assuaged my concerns for the series moving forward as its current focus is on Tales of Vesperia: Definitive Edition.

With that said, I do not expect there to be any more information about this title until after Vesperia: Definitive Edition is released.

DimensionSlip

More information is always good, but as it is, I'm fine with the tease. I think it's logical for Bamco to focus first on promoting the Vesperia Remaster, and polishing the new game before releasing more information about it.

Flamzeron

Truth be told, although I'm glad to have knowledge that a new game is coming, I would have preferred an announcement with a little more to show. I would have been happy with simple background art, like what was done for Tales of Xillia. Based on what was shown at the festival, it's very clear to me that we're still quite a ways away from seeing this new game in full.

Caphi

I half-joked about someone announcing "we're working on a new one" and nothing else at the very end of Day 2, and it literally happened. For now, I think it's sufficient to know that Tales has a pulse and is not all phone games and parties, but I'd still look out for at least one more detail by December 15th.

Grace

I wanted more, but I was fine with the fact that they announced something. I guess the footage will be shown Tokyo Game Show (TGS) later this year.

8ro

Eh. I was expecting a lot from this TalesFes, they actually let me down a bit. They better show something about the new game at Tokyo Game Show, I don't think the mobages and Vesperia R will keep the fans satisfied much longer.

Any other announcements from Tales of Festival 2018 that caught your eye?
a745

The usual same old collaborations and mobile news was at the Festival, so nothing really caught my eye. Maybe the new Tales of Homeroom shorts were of note, though I wish they wouldn't make it exclusive to Asobi Store premium members.

PanbanRichard

I'm not too big into the anime announcements personally (even though a lot of people understandably are), but I am happy to see the current games featured for Orchestra 2018. After recently playing through Symphonia again, I was reminded of how great that game's soundtrack was, and I'll be looking forward to seeing some tracks orchestrated.

I haven't played through Hearts R yet, but songs I'd like to hear this year include On the Hill the Night (Symphonia), I'll Go (Dawn), Around the World (Vesperia), and of course, the guilty pleasure that is Fury Sparks (Vesperia).

DimensionSlip

The Tales of Orchestra Concert character choices were interesting, which is to say I'm glad Bamco has not forgotten about Hearts and Dawn's anniversaries.

Flamzeron

The new anime announcements have me intrigued. I personally love the idea of a comedy series featured around the Tales series, so I'm glad something like that is being developed.

Caphi

We do have a remake and a new game in the oven, but... Asteria and Rays will throw an event at the drop of a hat, there are now two mini-anime (one revealed at Fest), and who knows how much budget that voice actor houseboat thing has.

What I'm saying is, a worrying amount of the brand is about selling nostalgia for itself (including Fest and the shop, both of which I visited). Laughing at in-jokes is fine - I've had enough yelling "It's not my fault!" for a lifetime, frankly - but I'm more excited to look forward to the Tales we're here for.

Grace

Honestly, the Tales of Orchestra announcement caught my eye mainly because of the picture of the characters in formal outfits with instruments. It's a very pretty picture. Attending a game soundtrack concert is in one of my bucket lists. I hope that I'll be able to earn money to attend one, regardless of franchise.

8ro

Well, as a Rays player, it was nice to see the final results for the character poll (too bad Mao and Eugene didn't win) and the announce of the next playable villain being Barbatos~

What are your overall impressions of Tales of Festival 2018 and of the event's future?
a745

This is my first Festival though, and it was much more enjoyable than I'd anticipated. Lines are crazy and the arena really does get full. It was so fun to see the entirety of Shin-Yokohama running around with Tales fans with their bags studded with pins and charms of their favorite characters - all gathered in one place. The event is truly an experience, and seeing all the voice actors together was such a treat. The concert at the end makes it so much worth it, too. I'm truly hoping the Festivals will continue and I hope to be able to attend in the future.

PanbanRichard

From what I've heard of people's experiences at Tales of Festival this year, it always seems like a fun event to experience with other fans of the franchise. Kind of like my assessment of Aselia Con, except it's an event officially held by Bandai Namco themselves, which I hope to go myself someday. However, what I've noticed as a fan who has followed Tales of Festival since its inception in 2008, is that there is less focus on major news announcements and more emphasis on the skits/performances in recent years.

Don't get me wrong, if that's what the event is going to transform into, then... Alright. As long as we still have some kind of avenue for main franchise announcements, which appears to be slowly shifting toward the West, then I'm fine with whatever Tales of Festival becomes in the future.

DimensionSlip

It was definitely a lot of fun this year, and I'm glad I came to see the birth of a new meme. Looking forward to whatever announcements Bamco has in store for us in the future. Namaste Osu!

Flamzeron

They didn't show any articulated action figures, so I'm a bit disappointed. Though I guess that's a good thing since I'm running out of room for all my figures...

Caphi

2018 was my first Tales of Festival and I loved it. I went partly because of our current content drought, and I got quenched, but not quite how I expected. Yes, the "announcement" was welcome after nearly two years out in the cold, but so was simply basking in an environment of pure fandom joy, a moment to forget our worries about both life and the Tales series and remember what was simply fun. I can't make it every year, but I'd go again if there was the occasion.

Still, no part of the event made the audience go nearly as insane as that announcement.

Grace

I was a bit disappointed that Legendia did not really get any news other than having an influx of cast members as guests. The new mothership announcement made up for it, though. I think that having a male co-host was an interesting touch since a majority of the co-hosts in the past were female (with the exception of Jay who is male but voiced by a female seiyuu). I hope that they'll make different characters the co-hosts for future festivals, regardless of gender.

8ro

Should've been fun for those who attended the event. But for those like me, who were just expecting some news... It was pretty much nothing again. Like last year. C'mon Bamco.

It's the biggest and most anticipated Tales event, and for the second year straight we got just some minor mobage-related news, another event announced... But you know, it's a game series, people expect new games being announced there, everyone builds hype towards the Festival for months just to be disappointed in the end. I think that Bamco still needs to realize the importance of this event for the series. And like last year... Welp, "I hope it's better next year".
Any thoughts you'd like to share about Tales of Vesperia: Definitive Edition or Tales of Festival overall? Feel free to share them in the comments below~
Image Credits: