Warning: Contains unmarked spoilers for Tales of Destiny (all iterations). 
Bandai Namco has announced a new event, "TALES OF READING LIVE -ONLINE-" (genre: The story of such moving heroes begins to stir again...), the first of which featured Tales of Destiny on September 19, 2021 at 19:00 JST. Tickets are still available to purchase here at 3,500 JPY or a special ticket for 4,800 JPY which grants access to additional videos released before and after the event. Ticket holders will be able to view the archive until September 26 at 23:59 JST.
CAST: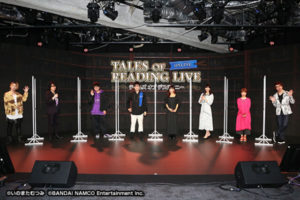 Tomokazu Seki (Stahn Aileron)

Yuka Komatsu (Rutee Kartret, localized as Rutee Katrea), replacing Yuka Imai who retired in 2018

Hikaru Midorikawa (Leon Magnus)

Kikuko Inoue (Philia Felice, localized as Philia Philis)

Show Hayami (Woodrow Kelvin, localized as Garr Kelvin)

Naoko Watanabe (Chelsea Tone, localized as Chelsea Torn)

(NEW)

Ryoutarou Okiayu (Dymlos)

Host: Ryouhei Kimura (also voices Sorey in Tales of Zestiria).
Additionally, Emi Uwagawa (Atwight) and Hideo Ishikawa (Chaltier) have newly recorded lines for the dramatic reading.
GOODS:
Asobi Store is selling a wide variety of official event goods here which include:
2,000 JPY

1,500 JPY

Character Fine Graph with Serial Number

15,000 JPY

1,500 JPY each

Holograph Tin Badges (set of 6)

4,500 JPY

Holograph Mini Chara Tin Badges (set of 9)

5,550 JPY

Ribbon Tie Bracelet (9 types)

600 JPY each

1,500 JPY each

1 (Random): 700 JPY




Set of 9: 6,300 JPY

12,000 JPY

10,000 JPY

10,000 JPY
EVENT HIGHLIGHTS:
SPECIAL TICKET.
Those who purchased a special ticket gain access to the following exclusive content:
(Video) Introduction of Famous Scenes (Part I) feat. Seki Tomokazu, Yuka Komatsu, & Hikaru Midorikawa and (Part II ) feat.  Kikuko Inoue, Shou Hayami, & Naoko Watanabe
(Video) Character Talk (Part I & Part II), host: Ryouhei Kimura, guest: Sho Hayami
Inomata Mutsumi Special Interview, including a new sketch of Stahn
Post-Event Cast Comments
(Video) Commentary
EVENT.
The event ran for approximately 2 hours and 40 minutes through Asobi Stage. In addition to the chat function, there were also mini-chara stickers and character name plate stickers as well as a virtual penlight with color designations for each cast member's character so that fans could cheer on their faves. Attendees were also encouraged to tweet their comments with the hashtag: #TOD朗読劇.
DRAMATIC READING.
Things kicked off with the Tales of Destiny Director's Cut title screen. Upon choosing continue, the opening animation played complete with DEEN's beloved Yume de Aru You ni that brought attendees to tears instantly (such as myself, no shame). Afterwards, Mr. Kimura introduced the newly written scenario for the event—the party is in the midst of confronting Greybaum Bernhardt (localized as Lydon Bernhardt) in the "final" showdown at Heidelberg Castle to retrieve the God's Eye (localized as the Eye of Atamoni).
The live reading itself lasted approximately an hour with the voice cast flawlessly delivering lines in front of a giant LED backdrop and aided by iconic game background tracks and sound effects which bolstered their performance. There were several party interactions never shown before and of course, a complete set of flashy blast caliber sequences. Without spoiling too much, the dramatic reading ended on a bittersweet note that gripped attendees' hearts.
FREE TALK.
Afterwards, Mr. Kimura introduced the cast, who were all wearing their respective character's ribbon tie bracelet; and, much to fans' delight, Mr. Midorikawa also "brought Chal with [him]"—that is, the Eternal Masterpiece miniature replica. They all began to recall memories of the initial game recording and discussing their involvement with the various drama CDs. It was the first time, however, that the cast actually performed a Tales of Destiny reading live together and enthusiastically spoke on how they would be interested in doing more projects in the future. Notably, Ms. Komatsu expressed her concerns about how fans would perceive her as Rutee after Ms. Imai's retirement, but was reassured by both the cast and attendees much to her relief and happiness.
BEST SCENE RANKING.
They cast then delved into discussing favorite scenes of the cast and fans, who were encouraged to use the hashtag #TOD名シーン to tweet their top picks. The cast then gave live reenactments of certain lines and scenes.
Most notably, Mr. Midorikawa gave a beautiful delivery of a line not voiced in the original PS1 version: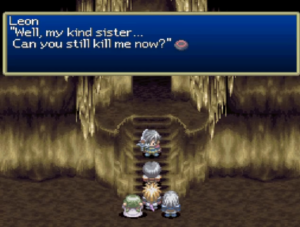 Additionally, Mr. Seki and Ms. Komatsu gave a powerful performance of one of their famous scenes together in which Stahn comforts Rutee as she reacts to Leon's death with mixed feelings.
CAST'S TOP 3 SCENE PICKS.
The next segment continued what was hyped in videos for special ticket holders—the cast each revealing their top pick for personal favorite scene! Because Ms. Komatsu is a newcomer to the veteran cast,  she chose her top favorite thing about Rutee instead: her swordian, Atwight! Ms. Komatsu gave a nod to Ms. Uwagawa here, thanking her for the encouragement after becoming second-gen Rutee and acting like a real-life Atwight (which she often does).
Okiayu chose the scene in which Stahn first meets Dymlos, because he thought no one would talk about Dymlos unless he mentioned it himself. When bringing up the possibility of swordian goods, however, attendees (myself at the top of the list) flooded the chat expressing their desire to buy them (HINT HINT).
Ms. Inoue chose the scene in which Philia met Clemente, and because of how moving Mr. Seki and Ms. Komatsu's demonstration was, Mr. Hayami actually changed his top pick to the scene they just performed.
Ms. Watanabe, Mr. Midorikawa, and Mr. Seki all chose the same top favorite scene, as did many of the fans... Leon's final moments in the underwater cavern.
TALES OF DESTINY QUIZ.
Ms. Inoue and Mr. Hayami moderated the Tales of Destiny Quiz, as both their characters—Philia and Woodrow respectively—are co-presidents of the party's Trivia Club. They challenged their fellow cast members with game-related trivia questions, and attendees could join in by waving their virtual penlights in different colors to correspond with the answer choices. In the end, Ms. Komatsu and Mr. Midorikawa answered two out of the four questions correctly and were bestowed the title: "New Trivia King" by Mr. Hayami.
SKIT CORNER.
After a brief introduction of the brand-new merchandise created for the event (the acrylic charms have fasteners shaped like wings!), the scenario from the live reading continued in a brand new skit! After retrieving the God's Eye and returning to Darilsheid, the party accidentally meets up again while purchasing souvenirs at a local shop only to find... well, you will have to watch the skit to find out! Needless to say antics ensue and the event ends on a high note.
MORE:
A TALES OF READING LIVE -ONLINE- ~Tales of Destiny~ official pamphlet will soon be released featuring Inomata's new sketch, shown below for 3,000 JPY. No purchase link is available yet.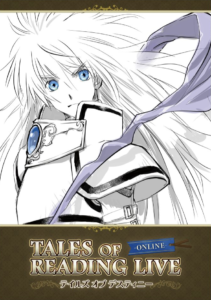 Additionally, there will be a lottery held in which five lucky ticket holders will receive an autographed script from the cast!
COLLABORATIONS:
The mobile game Tales of Asteria will also be collaborating with this event to offer a new 5☆ Stahn as well as bring back the Tales of Destiny character songs from 2015 as a login bonus. The song list is:
Believe You (Seki Tomokazu as Stahn Aileron)
Burn My Soul (Hikari Midorikawa as Leon Magnus)
Migratory Bird (Yuka Imai as Rutee Kartret)
One Way Love (Kikuko Inoue as Philis Philis)
Connect the World (Koichi Yamadera as Johnny Shiden)
Sweet Sweet Heart (Chie Sawagichi as Lilith Aileron)
Tales of Destiny

Tales of Destiny
is the second title to be released for the Tales of Series and is the first in the entire series to get localized for North America. It is the first game to feature character designs by Mutsumi Inomata. The game, originally for the PS1, eventually got a full remake for the PS2, as well as a Director's Cut featuring a story arc from popular Tales character Leon Magnus's point of view.
Tales of Destiny 2
is its direct sequel.