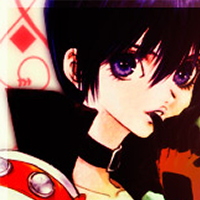 AC's "Tales Merch Monthly" is back! As I mentioned before in our various social network updates, I had to combine this column into a December-January issue due to some circumstances. Again, I'm really sorry, but it's been a busy holiday, time with the family and all. Anyway, in this month's issue, we focus a little bit on Tales of Hearts R and the much awaited new Tales of Vesperia Raven figure by ALTAiR. Lastly, let's take a trip down memory lane as we look at the original Tales of Hearts and its related merchandise.To those who missed our debut post seven months ago, this new column of ours focuses on any upcoming Tales of Series related merchandise, as well as those that (we think) are already available and are worth collecting. From shirts, to figures, to even key chains, we'll try to cover as much as we can! The column will be out every month, and will focus on stuff just released/to be released for that same month, as well as Tales stuff you can pre-order that will come out in the coming two months. And hey, maybe once this column reaches a year I'll stop posting this intro paragraph all the time, yeah?
For Pre-order | Just Released | Still Available

New Pre-orders: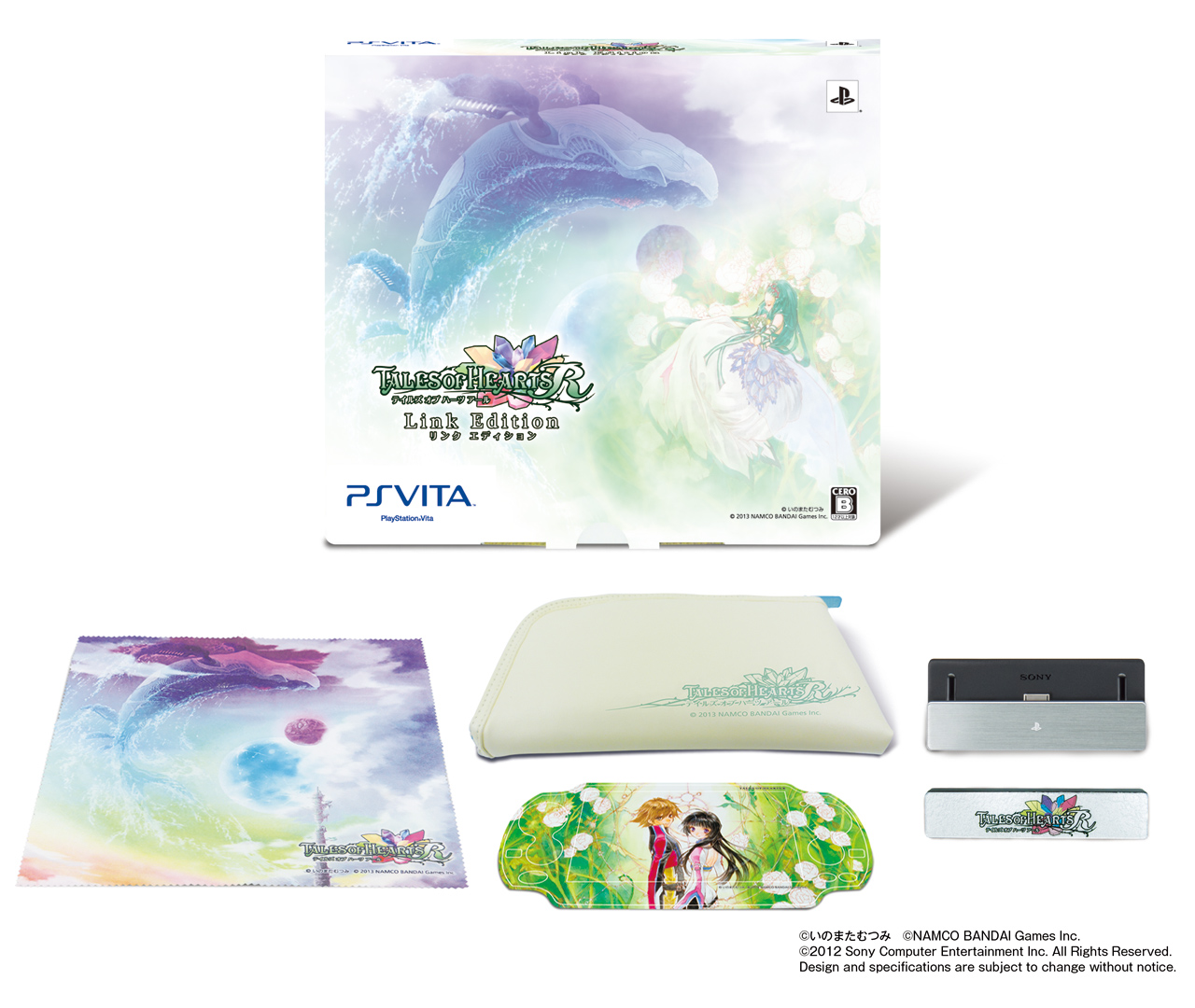 I'm pretty sure a lot of people are looking forward to this, considering what a great game the original Tales of Hearts was.
Tales of Hearts R
, the PS Vita "re-imagination" for the original game is set to be released on March 7, 2013. Featuring full 3D graphics, new playable characters, around 10 new animated cutscenes and a few tweaks in the system, Hearts R is shaping up to be a game to look forward to. A limited edition "
Link Edition
" of the game will also be available (
see here for the contents
), but so far most of the slots for it in various shops have been taken. It doesn't hurt to bookmark it and check later, though. And if you manage to order it,
Lalabit Market
is offering a special bonus if you order the game from them in the form of character bookmarks. Currently, CDJapan has the Lalabit version up for pre-order.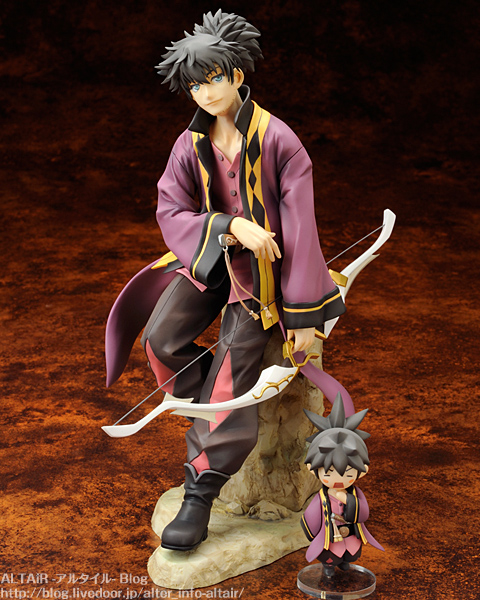 I believe a lot of us have been waiting for this beauty. Pre-orders for
ALTAiR's Tales of Vesperia 1/8 Scale Raven figure
are finally open! The figure comes with an alternate head and the usual chibi mini-figure. The figure is expected to be released sometime end of June this year.
Like we announced earlier, a couple of new KaraKore/Colorful Collection figure straps for the Tales of Series have been announced recently: a Tales of Xillia/Tales of Xillia 2 set and a Tales of School set, featuring some Tales characters in their school uniform costumes. Both sets are expected to be released on May 2013.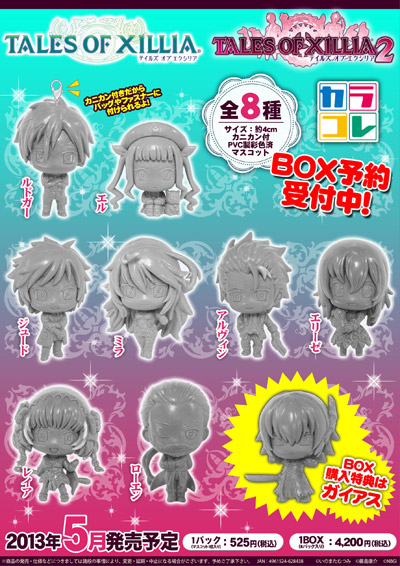 For the Colorful Collection Tales of Xillia/Tales of Xillia 2 set, we have Ludger Will Kresnik, Elle Mel Mata, Jude Mathis (Xillia 2), Milla Maxwell (Xillia 2 version), Alvin, Elise/Elize Lutus, Leia Rolando and Rowen J Ilbert (all Xillia versions). Buying the whole box will give you a bonus Gaius mascot (Xillia version).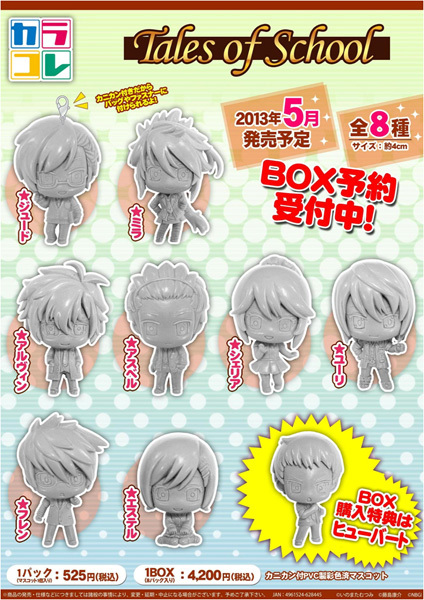 As for the Tales of School set, we have the following Tales characters in their school outfits: Jude Mathis, Milla Maxwell, Alvin, Asbel Lhant, Cheria Barnes, Yuri Lowell, Flynn Scifo and Estelle. Buying the whole box will give you a bonus Hubert Oswell mascot.


We have two new upcoming books for Tales of Xillia 2: The
Tales of Xillia 2 Perfect Guide
and the
Tales of Xillia 2 Official Setting Materials Collection
, to be released February 1 and March 2 respectively. You can view a sneak peek of what the Perfect Guide has to offer below:










The cheaper, "
The Best
" versions of
Tales of the World: Radiant Mythology 3
and
Tales of Phantasia: Narikiri Dungeon X
, both for the PSP, will be released on February 21st. If you missed out on these games, now's your chance to get them at a much lower price.
Other Items For Pre-order:
From Last Month's Issue: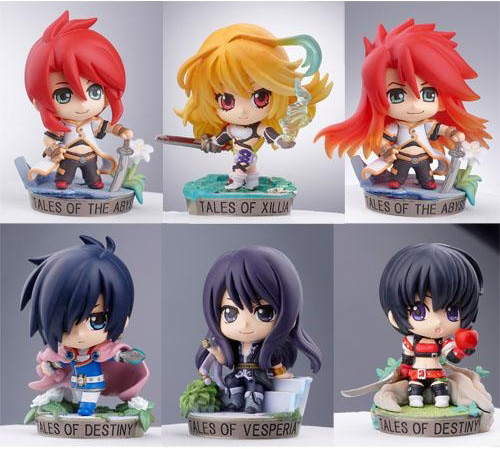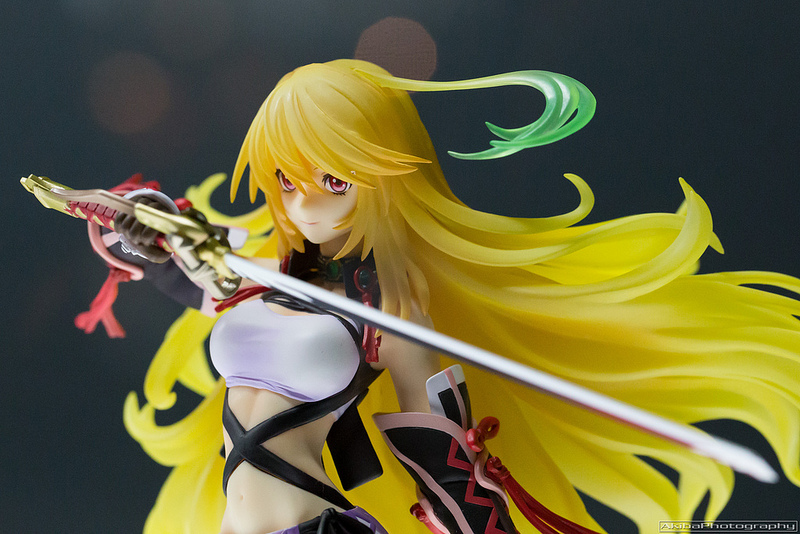 Alter's
Tales of Xillia 1/8 Scale Milla Maxwell Figure
is finally out! So far, I've been hearing great things about the figure. It's really well made. The only complaint I've been hearing about is her hair color. It's a bit off, no? And don't forget that their Jude figure will also be out at the end of this month!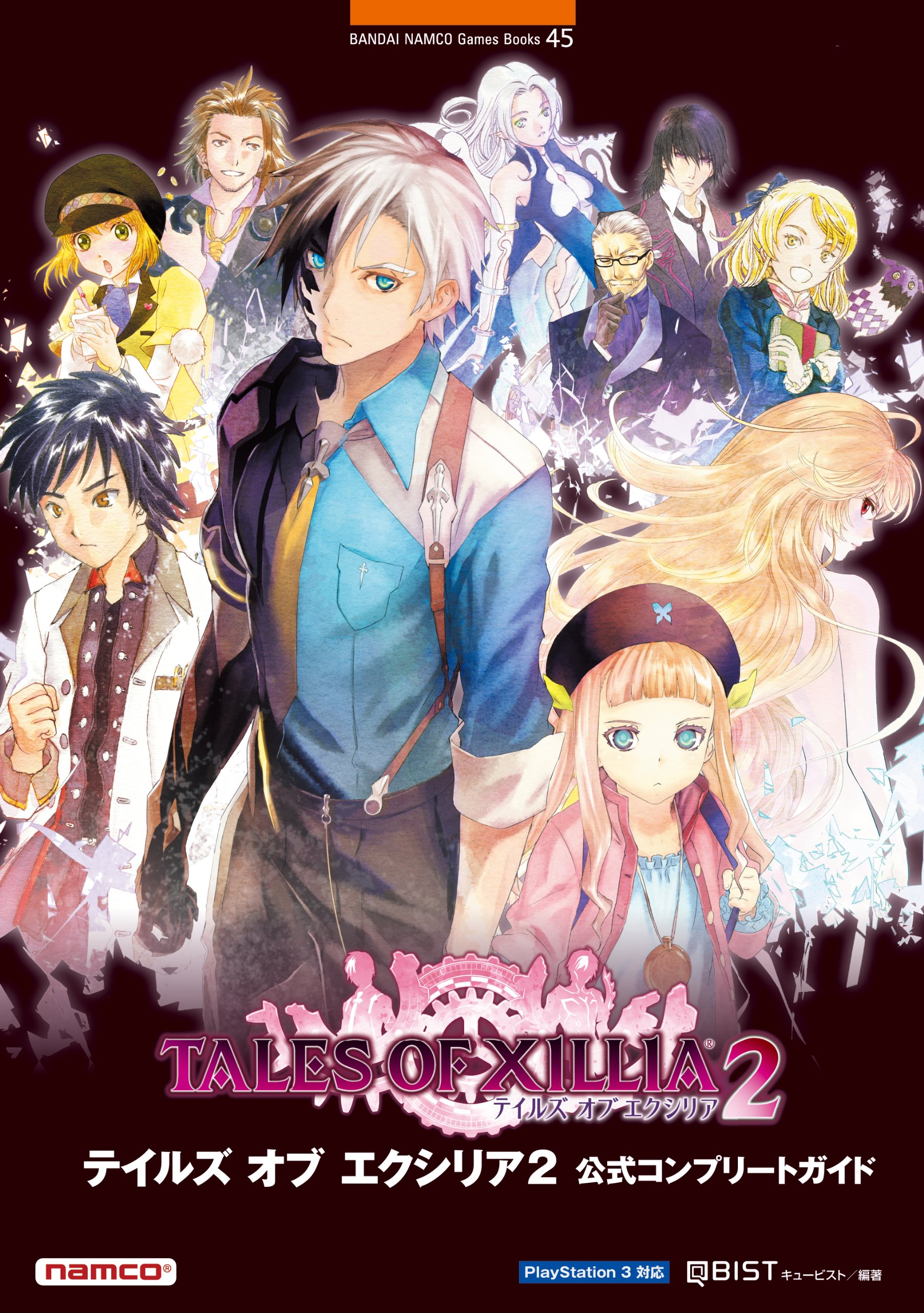 If you can't wait for the other two Xillia 2 books, then you can opt for the recently released
Tales of Xillia 2 Official Complete Guide
. It also contains guides on the main chapters, the character episodes, quests and dungeons, as well as data on skills, items, chats and even an interview with the voice actors.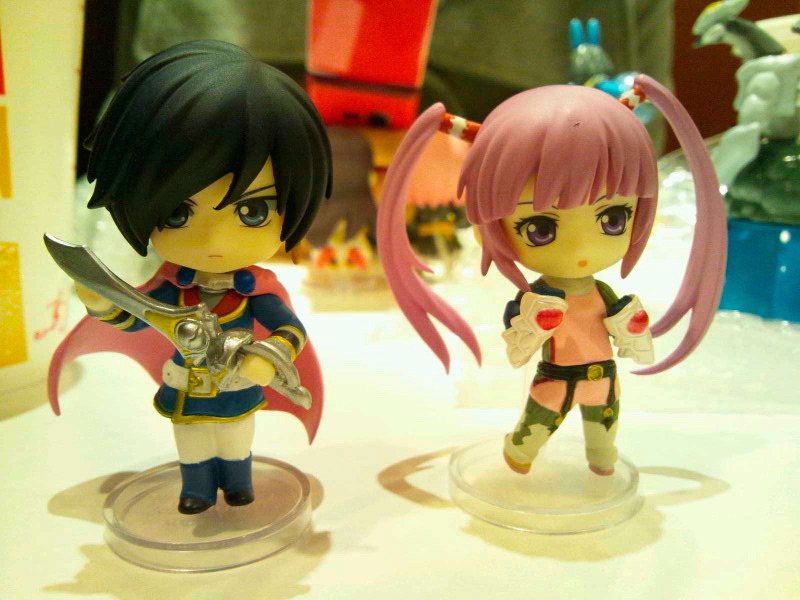 The adorable little figures of the
Tales of Series Nendoroid Petite Set
were released last December 27th, revealing Leon Magnus from Tales of Destiny as the secret character. If you want to try your luck, you can purchase a single random figure over at
Play-Asia
, or if you want the whole set, you can check out the other shops below.
The first volume of the new line of Tales of Friends Gel Straps are now out. If you've been wondering exactly how these little things look like, you can check out the Stahn version here. Again, you can try your luck and buy a random one from Play-Asia, or buy the whole set in the other shops.
Other Items Just Released:



With Tales of Hearts R almost out, I believe now would be a good time to pay homage to the original game, Tales of Hearts for the Nintendo DS. Acclaimed for its smooth implementation of sprite graphics and its compelling story and plot, Tales of Hearts is, in my opinion, one of the top tier mothership titles the entire Tales of Series has to offer.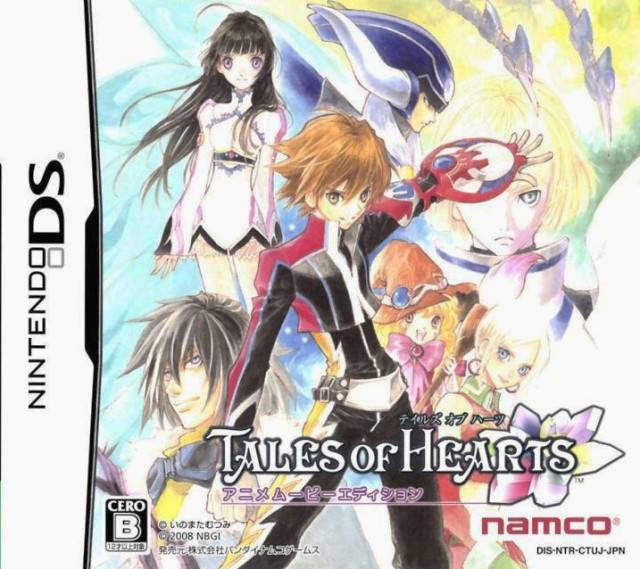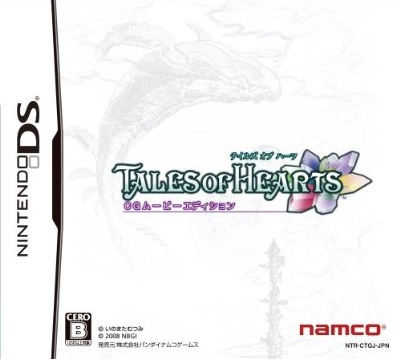 The original DS game comes in two versions - the Anime Movie edition and the CG Movie edition. The main difference is in the cutscenes. The Anime edition has the cutscenes in the traditional Tales animation, while the CG one has, well, CG cutscenes.
And if you're interested in the game's music, there's the Tales of Hearts Original Soundtrack still available. The game's opening song, which will also be used for the PS Vita remake, DEEN's Eien no Ashita (Eternal Tomorrow) Single is also still available in some shops.








Lastly, there are also the
Tales of Hearts Drama CDs
. There are a total of 5 drama CDs released, and all are still available at the following shops:
And that's it for this month's issue of Tales Merch Monthly! Again, I apologize for the delay! Stay tuned for the next issue!