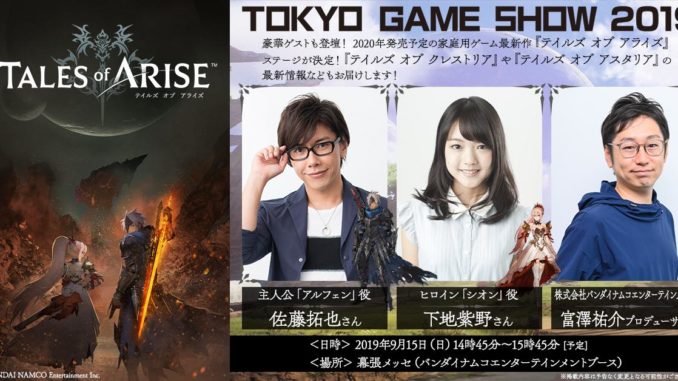 Tokyo Game Show 2019 is in less than a month's time, and finally we're getting our next look at Tales of Arise, among other things.
Tales of Arise Stage at Tokyo Game Show 2019
On September 15, 2019 at 2:45-3:45PM JST, Bandai Namco will be holding a Tales of Arise Stage event covering information on the game. Guests for the stage will be the voice actors of Alphen and Shionne, Takuya Sato and Shino Shimoji, as well as Tales of Arise's producer Yusuke Tomizawa. The stage event will be at the Bandai Namco Entertainment Booth.
UPDATED (09.11.2019): A live stream of the stage event will be available via YouTube.

Bandai Namco is also inviting questions that the fans may have about the game's characters and voice actors or the game in general. A short survey is available here. Some questions may be answered during the Stage event, while some may be answered via the Tales Channel + blog. Questions will be accepted until August 29th.
Aside from Tales of Arise, the Stage event will also have information on Tales of Crestoria and Tales of Asteria.
Tales of Fan Meeting ~After TGS2019~
Fans may sign up here and get a chance to be a part of a planned fan meeting to be held after the Tales of Arise Stage Event. The fan meeting will be held on September 15 beginning 6PM JST with a planned 1 and a half hour to 2 hour event.
Application period starts August 22 until August 28 at 11:59PM JST and there will be slots for 60 people who will be drawn by lottery. Applicants have to be registered members of Tales Channel + and will attend the Tales of Arise Stage event. Winners will also be given priority passes to the Tales of Arise Stage if they get chosen for the fan meeting.
Winners will be contacted via their registered e-mail within the month of August.
Tales of Arise

Tales of Arise
is the latest mothership title (new classification: original title) of the Tales of Series which was first announced during 
Microsoft's Press Conference in E3 2019
. The game was released for the PS5, PS4, Xbox Series X, Xbox One and PC Digital via Steam on September 9, 2021 for Asia and Japan and September 10, 2021 for the rest of the world. The game features use of the Unreal Engine 4 and works on the theme of tradition versus evolution of the series.
Info Page | News | Gallery | Official Website (US) | Official Website (JP)
Tales of Crestoria

Tales of Crestoria
is an upcoming mobile title dedicated for smartphones that is an entirely new story and doesn't focus on previous Tales of titles. The game features Kanata Hjuger, a young man branded as a Transgressor because of the crimeof "protecting someone important" to him. The game will be released for iOS and Android on 2020.
Info Page | News | Gallery | Official Website (JP) | Official Website (EN)