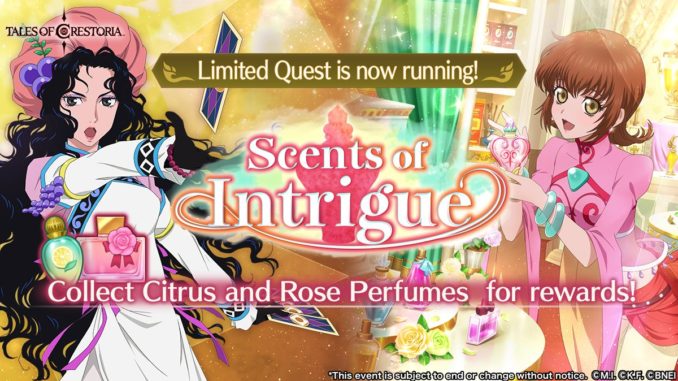 The latest event in Tales of Crestoria is Scents of Intrigue, featuring Annie and Hilda from Tales of Rebirth. This event is a chance to get SSR and SR memoria stones of Annie and Hilda respectively. (Like other events, these memoria stones do not become characters when you receive them.) The event will run from Wednesday, November 18, 2020 at 2:00am Eastern time to Wednesday, December 2, 2020 at 1:59am. The exchange for the event will remain open until Wednesday, December 9, at 1:59am though. The story premise for this event is:
One day, Kanata and the group notice that Yuna is wearing perfume, which inspires Kanata to give Misella some perfume as a gift. When he and Yuna visit a store to buy some, they meet Annie and Hilda, who are also in search of perfume. However, most of the perfumes are out of stock and the delivery has been delayed.
To receive all of the event rewards, players must clear the quests and complete multiple Deepwoods Beast raids. The quests drop Citrus Perfumes, Monster Perfumes, and Rose Perfumes as rewards. Citrus and Rose Perfumes can be collected and exchanged for prizes at the event exchange. These prizes include Annie and Hilda's memoria stones, gleamstones, adornment stones, and a variety of ascension materials. Monster Perfumes, on the other hand, are used to open an instance of the raid. The Deepwoods Beast raid drops more Citrus and Rose Perfumes with a very rare chance of also dropping a Hilda SR memoria stone or even an Annie SSR memoria stone. Clearing both quests and raids also awards you Event Points, which will accumulate to earn even more prizes.
Certain characters from recent summons also have Attack bonuses during this event. Raven [Nocked and Ready] and Alisha [A Midday Respite], the characters from the latest Premium Summons, each have a 50% ATK increase during this event's quests and raids. Kanonno E. [Greatsword Wielder], the featured character in the upcoming Select Summon, has a 30% ATK boost. Their associated memoria stones also have the same stat bonus. The Annie and Hilda memoria stones that are obtained during this event have a 20% and 10% ATK bonus respectively.
When fully awakened, the Annie memoria stone provides an 8% HP restoration to all wind allies each turn. The Hilda one provides +75% Curse resistance.