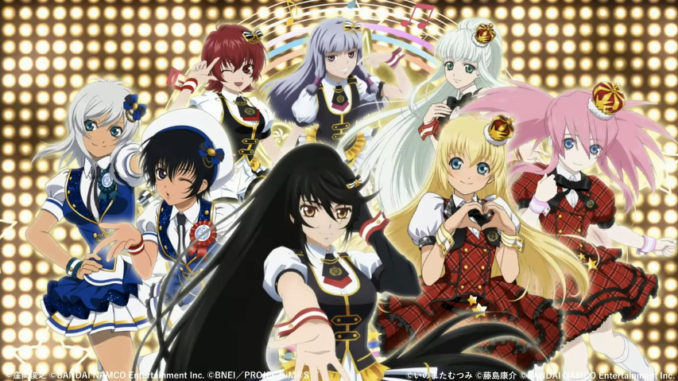 Additional information has been released regarding Tales of Asteria's next chapter and upcoming iDOLM@STER collaboration event.
The characters featured in the collaboration have been revealed in a promotional video first shown during a livestream hosted by Japanese voice actors Ryouhei Kimura (Tales of Zestiria - Sorey) and Ryouta Oosaka (Tales of Zestiria - Mikleo). The roster of idols includes Velvet Crowe (Tales of Berseria), Iria Animi (Tales of Innocence), Agria (Tales of Xillia), Colette Brunel (Tales of Symphonia), Lailah (Tales of Zestiria), Rondoline E. Effenberg (Tales of Phantasia: Narikiri Dungeon X), Rutee Katrea (Tales of Destiny), and Presea Combatir (Tales of Symphonia).
The promotional video can be found here:
And the completed livestream can be viewed here:
The title of the fourth chapter has also been revealed to be "Recollections of Eden", and one of the protagonists for this chapter has been confirmed to be Velvet Crowe (Tales of Berseria).
In addition, Tales of Asteria players who have collected at least one "Asteria Broadcasting Station Medal" will be getting 10 Asteria Stones in-game. UPDATE: This has been updated to a login bonus available to everyone. Also, a new awakenable Flynn Scifo (Tales of Vesperia) will be featured in an upcoming awakening festival special gacha pool:
A list of Tales of Asteria and Tales of Link merchandise has also been revealed, and includes the following:
Clear File (2 types)
Acrylic Keyholders (Asteria BOX, Link BOX)
Mini-Shikishi (Asteria BOX, Link BOX)
Mobile Batteries
Smartphone Cases (2 types)
Ani-Kapu
The livestream for Tales of Asteria's 3rd Anniversary will be held on April 16, 2017 featuring performers such as Masaya Onosaka (Tales of Symphonia - Zelos Wilder), Rina Satou (Tales of Berseria - Velvet Crowe), and other unnamed voice actors as of press time.