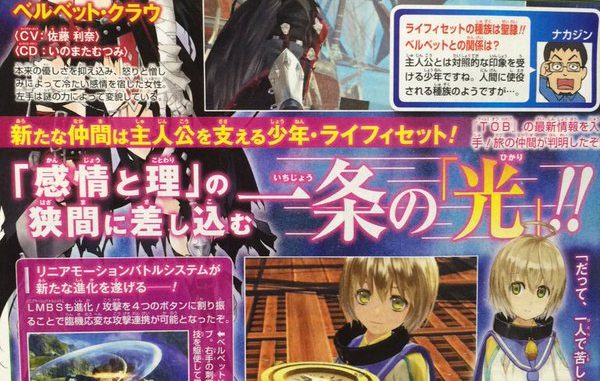 The latest Shonen Jump issue reveals Velvet's full name as Velvet Crowe.
Velvet's full name is Velvet Crowe (?????????, berubetto kurau, romanization official from newer news sources). The scan also has character illustration for Laphicet (Special thanks to @kazu4281 for the scan.)
The scan gives us a bit of info on Velvet's background. One night, when the moon was red, a tragedy occurred - Velvet lost her beloved family. Jump 3 years later - one can see in Velvet's eyes that she is still full of rage for the one who stole everything from her.
As for Laphicet, his quote is "After all, isn't it hard to suffer alone?"
It is mentioned that his race is that of a "spirit" ( ??, seirei). In this world, humans apparently use "spirits" as slaves (which might explain the collar-like accessory around his neck). Though Velvet initially scolds him for his lack of initiative, he eventually becomes a source of support for her.
In addition, the compass that Lifiset holds will be a key part of the story. Where it points will help his mind and heart grow.
Many thanks to @Otsukareia for the translations!
Tales of Berseria

Tales of Berseria
is the latest mothership title of the Tales of Series which was first announced during 
Tales of Festival 2015
. The game was released for both the PS3 and PS4 on August 18, 2016 in Japan, January 24, 2017 in North America and January 27, 2017 in Europe for the PS4 and PC. The game features a female protagonist named Velvet and a theme of pirates and ships. It's also confirmed as a distant prequel to
Tales of Zestiria
.