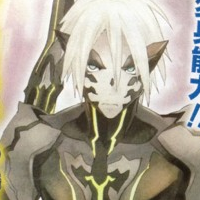 A new magazine scan for Tales of Xillia 2 shows exactly how Ludger's "other form" looks like - with its own official art.
As a refresher, Ludger has an ability roughly translated as his
Corpse Shell Ability
where, using the pocket watches we've been seeing in the trailers as a key of sorts, he's able to enter these parallel worlds once he's in that form. Clanspia Company's president Bisley wants him to use that power to destroy things called "Time Factors" in those worlds - destroying them in the process. This ability is apparently something that runs in the Kresnik family.
Tales of Xillia 2 will be released in Japan on November 1, 2012. Pre-orders are now available at the following places. Be quick, pre-orders run out fast!
Tales of Xillia 2 Regular Version - Play-Asia | CDJapan | Amiami | YesAsia
Tales of Xillia 2 Famitsu DX Pack - Play-Asia | CDJapan
Tales of Xillia 2 Lalabit Market Kyun Chara Pack - Play-Asia | CDJapan
Tales of Xillia 2 X Edition (w/ PS3 controller) - Play-Asia (all slots currently sold out, check again later) | YesAsia