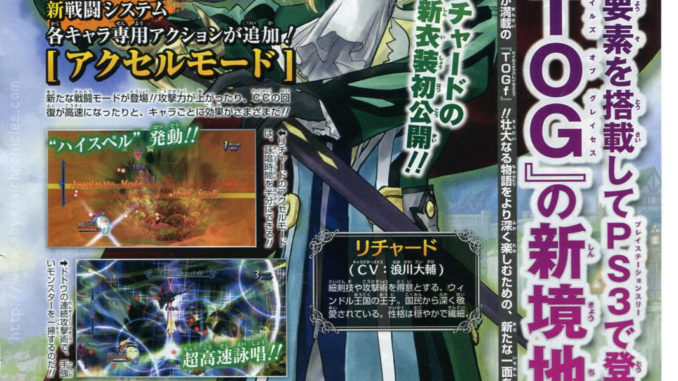 (Updated with higher quality scan.) A new magazine scan reveals new information regarding the upcoming Tales of Graces f for the PlayStation 3. The game is set for a Winter 2010 release and will include the original Tales of Graces plus an after story revolving around six months after the original game's "supposed" ending.

This new scan reveals Richard's new character art with his after story costume. As we mentioned in a 
previous post
, the after story arc will feature new costumes for the rest of the characters aside from Sophie's. And like Sophie, Richard will also be getting a new Blast Caliber. A new system, called "
Accel Mode
", which is said to give higher attack powers and highly faster spell casting speeds when activated, is also being introduced into the game. This post has been updated with a new scan. View the old scan 
here
.
The pre-order bonus for ToG-f will be another Dramatic DVD. Aside from the usual drama skit, the DVD will also include passwords for downloadable content: Custom PS3 themes featuring Asbel, Sophie or Richard's Blast Caliber cut-ins and new costumes for Asbel (Kyle Dunamis from Tales of Destiny 2), Sophie (Rutee Katrea from Tales of Destiny) and Richard (Judas from Tales of Destiny 2). I'm still unsure if the other characters will get their own PS3 themes and costumes.
Lastly, the scan mentions that a playable demo of the game will be available for download from the PlayStation Store starting this September. No specific date was given, though.