The latest news from the first Tales of Luminaria info live stream!
We'll update this post as news comes up from the new Tales of Luminaria live stream. You can also watch live below:
Staff and Development
Tales of Luminaria's music composer is Go Shiina (Tales of Legendia, Tales of Zestiria)
Character designs for all characters are by Shun Saeki (Shokugeki no Soma/Food Wars!)
Game development by COLOPL (White Cat Project)
Scenario: Sekina Aoi (Gamers! Light Novels), Okina Baba (So I'm a Spider, so What? Light novels), Shunsaku Yano (Try Knights), Takashi Tanaka
Opening Theme: Frederic
Ending Theme: Keina Suda
The stream also mentions that the English dub is with the help of Funimation
World and Characters
As mentioned before, the game is completely original with an original story and characters. There are no old Tales characters here.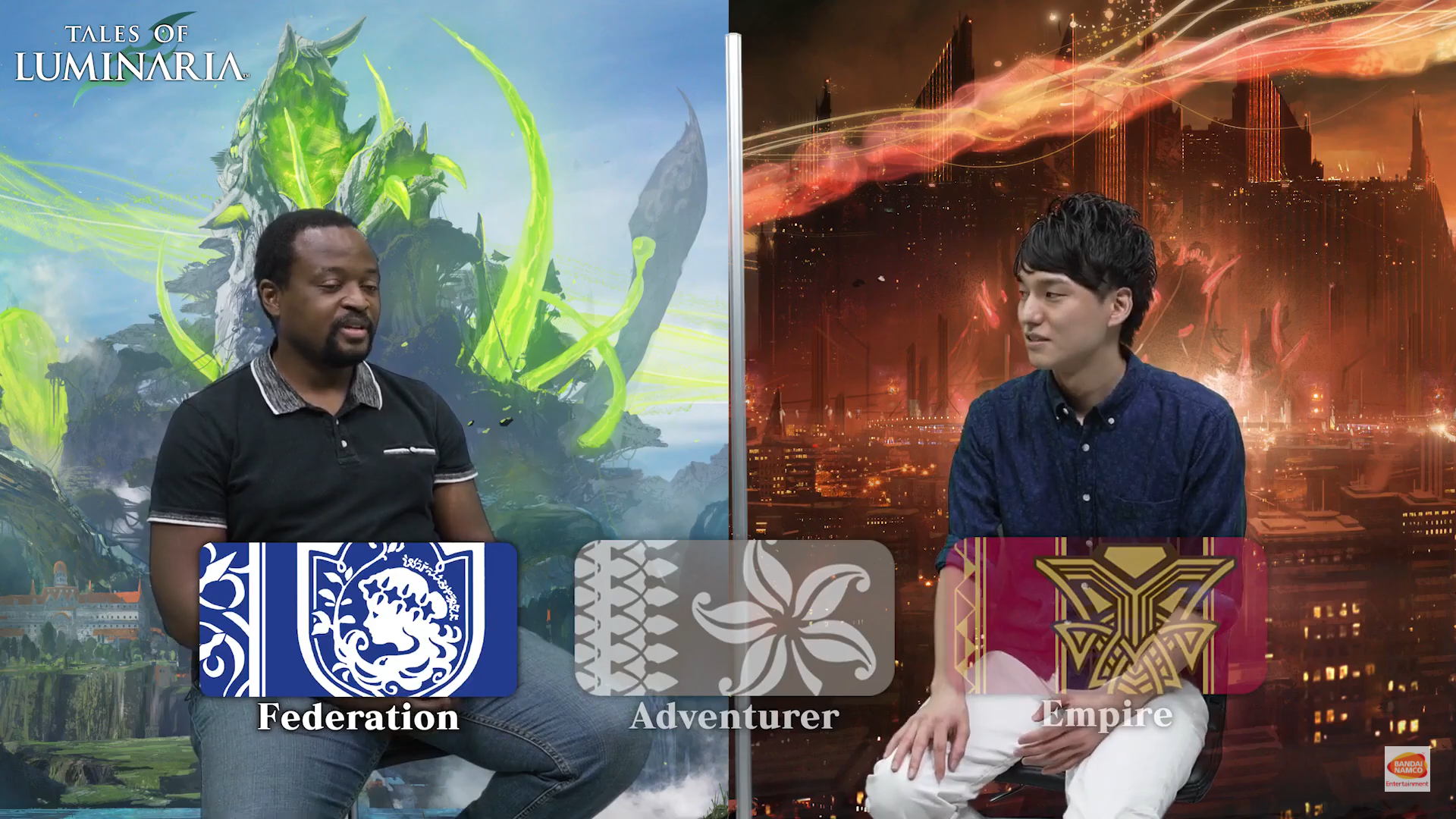 In the past of the world, it was ruled by Primordial Beasts which are now spirits that provide mana for the world. The world of Luminaria is divided into two main factions: The Jerle Federation and The Gildllan Empire.
The Federation lives in harmony with nature and treats the Primordial Beasts as gods, while the more technologically advanced Empire uses them as just a convenient source of energy via artificial extraction. The Federation has gems called Embryos embedded in them that allows them to use mana, while the Empire has Reactors that artificially harvest said mana.
Another faction, Adventurers, don't belong in any military but are investigating the Primordial Beasts on their own.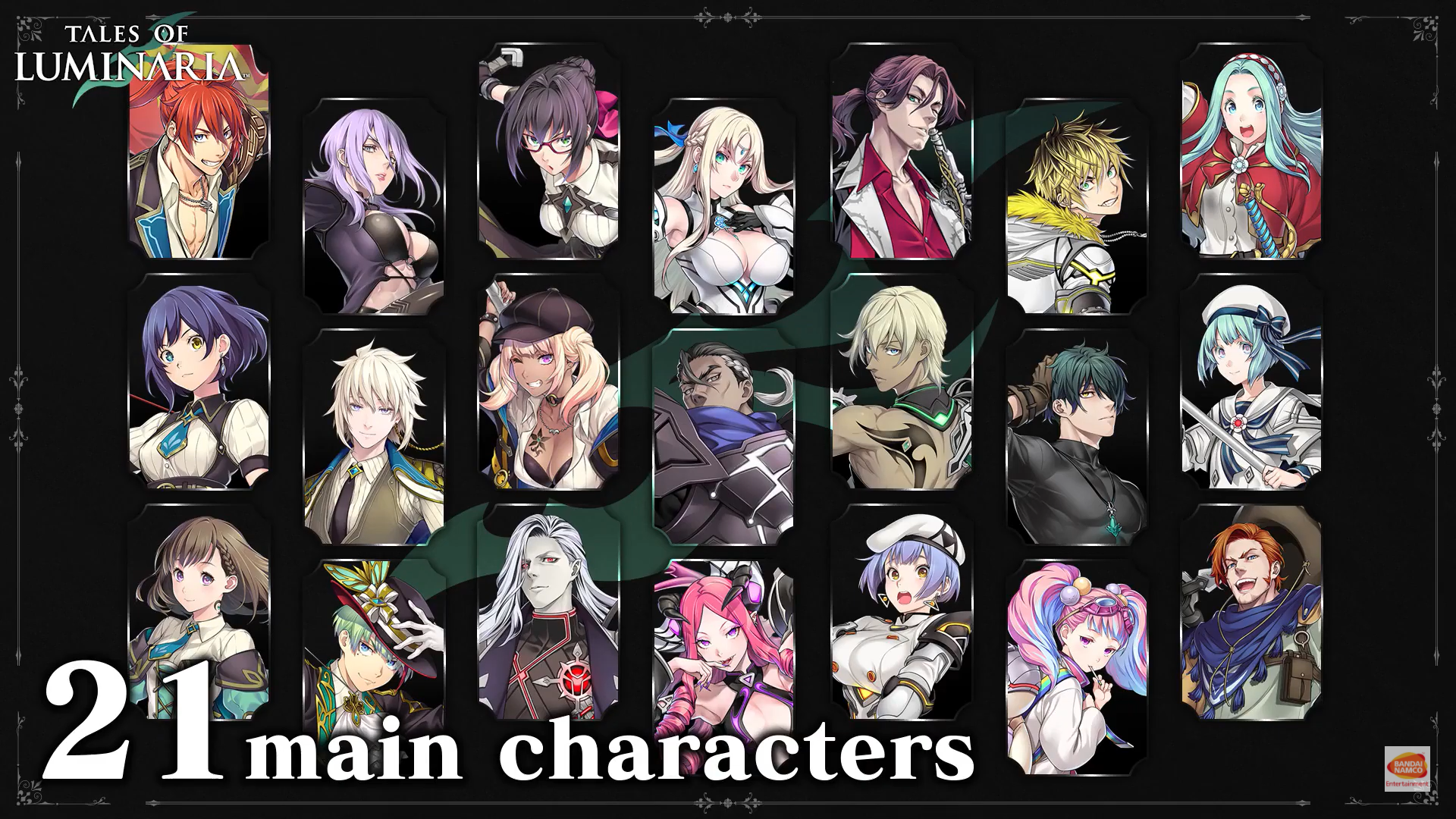 The game features 21 main characters. All are "heroes" and "heroines" with their own stories you can experience. Mentioned in the stream is that you don't need to pay for anything to pay the episodes.
Each character will have 8 episodes each, and each episode will be released weekly. Completing, for example, all episode 1's for all 21 characters will unlock an extra special episode that seems together loose ends from the episodes.
8 characters are Knights-in-Training involved with the elite class "Blaze" from Aedis Knight Academy of the Federation and are mostly younger characters except for their teacher. Another 8 characters are with the Empire and are mostly older characters made up of chancellor, generals and soldiers. The remaining 5 characters are Adventurers.
Official artwork below:
First Three Characters Introduced
Leo Fourcade (レオ フルカード, reo furukaado)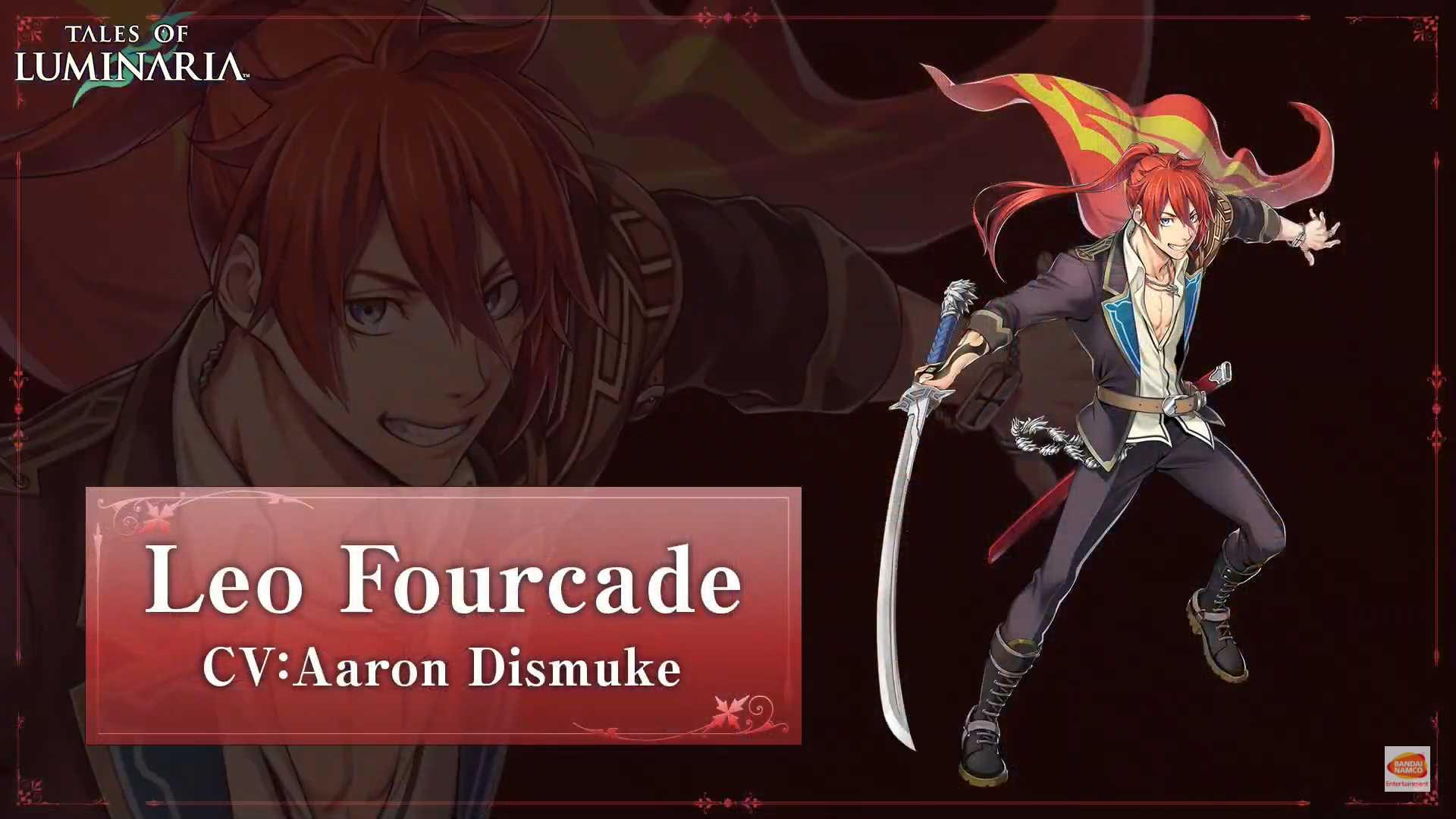 CV: Aaron Dismuke (English); Ryohei Arai (Japanese)
A passionate young man dedicated to the noble ideals his grandmother taught him. He enters the knight academy along with his friends Celia and Hugo. T defeat the empire that destroyed his hometown, he joins Blaze to improve his skills alongside his companions.
Leo is from the Federation, and his episode starts when he and Celia and Hugo are together as classmates. Eventually, Hugo defects to the Empire during one of Leo's episodes.
Celia Arvier (セリア アルヴィエ, seria aruvie)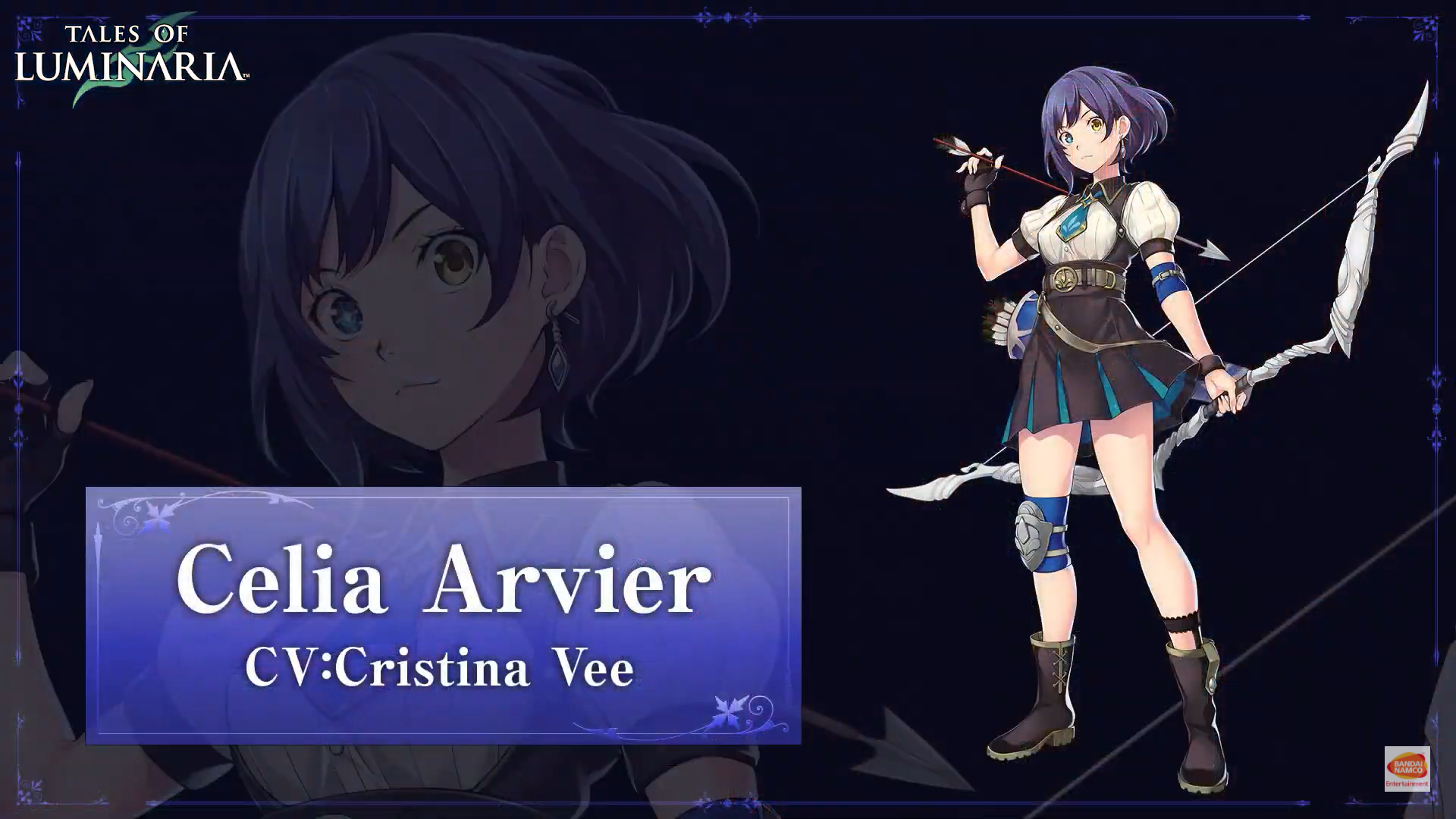 CV: Cristina Vee (English); Miho Okasaki (Japanese)
Leo and Hugo's childhood friend. She enters the knight academy with them and joins the ranks of Blaze. A natural caretaker, she always keeps a close ye on her friends, but a certain incident caused her to feel distant from them. Her Embryo is within her right eye.
Hugo Simon (ユーゴ シモン, yuugo shimon)
CV: Eric Vale (English); Kaito Takeda (Japanese)
Friends with Leo and Celia since childhood. During his activities as a member of Blaze, he became increasingly distrustful of the Federation until meeting with August lured him over to the Imperial side.
Hugo's episode starts with him joining the Empire. In a future episode, players will learn exactly why he joined the Empire.
New Trailer, Other Characters and Collaboration Song
Glimpses of the other characters were also shown during a special trailer during the live stream. This new trailer also featured a collaboration song between Frederic and Keina Suda, titled "ANSWER". You can check it out at the 42:48 mark of the live stream archive, or watch below:
Gameplay
Gameplay appears to be in real time, where characters walk around an area, engage in battle and talk to NPCs. This, as well as cutscenes, are in portrait mode. This was done to show a bigger range of actions and emotions from the characters. Characters talk to each other a lot, as well.
Anime Project Tales of Luminaria ~The Fateful Crossroad~
An animated project for the game called "Tales of Luminaria ~The Fateful Crossroad~" is also planned, to be animated by Kamikaze Douga, who also did Tales of Crestoria ~The Wake of Sin~. The main difference is that The Fated Crossroad will be 8 episodes from a specific character's perspective. More information is available here.
The staff also reminds that Tales of Luminaria will be at Tokyo Game Show 2021, hinting the possibility of new information during this time.
Pre-registration for Tales of Luminaria has already begun for iOS and Android.
Tales of Luminaria

Tales of Luminaria
is an upcoming Tales of Series original title for iOS and Android released November 2021. The game was first announced during
Gamescom Opening Night Live
. Unlike the recent Tales mobile games, Luminaria has been
reported
to have its own original world with only original characters and no previous Tales characters, as well as an English dub. Unfortunately, the game has announced termination of service worldwide on July 19, 2022.
Info Page | News | Gallery | Official Website (EN) | Official Website (JP)