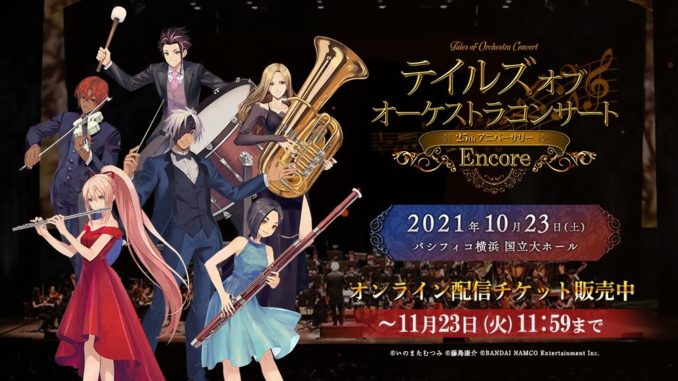 Watch the next Tales of Orchestra Concert at the comfort of your own home!
The upcoming Tales of Orchestra Concert ~25th Anniversary~ Encore will be held this October 23, 2021 at Pacifico Yokohama Convention Hall. The Encore will be playing the same setlist as the first one, which was held last September 5, 2020. The previous Orchestra was held purely online due to the COVID-19 pandemic situation but for the Encore, they will be holding it mainly as a face-to-face event in order to reach more people, but the online option is also still going to be available to those who prefer to watch from home.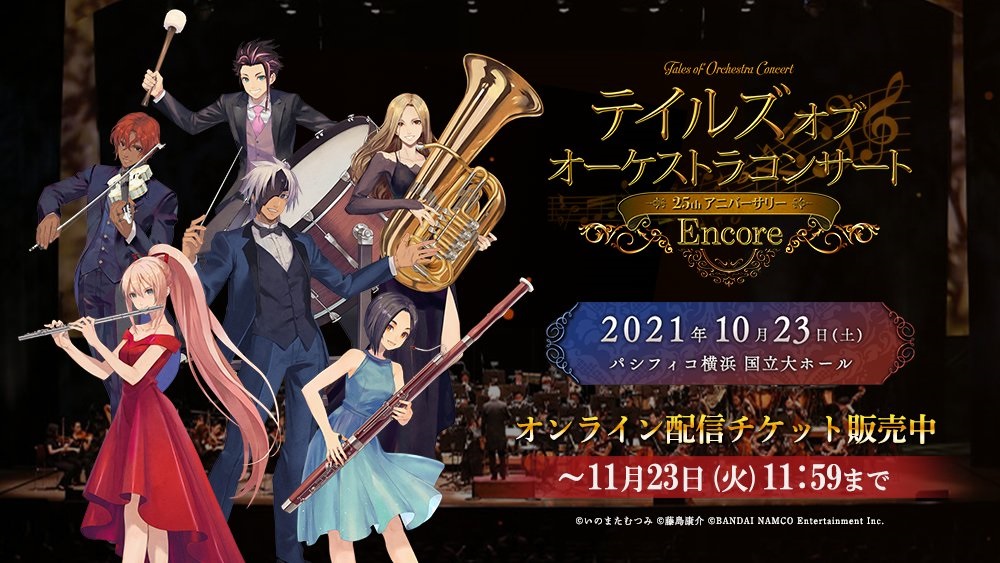 Online viewing tickets are now available via Asobi Stage, and will also be the platform for delivery during the event. For those who can't watch live, an archive is to be made available the following and will be available for a month. Details are as follows:
Event Start: October 23, 2021, Saturday - 3PM JST
Price: 3,500 Yen with Tax
Archive Delivery Period: October 24, 2021, 12PM JST until November 23, 2021, 11:59PM JST
Sales Period: September 17, 2021 to November 23, 2021, 11:59AM JST
Please also note the following regarding the Online Viewing:
No refunds.

You will need an Asobi Store account to watch. That said, it doesn't have to be Asobi Store Premium.

The ticket is locked to your specific account and is able to detect double logins, hence you will be unable to share the event/watch link to other people.

Recording the event and sharing it is strictly prohibited, whether for commercial or private use and you may be liable for legal action. 

Wifi is recommended.
Upon purchase, you should get an e-mail confirming your purchase. You can also check it via the ASOBI STAGE Purchase History on the website's menu.

During the live event, if you watch from the middle of the event, you will be watching from that point and the video cannot be rewound. For archive, this can be done. 
Below is the setlist for the Orchestra. Those in bold are new, while the rest were performed in the Orchestra last year.
Yume wa Owaranai ~Kobore Ochiru Toki no Shizuku~ (The Dream Will Not End ~The Spilling Drops of Time~) - From "Tales of Phantasia"
Yume De Aru Youni (Like a Dream) - From "Tales of Destiny"
flying - From "Tales of Eternia"
Key to my heart - From "Tales of Destiny 2"
Starry Heavens - Soshite Boku ni Dekiru Koto (What I Can Do Then) - Ninin Sankyaku (Three-Legged Race) - Medley from "Tales of Sinfonia" "Tales of Sinfonia-Knight of Ratatosk"
good night - From "Tales of Reverse"
TAO - From "Tales of Legendia"
Karma (also "mirrors" "meaning of birth") - From "Tales of the Abyss"
VS - From "Tales of the Tempest"
Follow the Nightingale - From "Tales of Innocence"
Kane wo Narashite (Ring a Bell) - From "Tales of Vesperia"
Eien no Ashita (Eternal Tomorrow) - From "Tales of Hearts"
Mamoritai-White Wishes- - From "Tales of Graces"
Progress~Song 4 u - Medley from "Tales of Xillia" and "Tales of Xillia 2"
White Light - From "Tales of Zestiria"
BURN - From "Tales of Berseria"
HIBANA - From "Tales of Arise"
Tales of Arise BGM Medley by Motoi Sakuraba
More information on the Orchestra can be found in our previous report.
Tales of Arise

Tales of Arise
is the latest upcoming mothership title of the Tales of Series which was first announced during 
Microsoft's Press Conference in E3 2019
. The game was released for the PS5, PS4, Xbos Series X, Xbox One and PC Digital via Steam on September 9, 2021 for Asia and Japan and September 10, 2021 for the rest of the world. The game features use of the Unreal Engine 4 and works on the theme of tradition versus evolution of the series.
Info Page | News | Gallery | Official Website (US) | Official Website (JP)