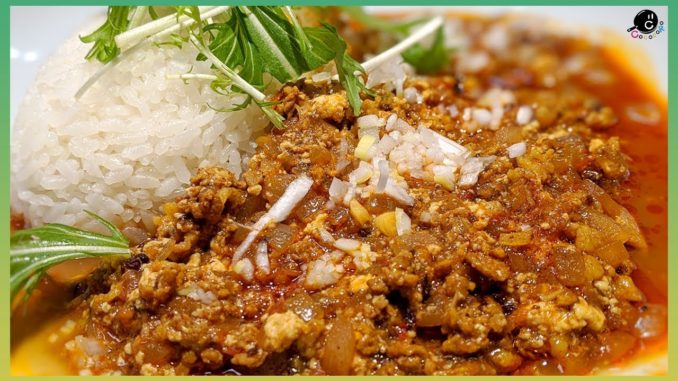 Check out everyone's favorite Mabo Curry (and maybe try making it at home) in this special feature from 4Gamer!
4Gamer's special feature "My Collaboration Cafe" is a monthly column run by Cooking Entertainer Tetsuya Onishi-san and features monthly dishes made in real life inspired from different video games. Tetsuya Onishi-san, born in Hokkaido, is a cooking entertainer and professional chef from the restaurant "Ryouri Umai BAR COCOCORO" (literally 'Delicious Cuisine Bar Cococoro') in Tokyo as well as the YouTuber who cooks in the COCOCORO YouTube Channel. He loves to please people with his cooking. He really loves the charm of the characters in the Tales of Series and his favorite happens to be Arche (...wait).

Onishi-san himself has played the Tales of Series games, his first being Tales of Destiny. He was impressed with the animated cutscenes, the battle system, the story and the voice acting, reminiscing on the times he'd swing an umbrella around like a sword during his middle school days.
The Tales of Series is known for its many innovative RPG features, and one of them happens to be its Cooking system, where ingredients are combined to make dishes that boost stats. In a way, it feels similar to how cooking is in real life.
Among the many dishes in the games, the most prominent and arguably the most popular one is Mabo Curry. At times, getting the Mabo Curry recipe is difficult, sometimes needing specific requirements before it is unlocked.
In this article, he hopes that gamers will be able to prepare this wonderful dish to an extent. Let's go!
Ingredients (Serves 2)
120g Pork, finely chopped
1 tomato, coarsely chopped
1/2 onion, coarsely chopped
1/4 block silk tofu
5g garlic, chopped
5g ginger, chopped
5g Tochi (fermented black soybeans), chopped
1 teaspoon Toban-djan (bean paste)
1 teaspoon salt
1 tablespoon Shaoxing Sake
200cc water
1 teaspoon chicken broth
30cc salad oil
1/2 teaspoon paprika powder
1/2 teaspoon turmeric powder
1/2 teaspoon coriander powder
1/2 teaspoon cinnamon powder
2 pcs cardamom
2 pcs cloves
1/2 teaspoon cumin
1/2 teaspoon Sichuan pepper
Chili oil
Leeks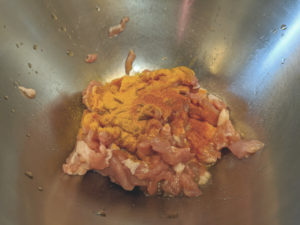 Season the pork with the salt, Shaoxing sake, turmeric powder and paprika powder and mix well.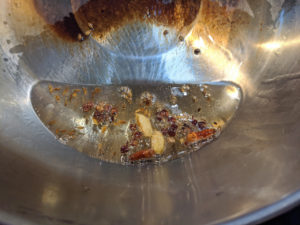 In a pot, saute over low heat the clove, cardamom, cumin and pepper in salad oil, until bubbly. Be careful not to burn them. Then, add the garlic, ginger Tochi and Toban-djan and keep on sauteing. Be careful to maintain a low heat as it tends to burn quickly.
Add the onion and fry under medium heat until tender.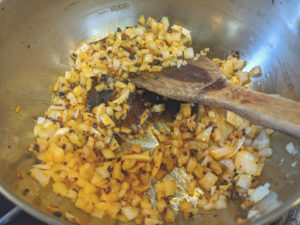 Add in your tomato. Once the tomato has been fully absorbed, go to the next step.
Add in your seasoned pork and fry until the meat turns white.
Add in your chicken broth, water, coriander, and cinnamon. Simmer for about 5 minutes.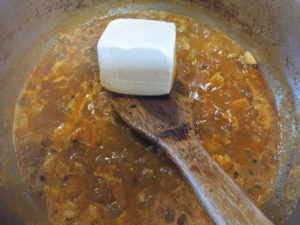 Add in your tofu. Crush it in and thoroughly mix it. Simmer for another 10 minutes.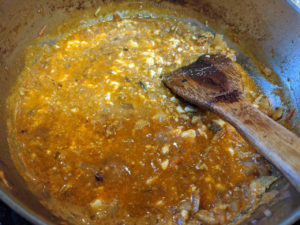 You can add about 1/2 a teaspoon or more of salt, depending on how you want it to taste. You may also add chili oil and the leeks as you see fit to taste, as well.
Taste Test
"It's good!" The fusion of the unique features of Mabo Tofu and Curry is creative. Both origins of these two dishes, Sichuan China for the Mabo Tofu and India for the Curry, are both hot and humid places with a good history on use of spices. Despite being two different dishes, they have high affinity for each other, akin to Vietnamese or Thai cuisine. More prominent is the taste of tofu, which adds depth and mellowness in place of the usual milk or dairy.
A video on how to create this recipe is available at the COCOCORO Channel:
If you ever do try making this at home, do post about it with the hash tags #俺のコラボカフェ and #COCOCORO!