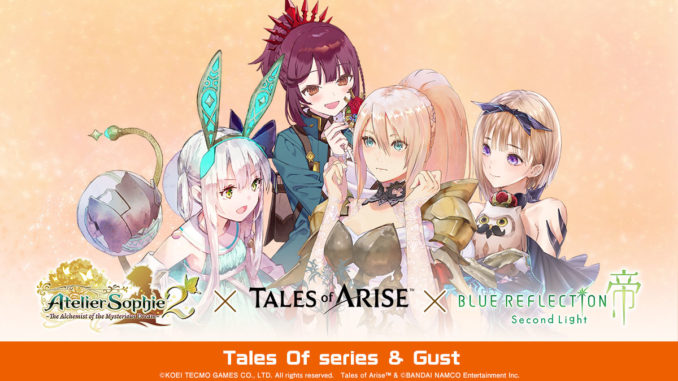 More information on the previously announced Tales of Arise x Atelier Sophie 2 collaboration will be shown tomorrow!
Way back in November, a collaboration between Tales of Arise and GUST's upcoming entry to the Atelier Series, Atelier Sophie 2: The Alchemist of the Mysterious Dream, was announced. A few more details are finally coming in for the said collab, months later.
Collaboration Illustration
It seems the collab has been further expanded into a collaboration between the Tales of Series in its entirety and GUST itself. To commemorate the occasion, a new illustration worked on by character designers from their respective games was released (NOCO and Yuugen from Atelier Sophie 2, Minoru Iwamoto from Tales of Arise, and Mel Kishida from BLUE REFLECTION: Second Light):
There's also an ongoing giveaway or an acrylic standee featuring the artwork above. Head over to the Koei Tecmo Europe official Twitter account for details on how to join.
Win a Collaboration Acrylic Plate commemorating the 25th anniversary titles of the Tales Of and Atelier series.

To enter: follow @koeitecmoeurope and retweet this post. Two winners will be selected, and this opportunity ends on Sunday, 6th March.

T&Cs: https://t.co/7zgAaKTmAa pic.twitter.com/8veV3QkfII

— KOEI TECMO EUROPE (@koeitecmoeurope) February 21, 2022
Interview with the Character Designers
Via a recent panel held in Tokyo to celebrate the collaboration, IGN has an exclusive interview with the character designers from the three games. You can read more on this via IGN.
Sneak Peek at Upcoming Collaboration In-Game Items
To celebrate the collaboration, Tales of Arise and Atelier Sophie 2 will be getting in-game accessories from each other's games. IGN has a little sneak peek on what to expect:
For Tales of Arise, we will be getting an Atelier Sophie 2 Collaboration Pack which is said will contain multiple items. One of them is Sophie's Flower Hair Clip attachment, as shown in the screenshots below: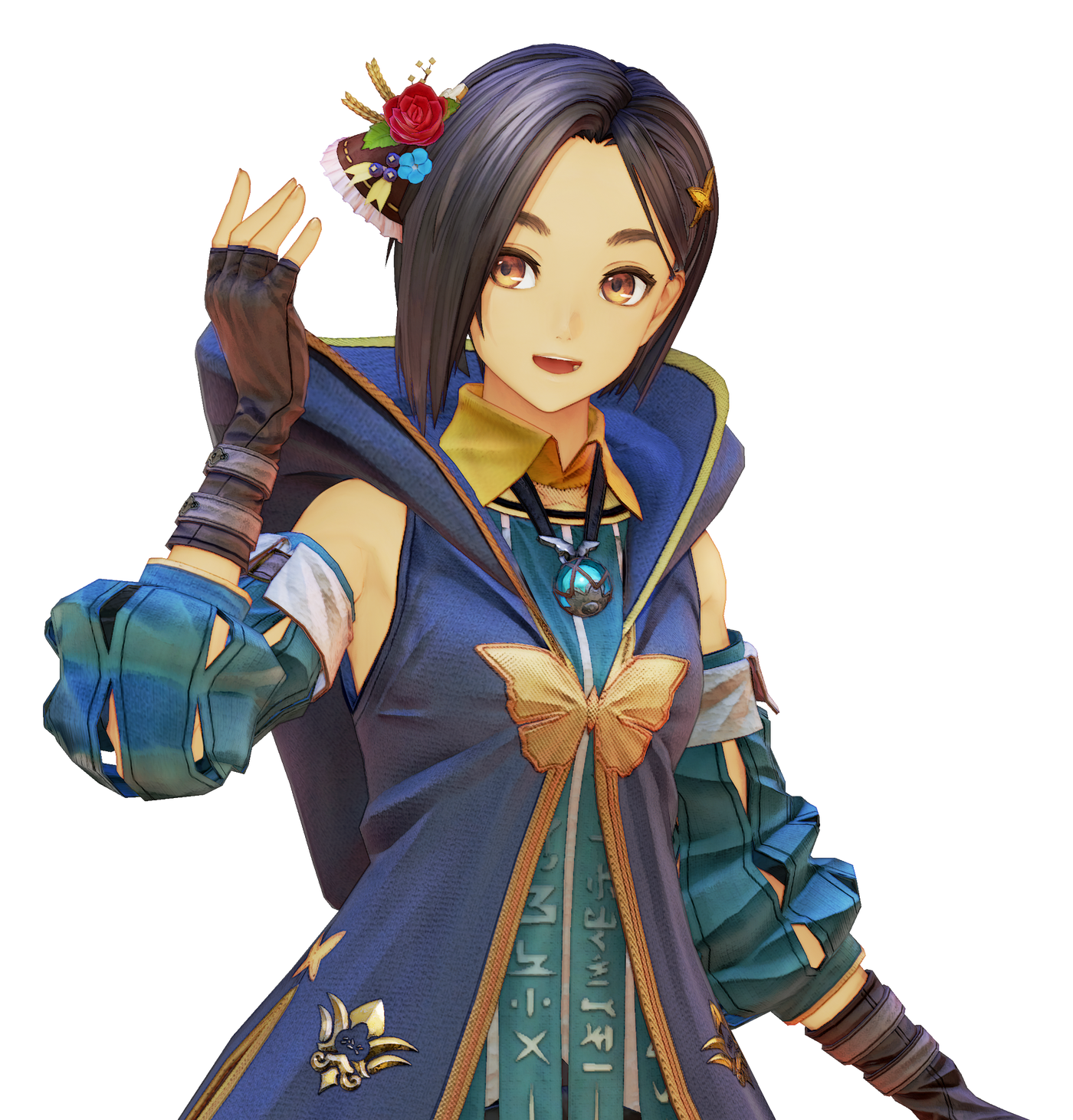 For Atelier Sophie 2 players, they will be getting a Tales of Arise Collaboration pack. So far, some of the items the pack will contain includes Alphen's Iron Mask and Shionne's Scarlet Tiara, as shown in the Atelier Sophie 2 screenshots below:
It is unknown yet whether this will be free or paid DLC. More details on the said collaboration will be revealed tomorrow, February 22nd at 9PM JST in Atelier Sophie 2's special Japanese live stream.
Atelier Sophie 2: The Alchemist of the Mysterious Dream is a direct sequel to the Atelier Series' Atelier Sophie: The Alchemist of the Mysterious Book which was released last November 19, 2015 in Japan and in June 7 (US) and 10 (EU), 2016 for the PlayStation 3, PlayStation 4 and PlayStation Vita. It was also ported to the PC in 2017, and received an enhanced release for the Nintendo Switch earlier April of this year. The sequel is set to be released this week, on February 25, 2022. Pre-orders are now available for the PlayStation 4, Nintendo Switch and PC Digital via STEAM.
Tales of Arise

Tales of Arise
is the latest mothership title (new classification: original title) of the Tales of Series which was first announced during 
Microsoft's Press Conference in E3 2019
. The game was released for the PS5, PS4, Xbox Series X, Xbox One and PC Digital via Steam on September 9, 2021 for Asia and Japan and September 10, 2021 for the rest of the world. The game features use of the Unreal Engine 4 and works on the theme of tradition versus evolution of the series.
Info Page | News | Gallery | Official Website (US) | Official Website (JP)