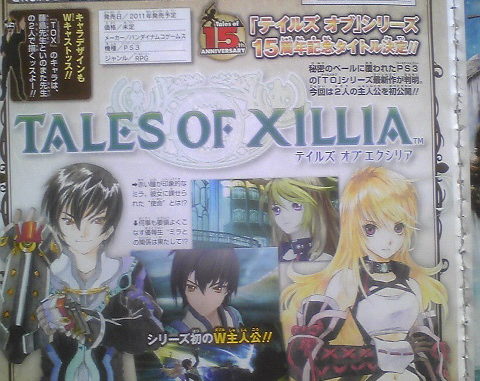 I'm sure a lot of you have already noticed the leaked scan for Tales of Xillia, Namco Bandai's 15th Tales of Anniversary mothership title. With the countdown for the reveal officially over, the official website of Tales of Xillia has officially opened, revealing the game's first trailer.

[PS3] Tales of Xillia ( ???? ?? ????? ) First Trailer / PV1
The trailer can be found on the recently opened Tales of Xillia official website, as well as in our YouTube channel above (subs courtesy of YumeHanabi). The graphics are indeed stunning. In the trailer, we get to see the hero, Jude Mathis (voiced by Yonaga Tsubasa) and heroine Mira Maxwell (voiced by Sawashiro Miyuki). The game brings us a surprise by bringing in two character designers: Jute, designed by Kosuke Fujishima and Mira by Mutsumi Inomata. For the first time, Namdai is offering us two "main" characters with these two. A few battle scenes are also shown in the trailer wherein it seems that attacks can be linked. The PV also shows that we have Motoi Sakuraba back again for the music composer, as well as Ayumi Hamasaki for the game's main theme song. Surprisingly, Ufotable is listed as the ones in charge for the game's animation movies. What could have happened to Production I.G?
More information was leaked from a Weekly Jump scan just a few hours before the site's opening. Jude is apparently an excellent student training to be a doctor, while Mira is a spirits master who has control over the four elements of fire, wind, water and earth. The game is slated for a 2011 release.