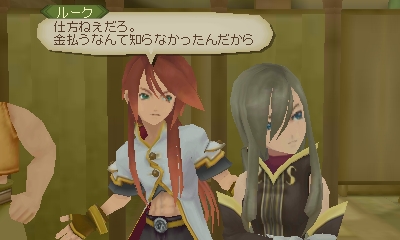 Various Japanese gaming sites have put up detailed information on and some new screenshots of the upcoming Nintendo 3DS port of Tales of the Abyss. The game's official site has also been updated with the info.

... and when I say "almost fully", I mean info on pretty much everything we know about the game, including the storyline about the Score and Lorelei, its Flex-Range Linear Motion Battle System (FR-LMBS) and full characters information. This, of course, doesn't include anything new that may come along in the future. That aside, pretty much of the new info have been revealed before, like the part about issuing commands to your party members in battle using the bottom screen and having the world map also at the bottom screen when exploring the world of Auldrant. The only new feature they mentioned is the use of "Free Target", wherein the use of the free cursor will allow you to move anywhere. It seems that using Free Run no longer requires holding down a button anymore because of this.
The info also comes with a bunch of new screenshots of the game:




More screenshots here
You can visit the official site 
here
.