The Tales of Xillia 2 talk show event at Machi Asobi 9 brings news.The Tales of Xillia 2 x Puella Magi Madoka Magica DLC costumes have been revealed: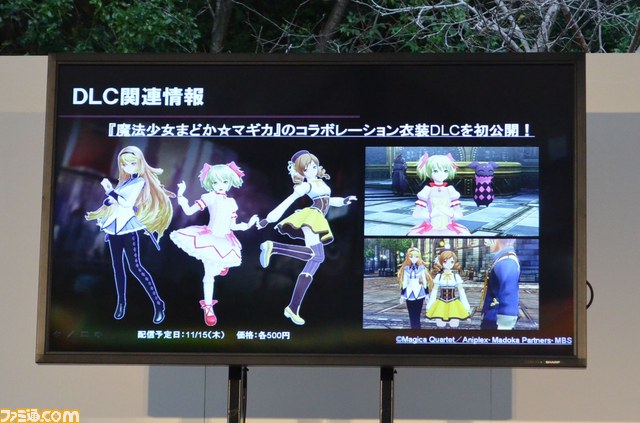 So, that's Elise as Madoka Kaname; Milla as Homura Akemi and Leia as Mami Tomoe. These will be out on November 15th for 500 Yen each costume. In addition, there will also be a Kyubey attachment for 200 Yen:
The lineup for the
Tales of Xillia 2 x Code Geass DLC costumes
have also been revealed. And it looks like the costumes aren't restricted to the Akito the Exiled series, but also stretches back to the Lelouch of the Rebellion one.
Unfortunately, I don't have a proper picture yet, but this'll do for now
. Updated with better pictures from
Famitsu's coverage of the event
.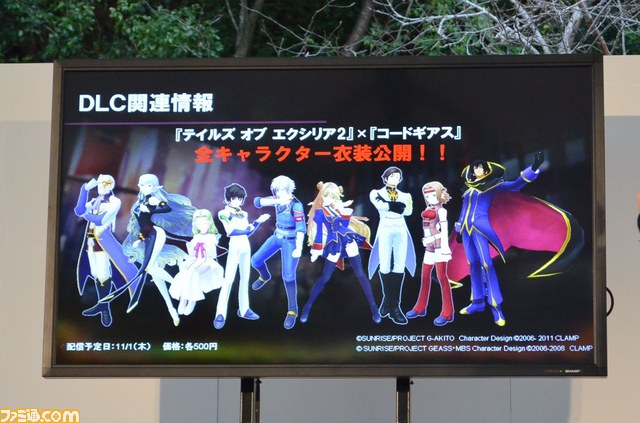 The lineup is: Ludger - Akito; Gaius - Zero; Leia - Karen; Alvin - Gino/Zino (from the Knight of Rounds); Milla - Leila; Elise - Nunnally; Jude - Suzaku (pilot suit version); Musee - CC; Rowen - Jeremiah.
These will be out beginning November 1st for 500 Yen each.
Another important thing to take note of is Ludger's voiced dialogue. Apparently, in the game's first playthrough, Ludger is made to have very little voiced dialogue so that players will get to feel like they're the main character first. So, in the second playthrough, you then get an option that lets you "turn on" Ludger's voiced dialogue. I think this means that even his choices and whatnot in the second playthrough will be voiced then.
Other little tidbits from Machi Asobi 9:
I think it was mentioned before that Gaius and Musee are only support characters of sort. Actually, no, they're not. It seems they will be full-fledged party members, bringing the total number of playable characters to 9.
Jude's new look was probably influenced by Alvin, primarily because of the hair, Hideo Baba jokes.
There will be a total of 5 Tales of Xillia digest movies, and they can be played after Xillia 2's opening is shown.
Tales of Xillia 2 will be released in Japan on November 1, 2012. Pre-orders are now available at the following places. Be quick, pre-orders run out fast!
Tales of Xillia 2 JP Version - Play-Asia | CDJapan | Amiami | YesAsia
Tales of Xillia 2 Asia Version - Play-Asia
Tales of Xillia 2 Famitsu DX Pack - Play-Asia | CDJapan
Tales of Xillia 2 Lalabit Market Kyun Chara Pack - Play-Asia | CDJapan
Tales of Xillia 2 X Edition (w/ PS3 controller) - Play-Asia (all slots currently sold out, check again later) | YesAsia