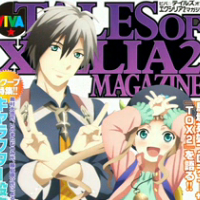 Here's a round-up of Tales of Xillia 2 news from the live event today from Tokyo Game Show 2012!
First off, they showed a new trailer with scenes from the opening and the opening song during the event. The opening song is Song 4 U by Ayumi Hamasaki, and it will be within the official soundtrack that will be released on November 2, but I'm not sure if it'll have an actual single release, but apparently it will be released this September 24 via the Japanese iTunes, and it's also out in Japanese sites such as Recochoku. There's an entire post dedicated to the trailer, so you can view it here.
Also, Baba-san confirmed that
you can use Xillia 1 costumes in Xillia 2
, though this may be pertaining to DLC only. I still need to confirm this. In addition, the pre-order bonus Asbel and Yuri costumes for Milla and Jude respectively
can be used in Xillia 1
. These won't be the only ones, though. Apparently a few more select costumes can be used in the original Xillia.
A
Puella Magi Madoka Magica collaboration
was also announced, and it will be in the form of DLC costumes for the female characters. Also, while I'm at it,
Elle's costume apparently cannot be changed
.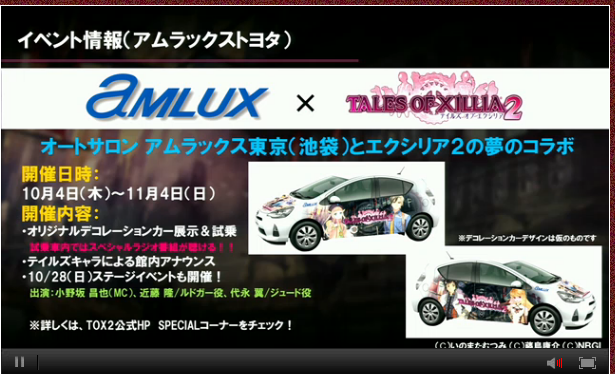 Another collaboration, this time with
Toyota's Amlux Auto Salon
. Amlux is basically a display of cars in Odaiba. The special car will be on display from October 4 until November 4, and there's also a stage event of sorts.
Other collaborations include an event with
Parco
department stores and ufotable cafe with the return of
Tales of Cafe
. The Parco one will be from September 28 until November 11, while the Tales of Cafe will have two periods: October 2 to October 28 and October 30 to November 18.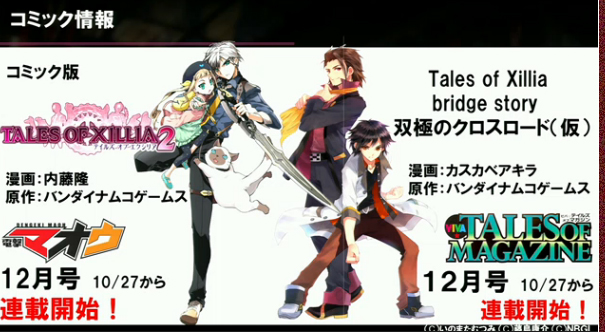 Two new mangas were also announced, a
Tales of Xillia 2 manga
, and will start in
Dengeki Maoh magazine
, and another one,
Tales of Xillia Bridge Story
, which I assume will explain what happens between Xillia 1 and 2, will start in
Tales of Magazine
.
Apparently, they also mentioned that Ludger DOES have lines, but they haven't released them yet. Hrmm. In addition (this needs to be confirmed first), apparently Musee and Gaius are support party characters? Baba-san also hinted that there might be more playable characters. There will also be another stage event on September 29th.
Still checking if I missed any news. In the meantime, how hyped are you for Tales of Xillia 2?
Tales of Xillia 2 will be released in Japan on November 1, 2012. Pre-orders are now available at the following places. Be quick, pre-orders run out fast!
Tales of Xillia 2 JP Version - Play-Asia | CDJapan | Amiami | YesAsia
Tales of Xillia 2 Asia Version - Play-Asia
Tales of Xillia 2 Famitsu DX Pack - Play-Asia | CDJapan
Tales of Xillia 2 Lalabit Market Kyun Chara Pack - Play-Asia | CDJapan
Tales of Xillia 2 X Edition (w/ PS3 controller) - Play-Asia (all slots currently sold out, check again later) | YesAsia