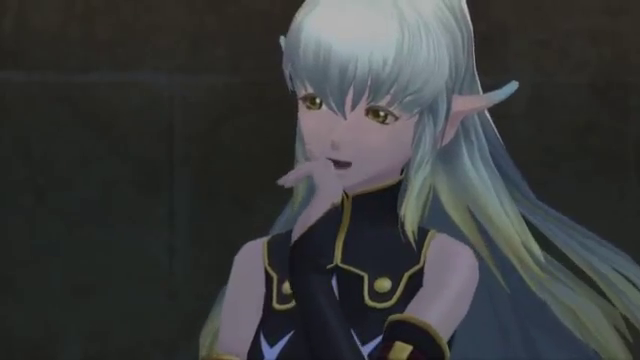 A new batch of Tales of Xillia 2 videos features Gaius, Musee and the recent Code Geass and Madoka collaboration DLC costumes. There's also a new commercial for the game.
The video seems to talk about a childhood friend of Gaius's? Also, the members of the Fauves make an appearance.
Musee thinks of getting everyone some gifts since she's the "older sister", but I don't think the others were particularly grateful, whatever it is she gave.
This video features the special skill exclusive to Musee: Rieve Assault.
- If Musee is knocked back by an attack, she can warp around the battle field with the front step or back step commands.
This video features upcoming collaboration DLC with Code Geass/Code Geass: Akito the Exiled. The lineup is: Ludger - Akito; Gaius - Zero; Leia - Karen; Alvin - Gino/Zino (from the Knight of Rounds); Milla - Leila; Elise - Nunnally; Jude - Suzaku (pilot suit version); Musee - CC; Rowen - Jeremiah. These will be out beginning November 1st for 500 Yen each.
This video features upcoming collaboration DLC with Puella Magi Madoka Magica. We have Elise as Madoka Kaname; Milla as Homura Akemi and Leia as Mami Tomoe. These will be out on November 15th for 500 Yen each costume. In addition, there will also be a Kyubey attachment for 200 Yen.
And lastly, here's a new commercial for the game. This isn't part of the episodic commercials and this time actually features real people. The theme is that people make choices in life over and over again in search of happiness. The first one is the 15 seconds version while the second one is 30 seconds long.
Tales of Xillia 2 will be released in Japan on November 1, 2012. Pre-orders are now available at the following places. Be quick, pre-orders run out fast!
Tales of Xillia 2 JP Version - Play-Asia | CDJapan | Amiami | YesAsia
Tales of Xillia 2 Asia Version - Play-Asia
Tales of Xillia 2 Famitsu DX Pack - Play-Asia | CDJapan
Tales of Xillia 2 Lalabit Market Kyun Chara Pack - Play-Asia | CDJapan
Tales of Xillia 2 X Edition (w/ PS3 controller) - Play-Asia (all slots currently sold out, check again later) | YesAsia