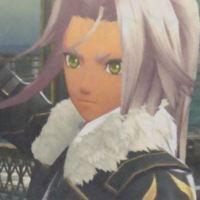 The latest issue of Famitsu Mag apparently reveals the return of Ivar for Tales of Xillia 2, Character Episodes, and the second level of Ludger's Corpse Shell Mode. We don't have scans yet, but the source is a reliable one. (UPDATE #2: Full scans added).First off though, a little bit on Jude. He has indeed successfully graduated from Medical School and now works actively as a researcher in facilities found in both Rieze Maxia and Elenpios. He's actively doing research on Origin so that it could replace Jin.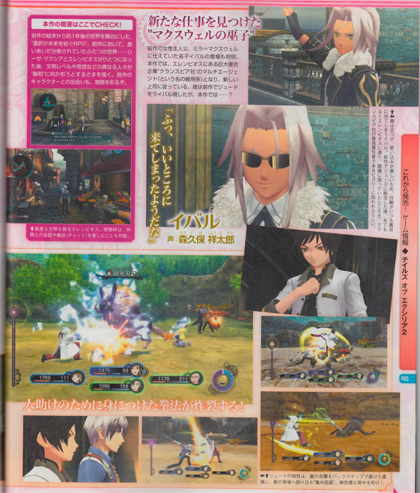 Now, on to
Ivar
. After having been defeated by Jude in the previous game, he apparently wandered around aimlessly in Elenpios until Bisley found and recruited him to work for Clanspia, where he now works on various odd jobs. He's said to still look somewhat the same aside from a change of clothes, and
with sunglasses this time
. No confirmation yet, but he's most likely an NPC again.
The story of Tales of Xillia 2 is divided into chapters, and in between chapters, you can engage in various
Character Episodes
. Basically, after each chapter of the game, everyone scatters around town. Ludger can then go talk to them and trigger a character episode. Completing these will earn you extra character-exclusive items as well as let you see some new cutscenes with them. For instance,
Celsius apparently makes an appearance in one of Jude's character episodes
. It personally reminds me of Mana Khemia, to be honest.
Ludger's
Corpse Shell
form has a
second level
, which I believe is what that
concept art they released before represents
. Ludger will obtain it sometime in the story. This second form apparently gives Ludger a higher attack power.
Tales of Xillia 2 will be released in Japan on November 1, 2012. Pre-orders are now available at the following places. Be quick, pre-orders run out fast!
Tales of Xillia 2 JP Version - Play-Asia | CDJapan | Amiami | YesAsia
Tales of Xillia 2 Asia Version - Play-Asia
Tales of Xillia 2 Famitsu DX Pack - Play-Asia | CDJapan
Tales of Xillia 2 Lalabit Market Kyun Chara Pack - Play-Asia | CDJapan
Tales of Xillia 2 X Edition (w/ PS3 controller) - Play-Asia (all slots currently sold out, check again later) | YesAsia