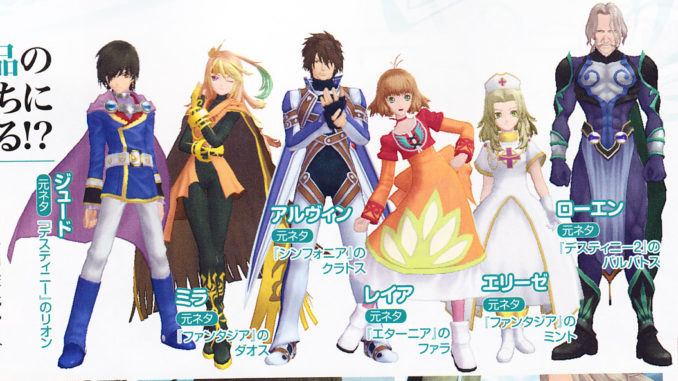 A few new scans reveal that the Tales of Xillia characters will be getting their own set of Tales of Series cameo costumes. Famitsu's review for the game is also now up, and the game has garnered a really good score from them. Plus, get to change the characters' hairdos via DLC.


This DLC is set for an Oct. 6 release for 300 Yen each. We have Jude as Leon Magnus (Tales of Destiny), Milla as Dhaos (Tales of Phantasia), Alvin as Kratos Aurion (Tales of Symphonia, Cruxis clothes), Leia as Farah Oersted (Tales of Eternia), Elise as Mint Adnade (Tales of Phantasia) and Rowen as Barbatos Goetia (Tales of Destiny 2).


Apparently, Famitsu's scores for the game are also out with scores of
10/9/10/10
, a total of a whopping 
39/40
. The magazine's cover also features Milla, Leia and Elise. The reviewers praise mainly the game's Link Mode and battle system, how it ensures a deep, busy but very enjoyable gaming experience, especially when doing combos. The system makes battles particularly fast-paced. There are a lot of Short Chats while traveling the world, and it really makes you feel like you have your friends walking with you. The map's easy to navigate around in, and transitions between towns and dungeons are fast.


On Tales of Xillia's release (Sept 8, 2011), a unique DLC set in the form of hairdos will be available for the game. This set, worth 100 Yen, will allow you to change the hairdos of the characters. There will also be Tipo attachments for everyone, though no news yet on how much those will be.