The Official Tales of VS. Website was updated earlier today. It now has character pages for Cress Albane & Leon Magnus, both of whom also have character profiles in the Characters section.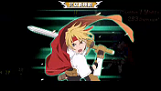 In these videos, Cress features his ????? (Dark Blade/Meikuu Zanshouken) High-Ougi & Lion with his ????? (Infernal Suffering/Majin Rengokusatsu). Once again, these thumbnails (upon being clicked) will lead you to these videos.
Also, the Characters section sports a new look. I cannot recall its former format, but now it has entries for both mysterious & confirmed characters in a 7x5 grid.
EDIT: Official site art for the two added to the gallery. I won't be adding the character faces in the grid until it's complete. I've also added the smaller version of the character arts, the ones with their name and game logo, if you somehow prefer them. Click here. -a745
*whoosh*