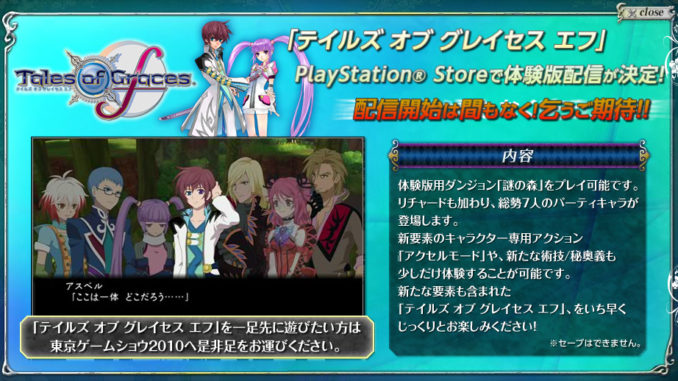 A magazine scan that was leaked recently brought news telling us of Tales of Graces f's upcoming game demo this September. Today, the Tales of Graces f official site has been updated with information on what to expect from the demo.
- The demo will take place in a dungeon known as The Otherworld Paradise (
ikai no mori
, ??? )
- Richard will be playable and in the party, now resulting in 7 party members in total. All 7 will be in the demo.
- The new system, "Accel Mode", will be available.
- A few of the new artes and some of the new Blast Calibers will be available.
- If you'll notice Asbel's eye color in the screen shot from the official site, the setting will most probably be at the after story part of the game.
- Game cannot be saved.
The demo will be available at the Japanese PlayStation Store some time this month.