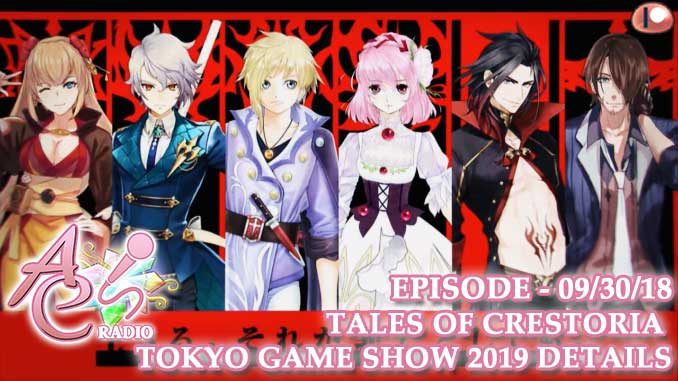 In this week's AC Radio, we discuss the Tales of Crestoria Tokyo Game Show 2018 details on the characters and battle system sneak peek!
AC Radio episodes are available exclusively to AC Patrons first before they're released a week later to the public on our Youtube Channel! Check out AC's Patreon page for more details.
Runtime: 47:01
AC Patrons can now listen to the episode over at our Patreon page. The episode will be available to the public after one week.
Updated October 8, 2018: The episode is now available to the public!
Hosts/Guests:
a745 (AC Staff Head Admin; Site Designer; Founder)
PanbanRichard (AC Staff Admin; News and Content Writer;Back-end Support)
DimensionSlip (AC Staff News and Content Writer; Back-endSupport)
Description:
A745 here! Sorry for the delay! This is my first time posting and producing an episode! Anyway, in this episode, we discuss the newly revealed information about Tales of Crestoria during the recent Tokyo Game Show 2018 - the new characters, the concept movie, new trailer and the sneak peek of the game system.
Reminder to our patrons! We're having a short survey for the special guest for our next episode of AC Radio. If you're a patron, please do drop by our Patreon page to comment on the post! Thanks!
Tales of Crestoria

Tales of Crestoria
is an upcoming mobile title dedicated for smartphones that is an entirely new story and doesn't focus on previous Tales of titles. The game features Kanata Hjuger, a young man branded as a Transgressor because of the crimeof "protecting someone important" to him. The game will be released for iOS and Android on 2020.
Info Page | News | Gallery | Official Website (JP) | Official Website (EN)