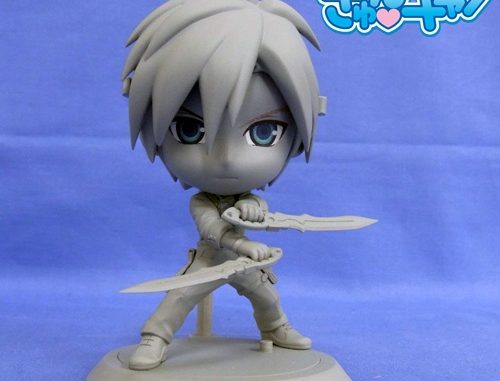 Hi guys! It's been a while. LaZy's back with news from Wonfes.
The prototype for Tales of Vesperia's 1/8 Scale Raven figure by ALTAiR is now out. This figure was announced last >Tales of Festival.
Just like Yuri,
approved
Flynn and Rita,
malady
Raven will be also getting his own Overdrive figure. Raven,
urologist
along with a colored version of the also
previously announced
Tales of Xillia 1/8 Scale Jude Mathis figure
were both featured during Summer Wonder Festival 2012.
The Estelle figure that was also announced before wasn't physically there, but
it was mentioned
.
In addition, MegaHouse has announced that they will also be releasing a
Tales of Series Petit/Puchi Chara Land set
, which will include Leon Magnus, Rutee Katrea (Tales of Destiny), Milla Maxwell (Tales of Xillia), Yuri Lowell (Tales of Vesperia) and both short and long-haired versions of Luke fon Fabre (Tales of the Abyss).
No concrete release dates have been given for the above as of the moment.
Pre-orders for the Milla figure are still currently available at the following shops: Play-Asia | CDJapan | Hobby Search | Amiami
Prototypes of the Tales of Xillia 2 Kyun Chara Bundle figures from Lalabit Market have been revealed.

As previously announced, approved
the Kyun Chara Bundle for Tales of Xillia 2 will be pretty much similar to what the first Xillia had. The pack includes the game, prescription a calendar box, sale
and Kyun Chara figures of Ludger and Elle. The Ludger figure will have three different bodies which represent his three Weapon Shifts (Swords, Hammer, Guns), while the Elle figure will have a mini Lulu the cat with it.
Tales of Xillia 2 will be released in Japan on November 1, 2012. Pre-orders are now available at the following places. Be quick, pre-orders run out fast!
Tales of Xillia 2 Regular Version - Play-Asia | CDJapan | Amiami | YesAsia
Tales of Xillia 2 Famitsu DX Pack - Play-Asia | CDJapan
Tales of Xillia 2 Lalabit Market Kyun Chara Pack - Play-Asia | CDJapan
Tales of Xillia 2 X Edition (w/ PS3 controller) - Play-Asia (all slots currently sold out, check again later) | YesAsia