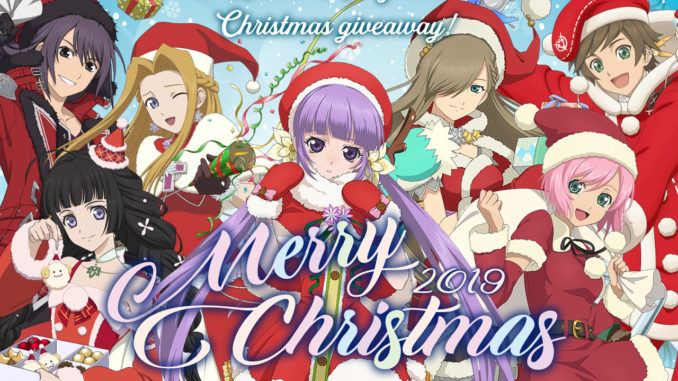 We here from Abyssal Chronicles would like to greet everyone a Happy Holidays! Step right in for a little giveaway! Winners have been posted!
'Tis the season of gift-giving, and we've got a bunch of small gifts to give away! Presenting our Abyssal Chronicles Christmas Giveaway 2019, powered by RaffleCopter!
The last time we actually did this was 2014, and after a little bit of checking we apparently have a few leftover prizes from previous contests, so have at 'em.
If the above embed doesn't work, check out the RaffleCopter page here.
The main prize(s) for this giveaway is a Steam code of Tales of Vesperia: Definitive Edition from Bandai Namco Entertainment Europe! We're giving away two of these, meaning two different winners. Three other winners will also get the chance to win either a Steam code of Tales of Berseria, a physical copy of the Tales of Zestiria Official Manga Volume 1 in English, or a physical copy of the Tales of Berseria Official Manga Volume 1 in English. That's a total of five (5) winners in total which will be chosen randomly.
The contest starts at the time of posting and will end on December 27, 2019, 12 midnight (Hong Kong time).
You each get an entry point for doing the indicated tasks. All tasks can be done only once.
The contest is open to anyone around the world! Please just make sure Steam works in your country or that you have a Steam account for the Steam codes to work. The winners, especially for those of the manga copies, should also be willing to give his/her full name, address and contact details for shipping purposes.
Good luck!
Tales of Vesperia

Tales of Vesperia
is the tenth mothership title of the series initially released for the Xbox 360. The Japanese and North American English localization release dates of the game were within the same month, a first in the entire series. It later got ported to the PlayStation 3 with additional features, but this never got an English release. An updated version known as "Tales of Vesperia: Definitive Edition" will be released for both Japan & the West in Winter 2018. Vesperia tells the story of Yuri, a former Imperial Knight. A movie called
Tales of Vesperia: The First Strike
was later released which tells the story of Yuri prior to the game's events.
Tales of Berseria

Tales of Berseria
is the latest mothership title of the Tales of Series which was first announced during 
Tales of Festival 2015
. The game was released for both the PS3 and PS4 on August 18, 2016 in Japan, January 24, 2017 in North America and January 27, 2017 in Europe for the PS4 and PC. The game features a female protagonist named Velvet and a theme of pirates and ships. It's also confirmed as a distant prequel to
Tales of Zestiria
.
Tales of Zestiria

Tales of Zestiria
 is the Tales of 20th anniversary title and was released in Japan for the PS3 on January 22, 2015 and for the PS4 on July 7, 2016. It was also released in North America and Europe for the PS3, PS4 and PC Digital on October 16 and 20, 2015. The game features Sorey, a young man set out to be the Shepherd. The game is a distant sequel to 
Tales of Berseria
. An anime series by ufotable, called
Tales of Zestiria the X
is currently airing worldwide.