Time to reveal the results of our recent Mini-Contest for a Velvet Crowe figurine!
First off, we'd like to thank everyone who particpated! Out of the 211 entries we received, only 203 of them had at least one of the riddles correct. Before we get to the winner, here are the answers to the riddles provided by AC Staff dagoldenclip2:
Spoilers will be marked. Highlight at your own risk!
Riddle #1:
"A necessary evil, the midnight marauder, the star second to none, who's justice never falters"

Answer: Yuri Lowell - Tales of Vesperia

The second hardest riddle of the batch.

"A necessary evil"

Tales of Vesperia has a strong focus on the idea of justice, and the dividing lines between good and evil, black and white, and grey moralities. Often times during the game Yuri's vision of justice is brought into question, but he remains focused and adamant in believing his actions were necessary.

"The Midnight Marauder"

Yuri's..."justice" takes place two times in the dead of night. It is also a play on Yuri's "Dark Enforcer" title. Midnight = dark ha.

"The Second Star to none, who's justice never falters"

Yuri's signature sword is called "Second Star" which gives it away.


Riddle #2:
"A paragon of wit, words spear of incredulous splinter, the past weighs heavily upon the son of winter"

Answer: Jade Curtiss - Tales of the Abyss

This was the toughest riddle of the three.

"A paragon of wit, words spear of incredulous splinter"

The hint for this clue is somewhat on-the-nose. Jade's character is known for his witty sarcasm, regardless of the circumstances. However, the second part of the phrase: "Spear" (Jade uses spears) of incredulous splinters"

"The past weighs heavily upon the son of winter"

Jade was originally born in Keterburg, where he grew up with Peony and Dist under the tutelege of Gelda Nebilim. The actions of Jade that lead to the death of Gelda and the birth of Nebilim is a truth Jade often buries deep in his mind, using his sharp tongue as a distraction of the burden he carries.

Riddle #3:
"Take caution when you speak, be weary what you ask, a gel or a bottle will surely be your last"

Answer: Barbatos Goetia - Tales of Destiny 2

Probably the most direct riddle of the bunch, because Breadban asked for me to take it easy on you all lol.

Really not much to say about this riddle. It's really a poetic way of saying, "use items and you're done"

Guh
Did you get any of these right? Did some of these stump you? These riddles might return, so keep an eye out for them in the future.
Now with that out of the way, time to reveal the winner. We performed a random draw on RANDOM.ORG with the 203 entries that were correct, and the winner is...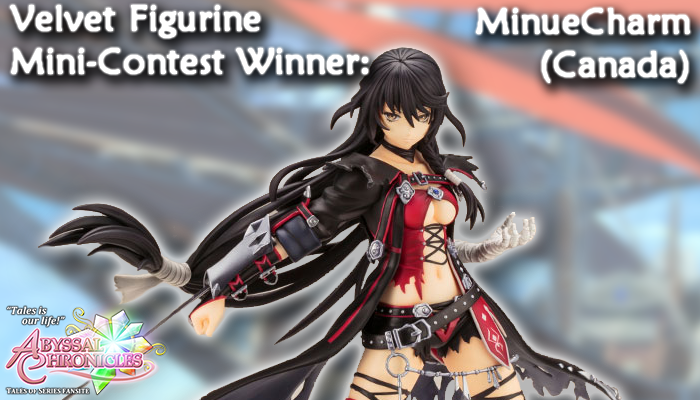 Congratulations to MinueCharm from Canada! Please send us an email at the contest e-mail: contests@abyssalchronicles.com OR reply to the e-mail which we will send a few hours from now, which includes your full name, delivery address and contact number for shipping purposes.
Once again, special thanks to Bandai Namco Entertainment America for providing us this prize to giveaway, and to dagoldenclip2 for preparing these riddles!
Finally, we're aware of the feedback we received for keeping this mini-contest open to U.S./Canada residents only. Our last contest took quite a bit from us financially (we had to dig quite a bit from our own pockets due to shipping), so we're slowly recovering our funds for our next major contest. Please understand that we try to open our contests to as many Tales of fans as we can because of our love and support of the fandom and community. If you'd like to support us, there might be something that'll come in the future but for now, feel free to use our affiliate links for Tokyo Otaku Mode, Amazon, CDJapan or Play-Asia. Our next big contest will be open worldwide for the next major Tales of release--whatever that may be, so stay tuned. We're always appreciative of your support all these years!
Until next contest, see you then!
Tales of Berseria

Tales of Berseria
is the latest mothership title of the Tales of Series which was first announced during 
Tales of Festival 2015
. The game was released for both the PS3 and PS4 on August 18, 2016 in Japan, January 24, 2017 in North America and January 27, 2017 in Europe for the PS4 and PC. The game features a female protagonist named Velvet and a theme of pirates and ships. It's also confirmed as a distant prequel to
Tales of Zestiria
.