You may remember the Tales of The Rays x Gintama event that ran two years ago. It's back again with 3 parts running concurrently and more characters on both sides of the collab!
Gintama, the best selling comedy action manga/anime franchise ended up being one of the more popular collaborations in Tales of The Rays two years ago (you can see the characters in the event here), but it was missing a major character. Namely, fan favorite Katsura who's no longer on standby and joining the event! Joining him is the antagonistic Takasugi, bringing the total number of Gintama characters to 6! On the Tales side, Yuri gets the trademark Justaway alongside Katsura's outfit while Jade gets in on a voice actor joke with a costume and Artes inspired by Takasugi. Finally, Judith joins in, dressed as Tsukuyo with kunai heavy artes as expected. As usual, all costume and arte previews will be at the bottom of this article.
And of course everyone from the first time this collab ran is here too: Gintoki, Kagura, Hijikata and Sougo join Tales while Alvin, Edna, Hubert, Ludger, Kratos and Fractured Milla get costumes and Artes based on Gintama. You'll be able to recruit all characters by playing through all the related quests in the events tab!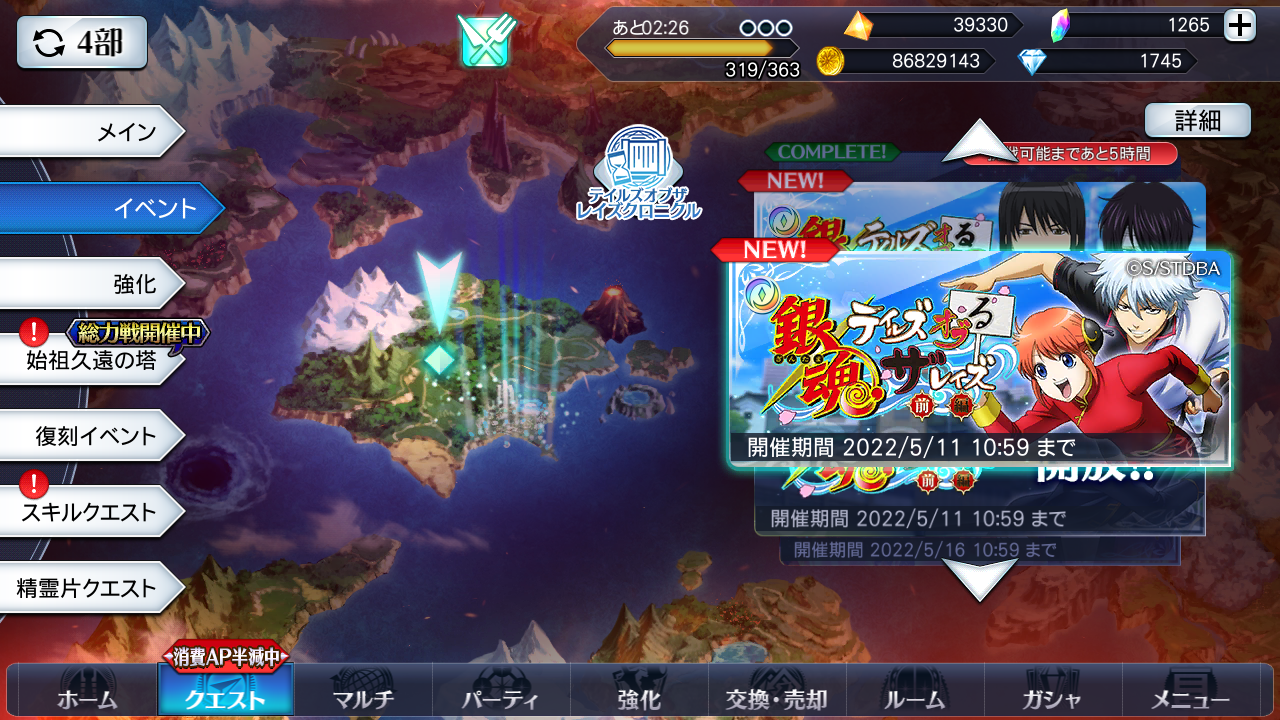 There's also not one, or two, but 6 gacha banners and 6 step up banners for this event, with a few free multis and dia step ups that go a long way to giving you artes from each character. Here's a timetable to keep an eye on for this event!
| | | |
| --- | --- | --- |
| Tales of The Rays x Gintama | Start Time | End Time |
| Gintama Rerun Quests | April 30 2022, 18:00 JST | May 11 2022, 10:59 JST |
| Gintama New Story Quests | April 30 2022, 18:00 JST | May 16 2022, 10:59 JST |
| Vs. Takasugi Raid | April 30 2022, 18:00 JST | May 16 2022, 10:59 JST |
| Gintama Panel Missions | April 30 2022, 18:00 JST | May  16 2022, 10:59 JST |
| Gintama Rerun Gacha Banners | April 30 2022, 18:00 JST | May 16 2022, 10:59 JST |
| Gintama New Gacha Banners | April 30 2022, 18:00 JST | May 16 2022, 23:59 JST |
| Gintama Unison Attack Online Co-Op period | May 6 2022, 20:00 JST | May 8 2022, 23:59 JST |
Be sure to refer back to this if you're worried about how much time you'll have left. Remember, you can only get Gintama characters and Gintama artes/costumes for Tales characters during the event period!
Before anything, you should use your free pulls. Just go to the gacha tab on the bottom right and look for the options that cost 0 Diamonds or Mirrogems!


There's also a Dia Step Up for the collaboration characters. Step up banners are usually paid currency only, but they give a higher chance at Master and Mirrage Artes the more you pull on them. It's advised to take advantage of this too, especially since Grade is shared between related banners.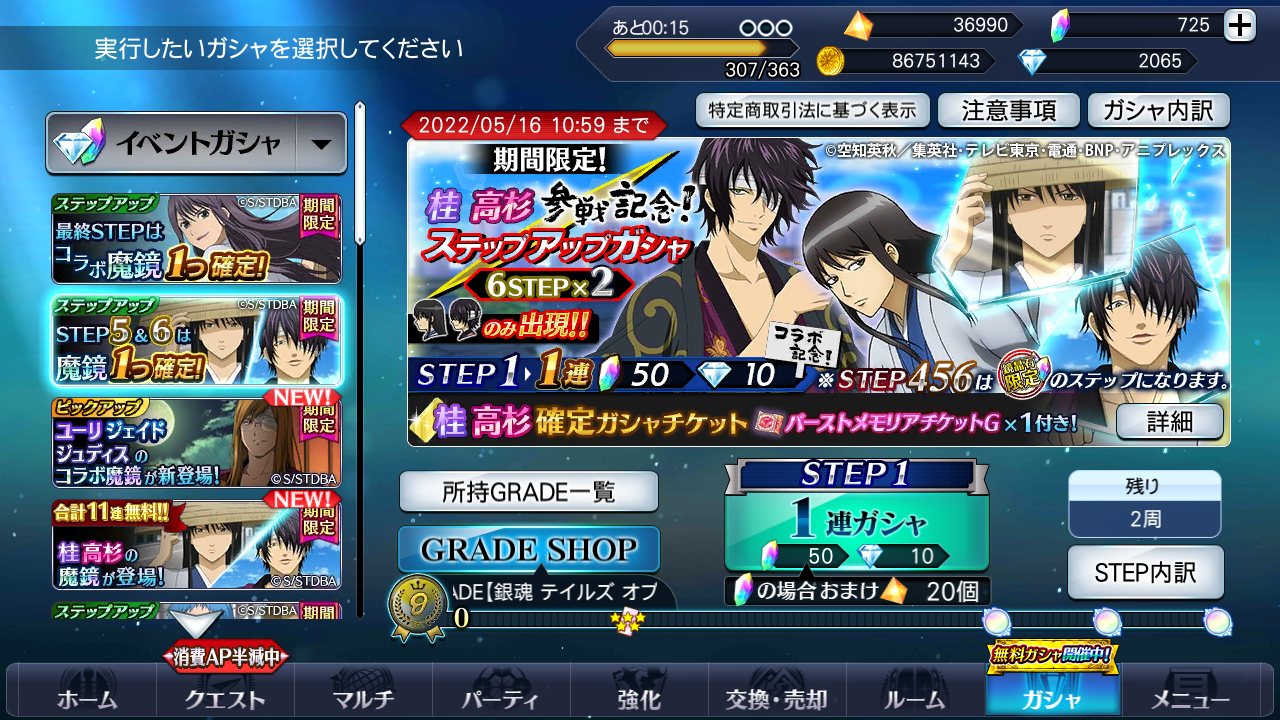 Since the first parts of the Ginatama event are reruns, the event currency and event shop work a little differently from most event shops. Instead of having to replay the last quest to farm currency and use it in the shop, you can farm currency in any quest you want, including the Raid part of this Quest (which you want to do repeatedly.) By doing quests, sending characters out on orders on the home screen, using Mirrage Artes and achieving Just! inputs, you'll gradually accumulate currency through missions on the home screen, which you can see in this tab.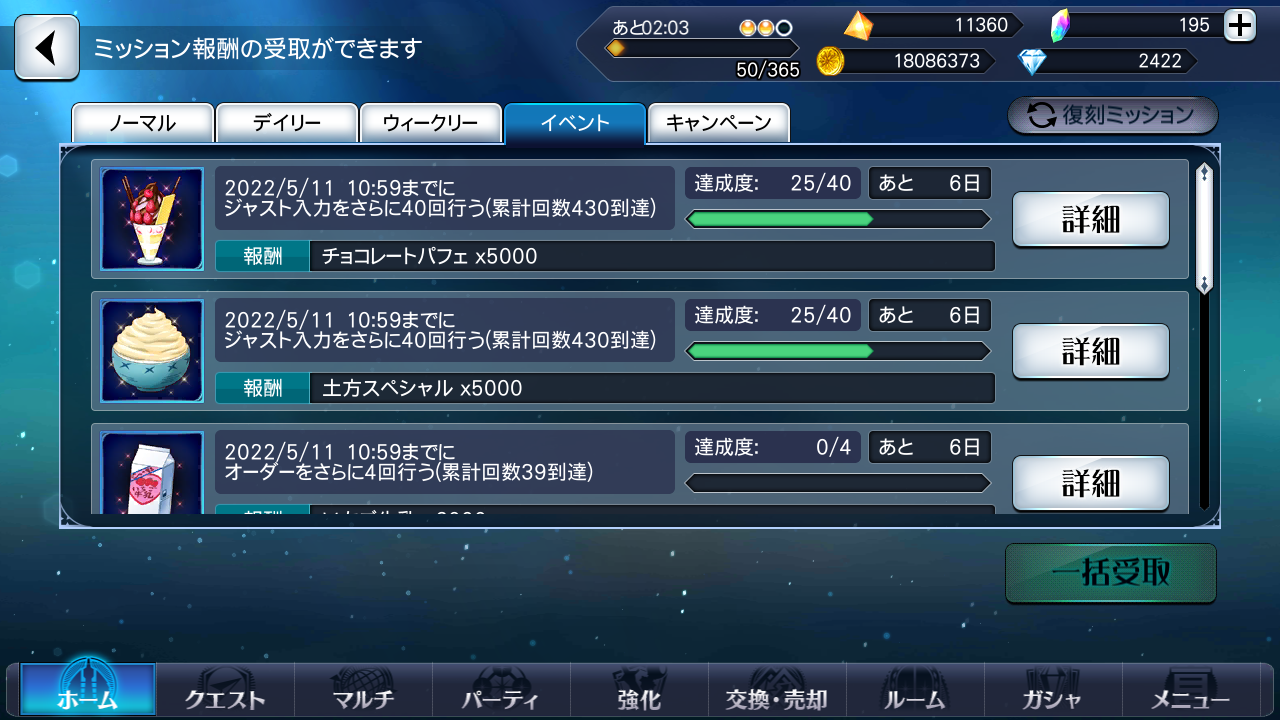 It's important to note that while most of the event quests are regular quests to recruit the characters, after completing the first few parts of the event story, the last step is to take on the Raid part of the event. You can access the Raid quests by touching the banner prominently featuring Takasugi.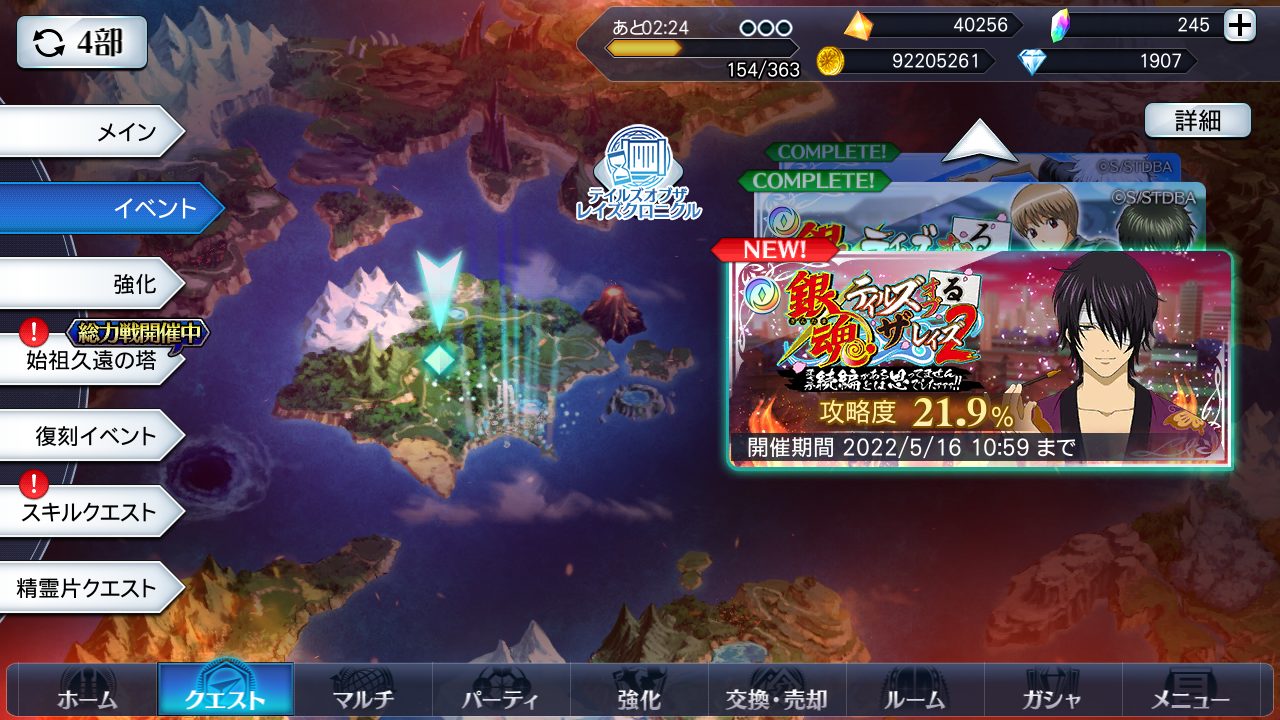 Doing so will take you to a page that looks like this. Start by tapping each boss, starting with Jade on the left, and doing the corresponding quests until you can take on Takasugi himself.

Try to complete each and every raid quest for as many dia rewards as possible! Once you've done as many as you can, there's two things left to do. First is a challenge quest that costs 1 AP- you'll want to bring your strongest characters here, as the bosses have quite high stats. Still, the movesets aren't overwhelming. It should be doable with decent knowledge of positioning and which artes help you combo. Notably, "Shinpachi" is a boss here, but we won't spoil how he looks in gameplay. Watch out for his Mirrage Arte though!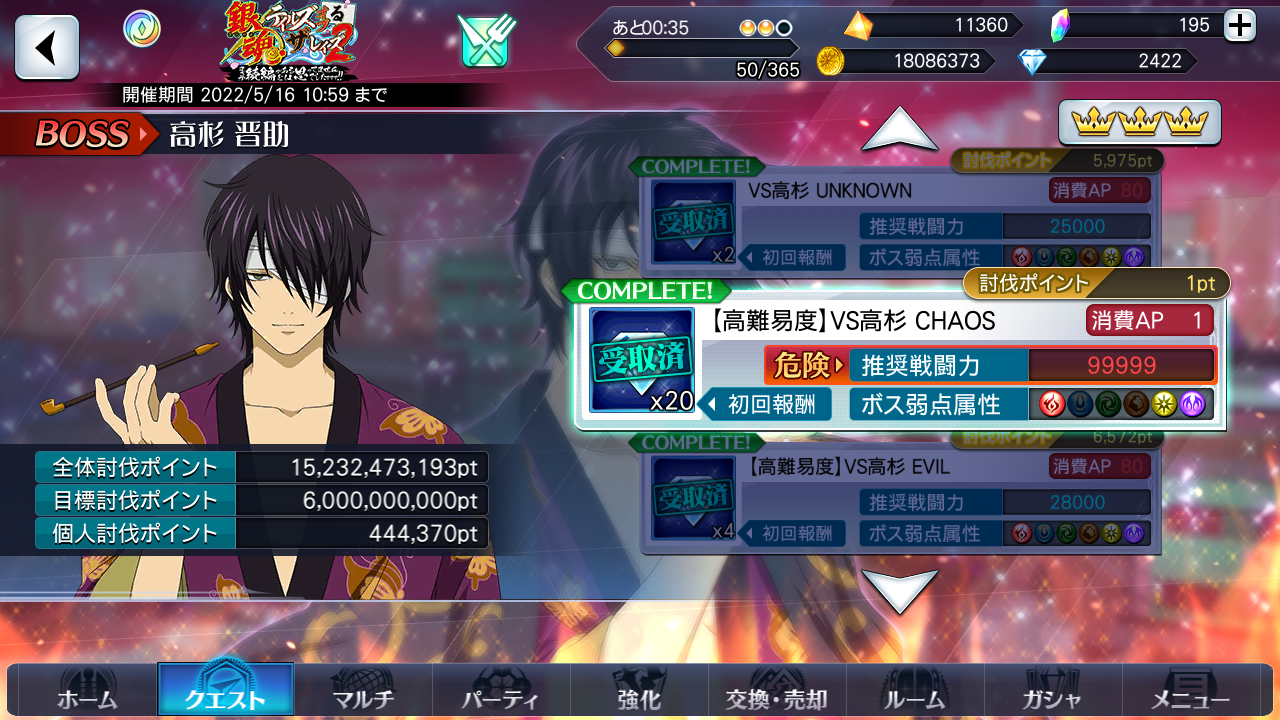 But the most important part of playing the event is farming for raid rewards. Completing a raid quest scores points based on your team's bonus, how fast you completed the quest and how high your combo was. The base score value also increases the higher the quest difficulty. You want to play the highest difficulty quest that you can clear consistently fast for the most points.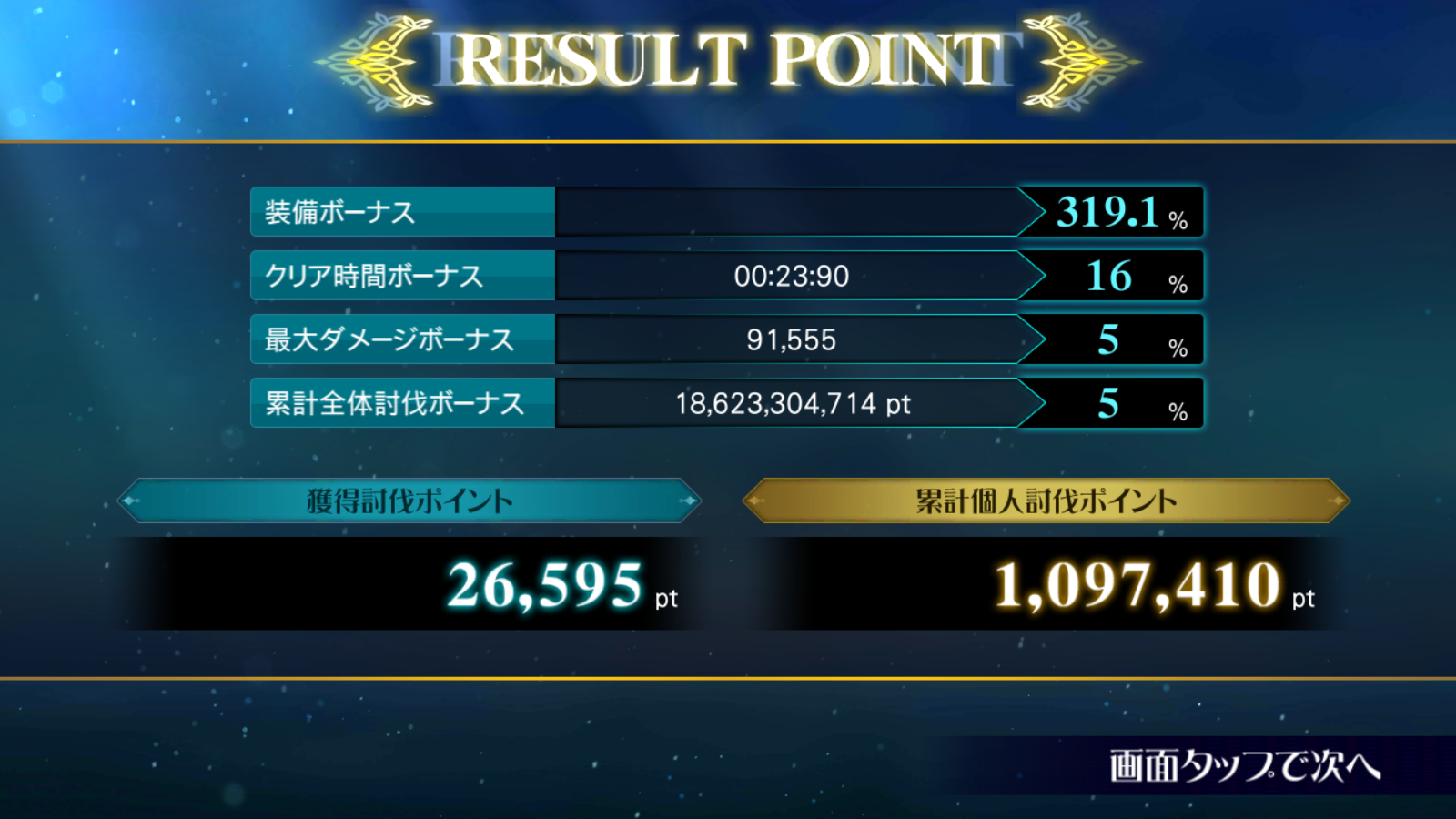 When you hit certain point thresholds, you'll get rewards, including artes for Katsura and Takasugi exclusive to this system, materials for making them stronger and even free gacha tickets! At minimum you should aim for 300,000 points to ensure you get all the exclusive rewards for Katsura and Takasugi (all event artes and crystals needed to increase maximum level), but ideally you want to aim for 3 million points, the last point threshold which also gives you guaranteed mirrage arte tickets.

There's also a new panel of missions for even more rewards this event- including a ticket that guarantees a Gacha Mirrage Arte! Here's how the panel screen looks along with a translation of each mission.

| | | |
| --- | --- | --- |
| Complete Event Quest "Find Katsura" | Complete Vs. Takasugi Raid Quest Once | Use 5 Mirrage Artes |
| Defeat 10 Enemies | Complete 5 Quests With Katsura on your team | Complete 5 Quests With Takasugi On Your Team |
| Use 200 AP | Collect one day's Log-In Bonus | Collect Log-In Bonuses for 7 days |
And that's about it for playing the event itself! There's also an upcoming Online Co-op period featuring Gintama Collaboration characters. As a rule, Unison Attack only runs on the weekend with a limited character selection. This time, the characters are everyone featured in the collaboration- every Gintama character and character with collaboration artes and costumes.

Finally, the arte and costume previews. First, take a look at each character's new costume! Even Gintoki has a new costume compared to the first time this event ran, available in the first event shop.
【お知らせ】
こんばんは。運営です
本日コラボイベント『銀魂 テイルズ オブる ザ レイズ2』を配信しました。
桂、高杉、銀時、ユーリ、ジェイド、ジュディスのキャラカスタムの集合絵を公開いたします。
銀時のキャラカスタムは開催中の復刻イベントの交換所にて獲得可能です。#ザレイズ pic.twitter.com/Gzl7dj2QGO

— 【公式】テイルズ オブ ザ レイズ (@talesof_therays) April 30, 2022
And here are the new Mirrage and 5* artes!
Katsura
【お知らせ】
続けて、桂のコラボ鏡装の動画紹介です
刀と爆弾を巧みに操り、近距離と中距離の両方で戦うことができます。
秘技派生前の「フハハハハハ」は前方に3回爆弾を投げ、中距離から安全に攻撃できます
扱いやすい剣術に加えて、敵の隙を作りやすい爆弾攻撃で様々なコンボが可能です#ザレイズ pic.twitter.com/UqmArjspLV

— 【公式】テイルズ オブ ザ レイズ (@talesof_therays) April 30, 2022

Katsura naturally relies a lot on his bombs in addition to his swordplay. Notably some of his artes don't even have proper names, which of course makes sense when the series itself does not have named techniques. By the way, players have quickly found him to be a considerably good character, able to keep combos going for very long on any enemy while inflicting a lot of damage in a large radius!
Takasugi
【お知らせ】
続けて、高杉のコラボ鏡装の動画紹介です
刀による斬撃で近接戦闘を主体として戦います
秘技派生前の「これで終いだ」は刀で斬り上げ地面から衝撃波を発生させます
術技強化することでHP吸収効果が付与され、攻撃と回復を同時に行える様になります#ザレイズ pic.twitter.com/Dtflb05F2k

— 【公式】テイルズ オブ ザ レイズ (@talesof_therays) April 30, 2022

Takasugi uses a very fast, aggressive fighting style with darkness imbued artes, making him more up close and personal than Katsura.
Yuri
【お知らせ】
続けて、ユーリのコラボ鏡装の動画紹介です
跳躍して自身の前方範囲を攻撃するため、乱戦で囲まれた状態でも、複数の敵を巻き込むことが可能です。
術技強化内容は鋼体破壊増加が多く、安全に攻撃しつつコンボの始動に使うことができます。#ザレイズ pic.twitter.com/KwC7Uunijx

— 【公式】テイルズ オブ ザ レイズ (@talesof_therays) April 30, 2022

Yuri's Justaway allows him to retreat while throwing the iconic Justaway bomb, and it has good combo synergy with his other ranged artes like Final Gale or Azure Edge, while also allowing him to end close ranged combos a safe distance away.
Jade
【お知らせ】
こんにちは。運営です
本日登場予定のジェイドのコラボ鏡装の動画紹介です
威力が高く、術技強化により一定確率で威力が2倍になる効果やHP吸収効果が付与されるため、威力の高さを更に活かせるようになります#ザレイズ pic.twitter.com/vg9yMtZmOF

— 【公式】テイルズ オブ ザ レイズ (@talesof_therays) April 30, 2022

Jade gets a new dark element spell with pretty good launching power.
Judith
【お知らせ】
続けて、ジュディスのコラボ鏡装の動画紹介です
秘技派生前「夜月」は術技強化により空中でも発動可能で、ジュディスの技の中では消費CCが低めで、秘技発動までの連携数を稼ぎつつ、他の空中技と組み合わせて使いやすい技です。#ザレイズ pic.twitter.com/UEKuFGEbek

— 【公式】テイルズ オブ ザ レイズ (@talesof_therays) April 30, 2022

Judith gets to throw kunai from the air, allowing her to use her air combos even on enemies too heavy to keep in the air alongside her.
That's it for now. There's certainly a lot of love for Gintama and fitting choices for Tales characters put into this event, and we're glad it was able to come back and give us the fan favorite Katsura. Hope everyone is able to get artes and costumes they want for these characters, they'll serve you well for a long time. This article will be updated as further developments come and as always, stick around for more news soon!

Tales of the Rays

Tales of the Rays
is a Tales mobile game for the iOS and Android featuring characters designed by Hidenori Matsuraba and a new ADF-LMBS (Advanced Flick Linear Motion Battle System). The game tells the story of hero Ix Nieves and heroine Mileena Weiss in the world of Tir Na Nog. Characters from the previous Tales titles appear in this game. The game initially had an English version, but was short-lived and now currently runs exclusively in Japan.