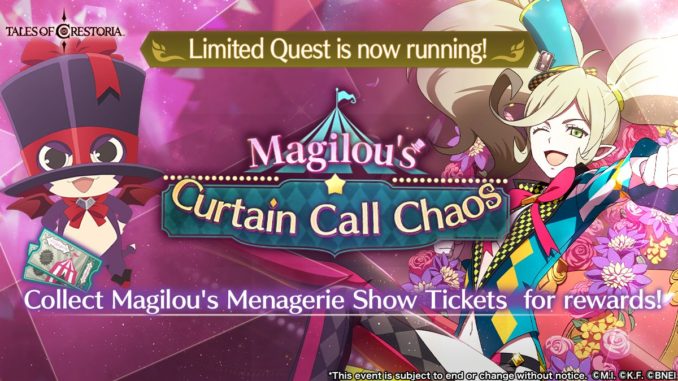 The latest event in Tales of Crestoria is Magilou's Curtain Call Chaos, featuring Magilou and Bienfu from Tales of Berseria. This event is a chance to get SSR and SR memoria stones of Magilou and Bienfu respectively. (Like other events, these memoria stones do not become characters when you receive them.) The event will run from Monday, November 2, 2020 at 2:00am Eastern time to Friday, October 18, 2020 at 1:59am. The exchange for the event will remain open until Wednesday, November 25, at 1:59am though. The story premise for this event is:
When Kanata and his friends visit a town about to hold a festival, they meet a mysterious woman, Magilou, who claims to be the leader of a group of performers called Magilou's Menagerie. Although they have never met before, Magilou invites them to join her group. It seems that the group has a performance scheduled for tomorrow, but one of the members has run away. Kanata and the others decide to join Magilou's Menagerie after hearing that they will be rewarded if their performance is a success.
To receive all of the event rewards, players must clear the quests and complete multiple Terrastormer raids. The quests drop Magilou's Menagerie Show Tickets and Lure Whistles as rewards. Magilou's Menagerie Show Tickets can be collected and exchanged for prizes at the event exchange. These prizes include Magilou and Bienfu's memoria stones, gleamstones, adornment stones, and a variety of ascension materials. Lure Whistles, on the other hand, are used to open an instance of the raid. The Terrastormer raid drops more Show Tickets with a very rare chance of also dropping a Bienfu SR memoria stone or even a Magilou SSR memoria stone. Clearing both quests and raids also awards you Event Points, which will accumulate to earn even more prizes.
Certain characters from recent summons also have Attack bonuses during this event. Velvet [The Showstopper] and Zelos [Love's Fool], the characters from the latest Premium Summons, each have a 50% ATK increase during this event's quests and raids. Kanata [Blade Swathed in Sin], the featured character in the most recent Select Summon, has a 30% ATK boost. Their associated memoria stones also have the same stat bonus. The Magilou and Bienfu memoria stones that are obtained during this event have a 20% and 10% ATK bonus respectively.
When fully awakened, the Magilou memoria stone provides a +44% reduction of enemy break gauges to all fire allies. The Bienfu one provides a +32% DEF bonus for 2 turns at the start of battle.