Following up on Fairy's Requiem, the Fourth Arc of Tales of The Rays is finally here. This isn't just any story update, it comes with version 4.0.0, a slew of new features and free rewards celebrating the game's launch! There's also a new Spirit Gear event featuring the 3 Kanonnos.
First things first. Tales of The Rays has a new version update, one that you'll have to download from your preferred app store separately rather than through in-game updates. It's a sizeable download so make sure not to use up your data!
Naturally, a new arc means a new chapter. And just like most chapters, this one has new characters. If you hadn't seen our previous article covering the Rays Livestream and PV Part 2, the new characters this time are Jay and Moses Sandor, both from Tales of Legendia! With them, the cast of playable party members from Tales of Legendia is complete (although that's not to say there won't be any more Legendia characters in the future!) In addition to those two, Senel will be getting a new Overray Mirrage Arte and Reverse 5*. Despite this being the official debut for Tales of The Rays Last Cradle, all this Legendia love makes Chapter 1 seem like an event celebrating Legendia. Well, this year marked Tales of Legendia's 15th anniversary, so it deserves a hurrah like this.
We don't just have a new story chapter. A new event also just started: the Kanonno Spirit Gear event! Naturally the 3 featured characters are Pasca Kanonno with a wind Spirit Gear, Kanonno Earhart who gets a water spirit gear, and lastly Kanonno Grassvalley donning an earth spirit gear. This is the first all blue anima Spirit Gear event! The producer's letter this month promised more balanced distribution of Spirit Gears to the anima colors in the future as well. In addition to those 3, Cress, Mint and Reala also give bonus bags so long as you have a spirit gear for one of them. Keep that in mind when building a team for farming!
Here's a timetable of things to keep in mind. Senel, Jay and Moses' Arte and Mirrage previews will be at the bottom of this article, and an overview of new features, system changes and rewards is just below this chart. There's also potentially 240 free pulls and a bunch of Free Select Tickets available to Rays players, so read on to know more about those! We're also working on a more in-depth guide to the new features that come with Arc 4, so be on the look out for that soon.
| | | |
| --- | --- | --- |
| Tales of The Rays Last Cradle + Spirit Gear Event | Start Time | End Time |
| Kanonno Spirit Gear Event Quests | October 31st, 14:00 JST | November 10th, 10:59 JST |
| Kanonno Spirit Gear Event Shop | October 31st, 14:00 JST | November 17th, 10:59 JST |
| Kanonno Spirit Gear Box Gacha | October 31st, 14:00 JST | November 18th, 10:59 JST |
| Kanonno Spirit Gear Gacha Banner | October 31st, 14:00 JST | November 30th, 10:59 JST |
| Kanonno Spirit Gear Gacha Tickets | October 31st, 14:00 JST | December 7th, 10:59 JST |
| Story Banner: Senel, Jay, Moses, Kocis | Octber 28th, 21:00 JST | November 25th, 10:59 JST |
| 3, 4, 5* Select Tickets | Octber 28th, 21:00 JST | December 31st, 10:59 JST |
| Story Missions | Octber 28th, 21:00 JST | November 30th, 10:59 JST |
| Free Multi Token Missions | Octber 28th, 21:00 JST | December 31st, 10:59 JST |
The Kanonno Spirit Gear event follows the usual formula for Spirit Gear events: after completing all the quests, repeat the 40 AP farming stage to collect currency and bags. The bags are used in a special box gacha that contains Spirit Gear Shards and a bunch of other rewards. Get enough Shards, and you can buy and then upgrade the Spirit Gears! Don't forget to equip them after buying them, as well. They have their own separate equipment slot that's unlocked once the spirit gear is released, and their own separate gauge as well. Since Arc 4 overhauled the equipment system, here's a quick explanation of where to buy and upgrade Spirit Gears! First click the very middle tab...


Then touch the "ALL" button on the top left.


From here, there's a list of buttons on the right. The important ones are the two on the bottom right. To buy a new Spirit Gear, click the left button.


This will take you to a list of Level 1 Spirit Gears available to buy. You can only have one of each! (This is my screenshot, and I already bought all of them, that's why all of them are sold out.) after that, return to the ALL screen and hit the button on the very corner on the bottom right.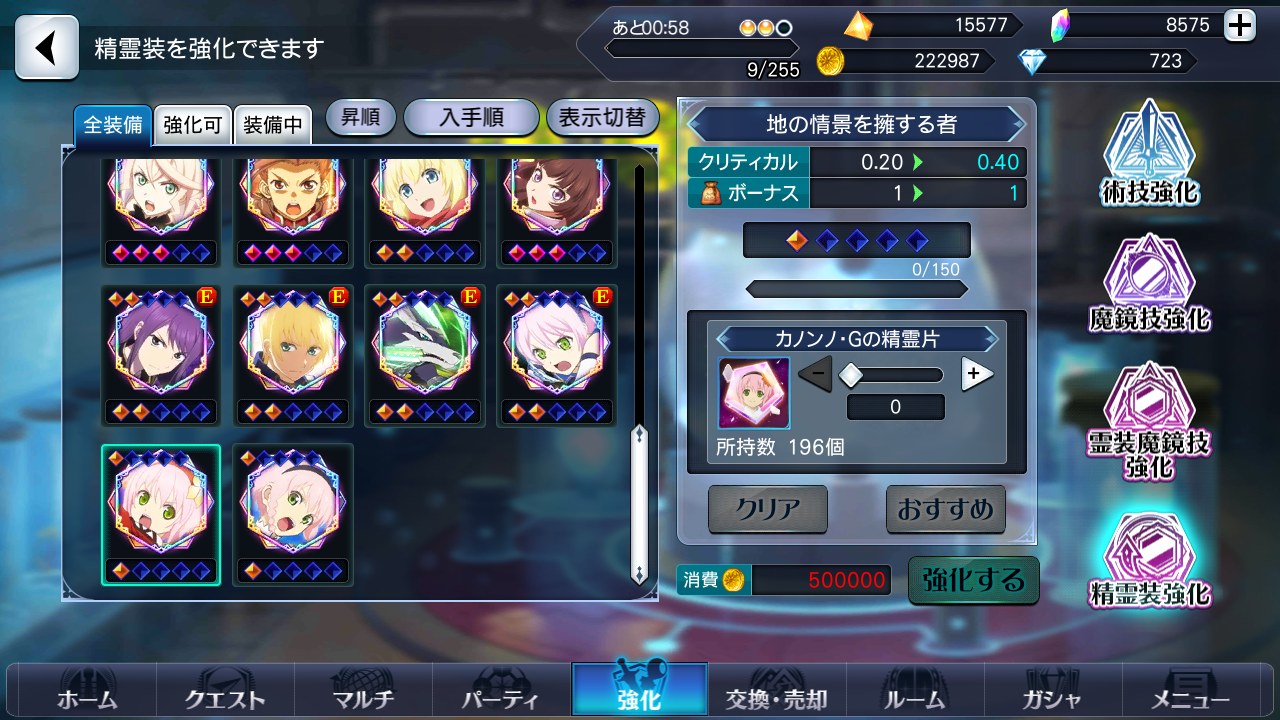 This will show all the Spirit Gears you have available to upgrade. Tap the one you want and use the slider on the right to expend the amount of shards you need to level it up! You should have enough to buy a Level 1 Spirit Gear and upgrade it to level 2 if you completed all the quests, but you need Level 3 to use the new Spirit Gear Mirrage Arte, so get to farming for that.
Moving on, let's talk about the Free Multis. Rather than simply being available on a banner, you must collect tokens from Home Screen Missions. These are the ones, if you can't find them!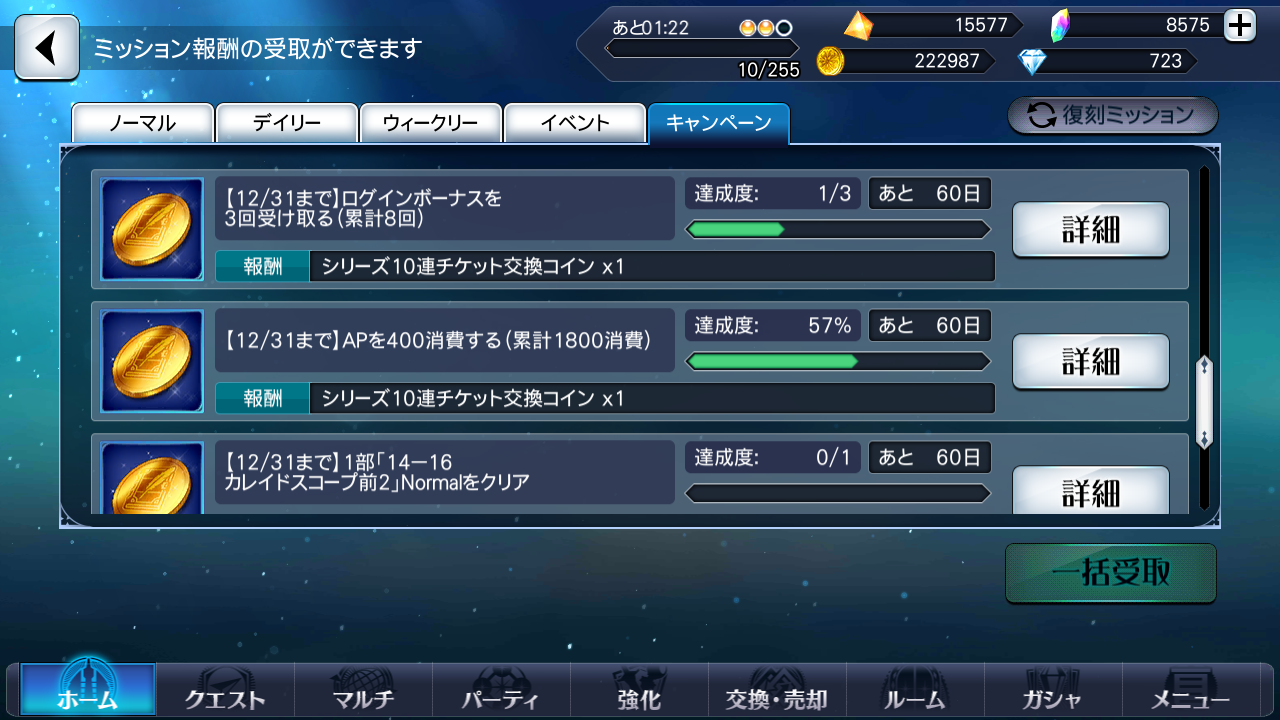 They're quite simple. You must simply keep spending AP on quests and collecting log-in bonuses for the first two token missions. There are also missions for completing the final boss quests of Arcs 1, 2 and 3 on Normal Mode. In order to use the tokens, first go to the shops tab next to the upgrade tab...


Tap the icon on the right with the two arrows to be taken to this menu.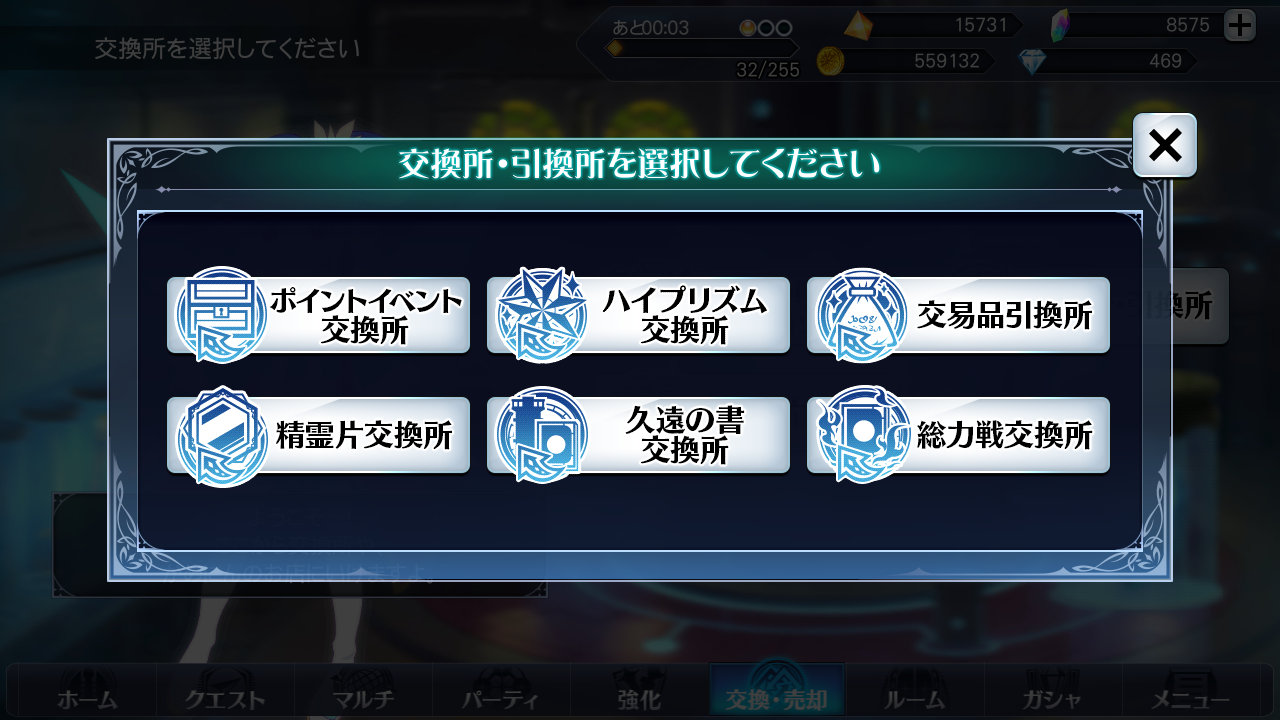 Tap the top left icon from here to be taken to a list of currently running limited time shops. Scroll down until you see a banner with the token on it, shown on the top of the list in this image.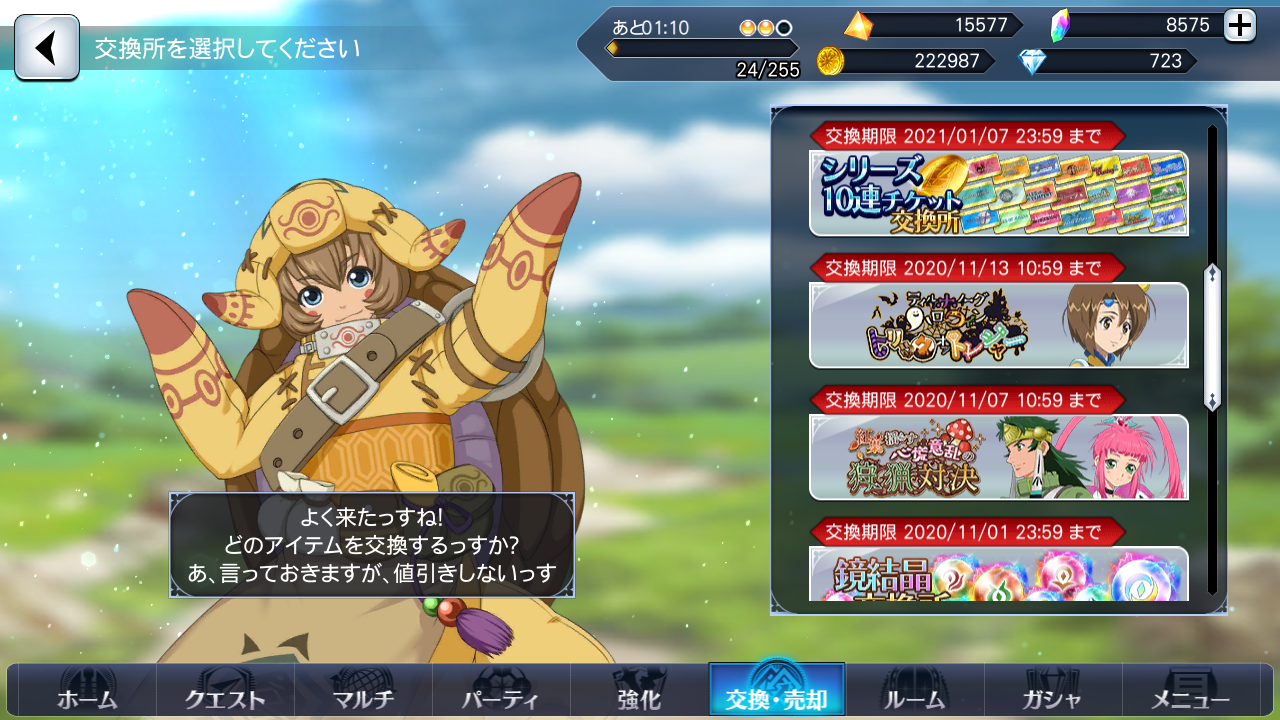 From here you'll see a selection of tickets for sale, using the tokens. Each ticket costs 1 token, and there are 24 of them in total.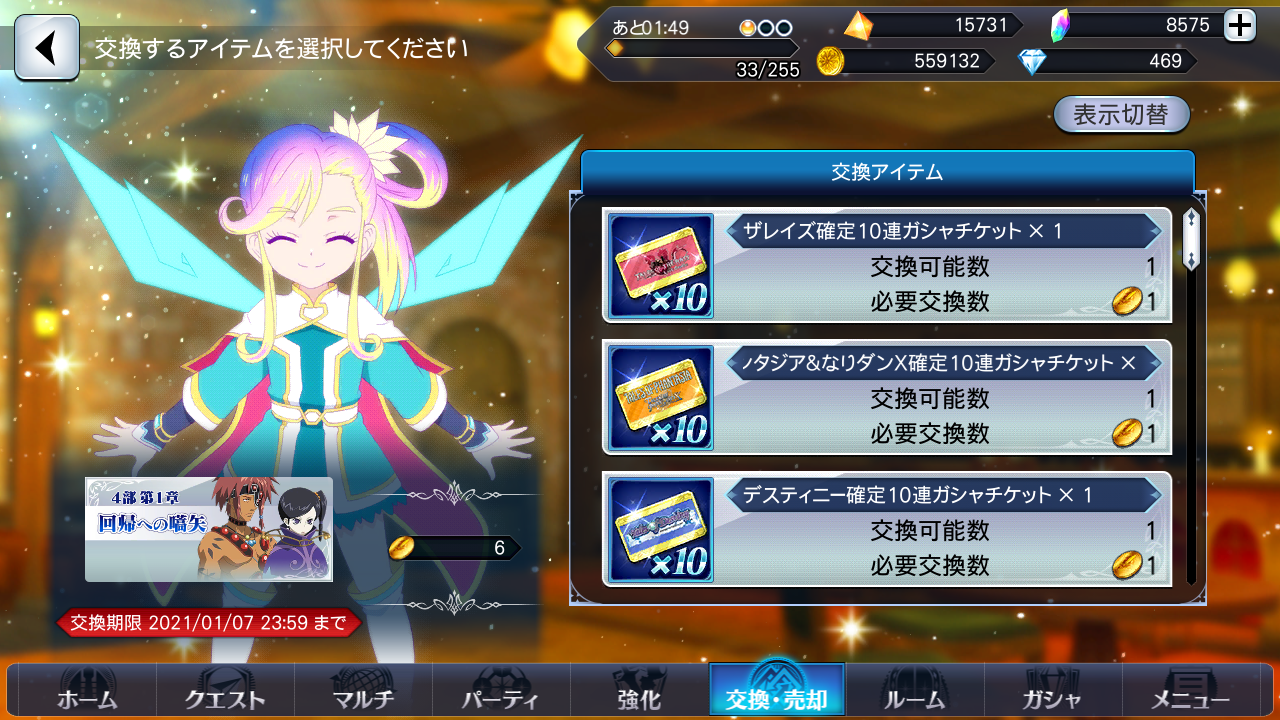 You use the tickets from the Gacha menu under the yellow tickets tab, where they'll each give a free multi, or 10 rolls in total per ticket. If you manage to get all 24 tickets, then that equates to 240 free rolls in total!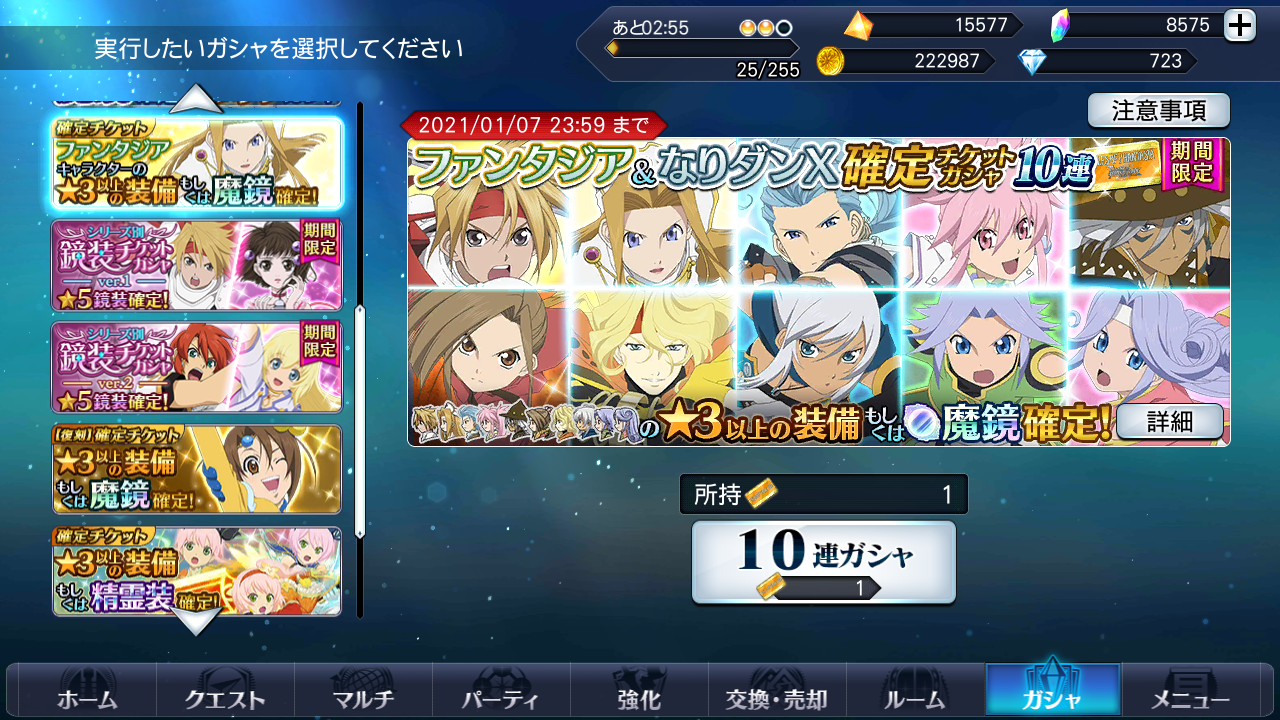 While you're in the Gacha section, check out the purple ticket tab. This takes you to your Select tickets! Select tickets let you choose what you want from a list, rather than having to do random rolls for it. Everyone has select tickets giving free 3, 4 and 5*s to celebrate Arc 4's release! (There's also a dMA/oMA select, but that one costs 5000 Mirrogems.)

That's about it for now. We are also working on a more comprehensive overview of the new features for Version 4.0.0. If you have any further questions or want to see things covered in said overview, leave a comment here or on our social media! With that said, it's time for the costume and arte previews. There are a lot, since we're covering a story *and* event release.
【お知らせ】
こんばんは。運営です。
明日10/28 メンテナンス後に配信される 新編 第4部1章 回帰への嚆矢 で活躍する
セネル、ジェイ、モーゼスの衣装を公開です。
ジェイとモーゼスは原作にも登場した正装衣装を再現しました。
セネルはアスタリアで登場したジャズ喫茶衣装が登場です。#ザレイズ pic.twitter.com/3XqXTdcQcV

— 【公式】テイルズ オブ ザ レイズ (@talesof_therays) October 27, 2020

Here's a group shot of the Legendia cast. Isn't it nice that all Tales of Legendia's party members have fully reunited at last? Senel, Jay and Moses take the opportunity to show off their new alternate costumes as well. Senel comes with a jazz outfit, which was originally created for Tales of Asteria!
Senel
【お知らせ】
こんばんは。運営です。
告知です。10/28 メンテ明け~新編 第4部1章 回帰への嚆矢 を配信します。
同時に登場するセネルのオーバーレイ魔鏡と新たな秘技を紹介です。
オーバーレイ魔鏡技は拳が海をも二つに穿ち、
秘技は原作投げ技を応用し、岩を投げつけ中距離をカバーします#ザレイズ pic.twitter.com/l5bExqL4sG

— 【公式】テイルズ オブ ザ レイズ (@talesof_therays) October 26, 2020
It's not shown in the preview tweet, but Senel also has a costume that more directly matches Jay and Moses'.
Jay
【お知らせ】
こんばんは。運営です。
近日配信の新編第4部1章で参戦するジェイの魔鏡技と秘技を紹介します。
ジェイは移動速度上昇中に性能が変化する技を持ちます。(「焔」⇒「闇走焔」など)
魔鏡技は幻の連続技「浮雲鈴鳴」が登場します。
※サウンドテストの音声から再現しています。#ザレイズ pic.twitter.com/Wa5xvPVsB9

— 【公式】テイルズ オブ ザ レイズ (@talesof_therays) October 24, 2020
Jay has a special mechanic. If he has a speed buff active, all of his artes alter to stronger forms! This effectively gives him a buff based stance system. He can self buff using his Gacha Mirrage Arte, of course!
Moses
【お知らせ】
こんばんは。運営です。
近日配信の新編第4部1章で参戦するモーゼスの魔鏡技と秘技を紹介します。
モーゼスは投げ槍により中距離から豪快に攻め立てる事が出来ます。
魔鏡技は投げた槍の勢いを利用し追撃を繰り出します。
秘技は原作技「嵐陣」が「穿孔嵐陣射」に変化します。#ザレイズ pic.twitter.com/wXXmmh70za

— 【公式】テイルズ オブ ザ レイズ (@talesof_therays) October 25, 2020
Moses is quite the fun one, with his spear chucking artes. Fans of Tales of Legendia should be very impressed by how much his moveset is improved in this game!
Pasca Kanonno
【お知らせ】
こんばんは。運営です。
10/31 14時~精霊装 パスカ イアハート グラスバレーを 配信します。今日はパスカ・カノンノの精霊装を紹介です。
纏う属性は風。霊装魔鏡技では精霊の力で春の風を嵐に変えて敵にぶつけます。
溜め秘技は桜吹雪で敵を引き寄せ、連携をサポートします。#ザレイズ pic.twitter.com/DVbmprpjOt

— 【公式】テイルズ オブ ザ レイズ (@talesof_therays) October 29, 2020
Pasca's reverse Master Arte has a special effect. If it hits an enemy, then she'll get a special buff where all of her attacks (including regular attacks, spells and Mirrage Artes) will have the Wind Element added on!
Kanonno Earhart
【お知らせ】
こんばんは。運営です。
本日カノンノ・イアハートの精霊装を紹介です。
纏う属性は水。霊装魔鏡技は巨大化した愛剣セブンスサマーで一刀両断。
秘技は巨大な獅子(ヒザ)戦吼で突撃し、自身が"属性付与"状態なります。属性付与中は全ての攻撃が付与された属性攻撃となります。#ザレイズ pic.twitter.com/UyZw79aOj8

— 【公式】テイルズ オブ ザ レイズ (@talesof_therays) October 30, 2020
Kanonno's Reverse Master has the same effect as Pasca's, except this time it adds Water.
Kanonno Grassvalley
【お知らせ】
こんにちは。運営です。
本日 14時~配信のイベントに登場するカノンノ・グラスバレーの精霊装を紹介です。
纏う属性は土。霊装魔鏡技は伝説の剣の名を冠し、精霊の力を乗せた攻撃は岩壁をも砕きます。
溜め秘技は虎牙秋撃と獅子戦吼を組み合わせた更なる上位技へと変化です。#ザレイズ pic.twitter.com/4eiRfcXBhR

— 【公式】テイルズ オブ ザ レイズ (@talesof_therays) October 31, 2020
Unfortunately, Grassvalley does not get the add element effect on her Reverse Master, but her Reverse Master is still a powerful attack that lasts a long time with full invincibility.
That's all for now! But that doesn't mean we're done. As has been stated before, we're working on a more comprehensive overview of Version 4.0.0 features. It was planned to go up earlier, but there ended up being a lot to cover! It shouldn't take much longer. In the meantime, if you want to see something covered, comment here, on our social media or join our discord. Until then, have fun with Rays!
Tales of the Rays

Tales of the Rays
is a Tales mobile game for the iOS and Android featuring characters designed by Hidenori Matsuraba and a new ADF-LMBS (Advanced Flick Linear Motion Battle System). The game tells the story of hero Ix Nieves and heroine Mileena Weiss in the world of Tir Na Nog. Characters from the previous Tales titles appear in this game. The game initially had an English version, but was short-lived and now currently runs exclusively in Japan.