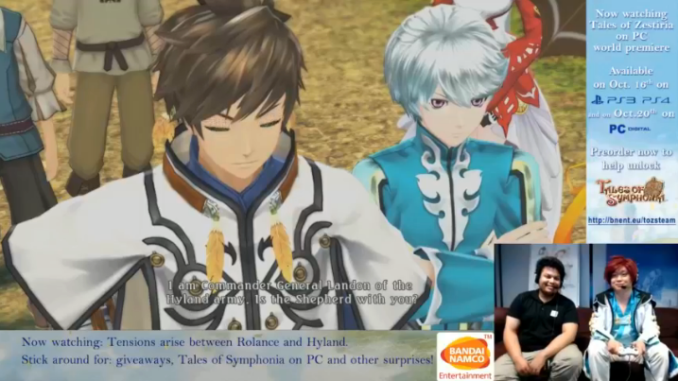 Missed the Bandai Namco livestream for Tales of Zestiria and Tales of Symphonia for the PC? Check out the entire stream here on Bamco's YouTube Channel.
For those who missed the Tales of Zestiria livestream event 2 days ago, Bandai Namco Entertainment has uploaded the entire stream to their YouTube Channel. Check it out below or here on YouTube.
Some people who don't like spoilers may find some scenes very spoilerish.
For those interested in mainly the Tales of Symphonia PC gameplay, head straight to its time stamp here.
Note that Tales of Symphonia for Steam comes free for pre-orderers of Tales of Zestiria for Steam should we reach the Reward 3 tier, so contribute by pre-ordering Zestiria on Steam!
Tales of Zestiria was released in Japan on January 22, 2015, and will be released in North America and Europe this October 16 and 20, 2015, respectively. Orders are still available at the following shops: