The recently announced new free update, sadly, isn't as straightforward as we would like in territories outside of Japan.
It was announced during Tokyo Game Show 2021 Online that Tales of Arise would be getting a new free update this October 7th. This is aside from the Sword Art Online: Alicization Lycoris collaboration, which is paid DLC. While the rollout of the update is pretty straightforward in Japan (via their respective platform stores), the way of redeeming in Western territories isn't as straightforward as we'd hope.
Additional Difficulties
First off, the new difficulties, Very Easy (aka Easiest in Japan) and Unknown are free for all and is accessible as DLC via your respective platforms' stores, except for STEAM, which already includes this in the game's latest patch (reportedly, you will still have to go to the Unclaimed DLC menu to completely redeem the said update).
Three New Training Ground Battles (with weapons)
The new Training Ground battles are a bit tricky.  As a recap, these new battles win your characters weapons that supposedly fit the theme of the current available DLC costumes. For those on STEAM, the update is reportedly also already within the game's latest patch - again, you will have to redeem it via the Unclaimed DLC menu window.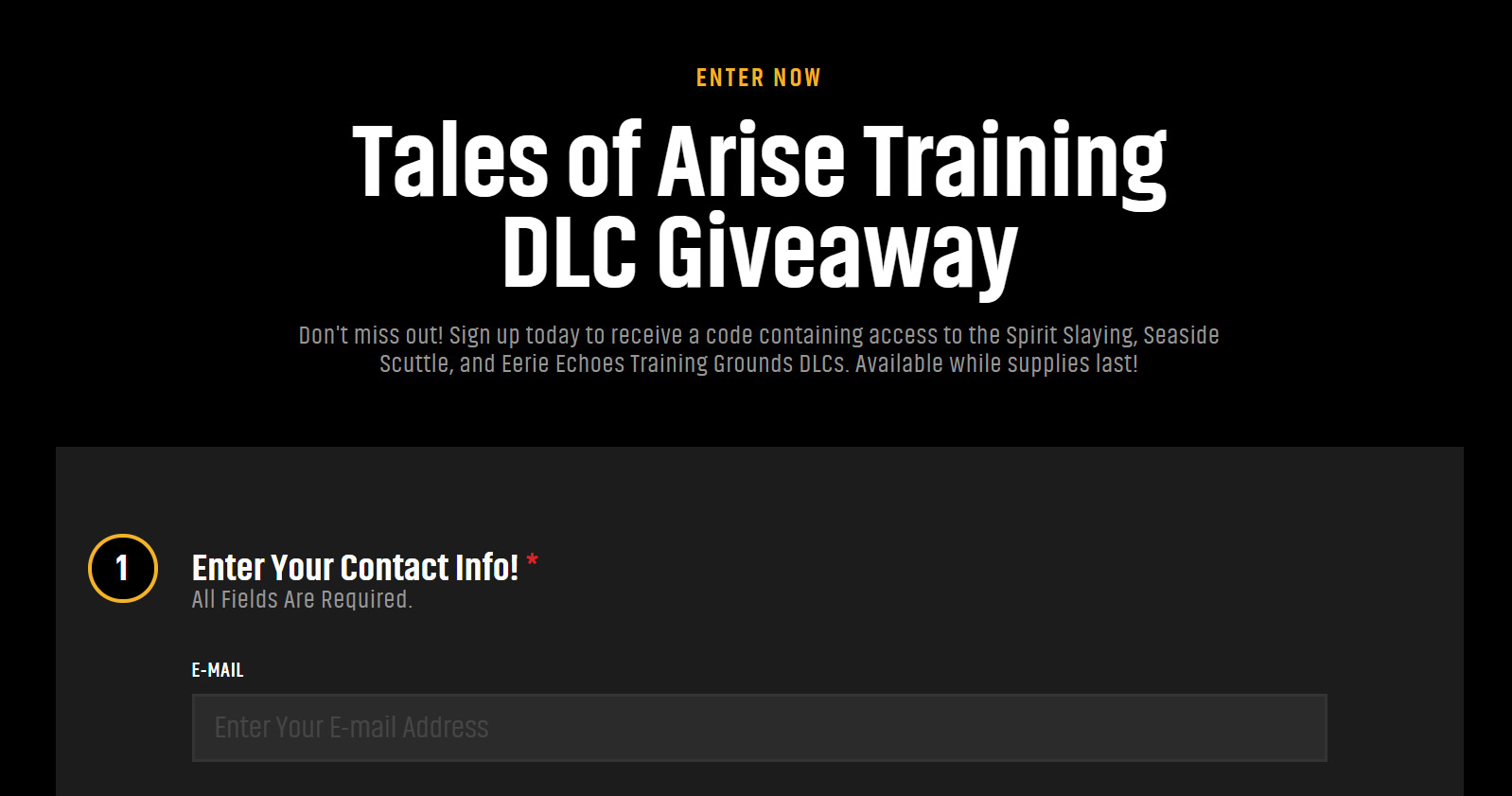 For those in North America and Canada, a sign-up page on the Bandai Namco US official website has been put up to get the DLC. You have to indicate which console you have. Note that there's a disclaimer at the bottom of the page that says "signing up does NOT guarantee a code." Codes will be delivered via email up to one week after October 11th, 2021.
For those in Europe and in the UK, you have to redeem the battles via the Bandai Namco EU's EP!C club store. The DLC does not cost any club points, and you get the code right away upon checkout (check your email for details on how to redeem the code).
Fortunately, for those in Asia, the battles are also available as DLC, so you can just access and download them for free via your platform's specific store.
Again, for those on STEAM regardless of region, the new difficulties update AND the new Training Grounds battles should already be included in your latest patch.
Tales of Arise

Tales of Arise
is the latest mothership title (new classification: original title) of the Tales of Series which was first announced during 
Microsoft's Press Conference in E3 2019
. The game was released for the PS5, PS4, Xbox Series X, Xbox One and PC Digital via Steam on September 9, 2021 for Asia and Japan and September 10, 2021 for the rest of the world. The game features use of the Unreal Engine 4 and works on the theme of tradition versus evolution of the series.
Info Page | News | Gallery | Official Website (US) | Official Website (JP)