Tales of VS. official custom themes for the PSP can now be downloaded from Dengeki, but only for a limited time. Also, the first commercial for Tales of Graces is now out.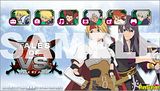 The themes can be downloaded 
here
. If I'm not mistaken, there will also be a PC custom theme. There will be three themes, but so far, only one is released. This theme is only up for grabs until 
November 26, 2009 11:59PM
 so you better get it while it's there!
For the Tales of Graces Trailer, We just see more animated cutscenes and a scene with young Asbel and Sophie. The video has been uploaded to our YouTube account.
EDIT:I took some screens of what the theme looks like on the PSP itself: