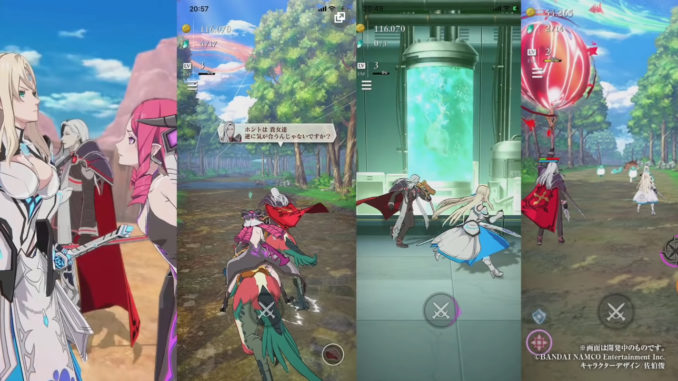 New info regarding Tales of Luminaria's Opening & Ending clips, playable characters at launch and more!
During the previously announced Tales of Luminaria Second Live Stream, the game's opening and ending clips were shown -- There will be actually 21 different variations for the opening alone!
The opening plays at the start of each episode -- and some cuts of it will change depending on which character's episode you are playing, so it has a total of 21 different "versions"! The song is the same for all of them, but there a lot of different cuts in each. Following the same idea, there are 3 variations for the ending of each episode, one for the Jerle Federation, one for the Gildllan Empire and one for the Adventurers.
The opening sequence is animated by Sunrise and Kamikaze Douga, while the ending uses the game's visuals.
7 Characters Available At Launch
During the stream, Bandai Namco also announced the characters and episodes that will be available at launch, with more coming weekly! No release date yet.
Tales of Luminaria Launch Day Characters

These are the 7 characters whose episodes are playable on launch day! Each week a new character episode will be released, so play the weekly updates to stay up on the unfolding story!#TalesOfLuminaria #TOLUMINARIA pic.twitter.com/1ITdVcyR4I

— Tales of Luminaria (@to_luminaria_en) October 15, 2021
Tales of Luminaria Stream by Takanashi Kiara
Even before the official Bandai Namco stream, Hololive-EN VTuber Takanashi Kiara hosted a sponsored Tales of Luminaria stream where she played a bit of the game and had the chance to show one version of the opening! The opening theme is TOMOSHI BEAT by Frederic, while the ending theme is Regret by Keina Suda.
Bits of info we could take from the gameplay part:
Gear-based gacha system
Some gear seems to have artes, passives and other skills attached to it, similar to Tales of the Rays' gear system.
Map exploration seems to be larger, take longer and be more complex than the other current Tales of mobile titles. Probably supposed to be explored throughout multiple plays rather than in one sit.
"Social Feed"-like main screen
UI designed to flow better from screen to screen, with no apparent loading necessary.
We can probably expect more sponsored content from her in the future!
The opening and ending themes, along with ANSWER by both Frederic and Keina Suda, will be receiving a physical CD release scheduled for this December. Pre-orders are now open:
Track list:
ANSWER by Frederic (Tales of Luminaria inspire song)
TOMOSHI BEAT by Frederic (Tales of Luminaria OP song)
Regret by Keina Suda (Tales of Luminaria ED song)
veil by Frederic
Oddloop by Keina Suda
New Fateful Crossroad Anime Trailer
A new trailer for the Fateful Crossroad anime was also released. An English dub version of the trailer was also shown in Kiara's stream, or you can view it on Twitter.
Tales of Luminaria

Tales of Luminaria
is an upcoming Tales of Series original title for iOS and Android released November 2021. The game was first announced during
Gamescom Opening Night Live
. Unlike the recent Tales mobile games, Luminaria has been
reported
to have its own original world with only original characters and no previous Tales characters, as well as an English dub. Unfortunately, the game has announced termination of service worldwide on July 19, 2022.
Info Page | News | Gallery | Official Website (EN) | Official Website (JP)