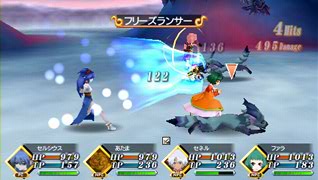 STOP STEALING OUR TRANSLATIONS. YOU KNOW WHO YOU ARE.

Three new videos were put up in the 
RM2 Official site
. The first one is a video of 
Celsius
, who happens to be playable, and is the last of all 50 characters. The second is a video on 
item downloads
 from the link site via serial numbers and passwords. Items such as costume sets inspired from Namdai's other games are available. The third is about the 
EX Attack Mode
. Entering this mode will let you play from the very beginning of the game, have access to downloadable quests, and be ranked online based on your performance on them.
The link site, where you'll be able to upload your character, download items, quests and participate in the ranking, opens on the 29th at 10am Japan time.
On a related note, those who will be purchasing BACK-ON's flyaway Tales of version will also be entitled to unique item downloads by entering the serial number found in the CD. Unique items such as Judas's Mask, Sunglasses and Date Glasses will be available for you.
Also, to those who have been debating whether or not to get RM2, I say get it. It's a big improvement from RM1, and is way more enjoyable. Although it's still the same as before, where quests are the main thing that will keep the storyline going.