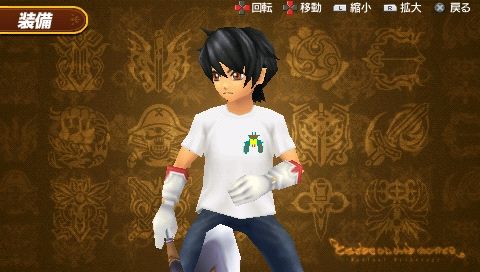 From March 18, 10:00am to April 1, 10:00am, a new EX Attack called "Determine The Strongest Dual Swordsman!" will be held.
 As the title suggests, the requirement for this EX Attack is to finish 50 battles as a Dual Swordsman.
All participants will be receiving a Galaga T-Shirt (above, 
back view
), while those who will be in the top 100 ranking will receive a 
Soul Edge Male
sword and 
Soul Edge Female
 sword (Soul Calibur reference).
There will also be new items available for download on the 18th. These include Cat Ears A, Bunny Head C, Reindeer Head and a Kagami Mochi (kagami mochi, or "mirror rice cake" is a kind of rice cake that looks similar to a kind of an old-fashioned round copper mirror, hence the name), all of which are headgear. More screenshots can be found 
here
.
Also, thanks to Derek, we now have DEEN's Eien no Ashita from the DEEN Next Stage Album available for download over at the Tales of Hearts Audio Page. Thanks!