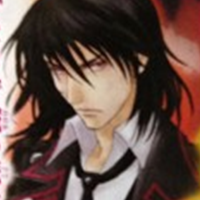 New scans for Tales of Xillia 2 reveal two new returning characters from the original Xillia: Gaius and Musee. And yes, they are confirmed playable. We also have two new other characters introduced, that guy in red that we've been seeing in the trailers, Ridou, and Chronos.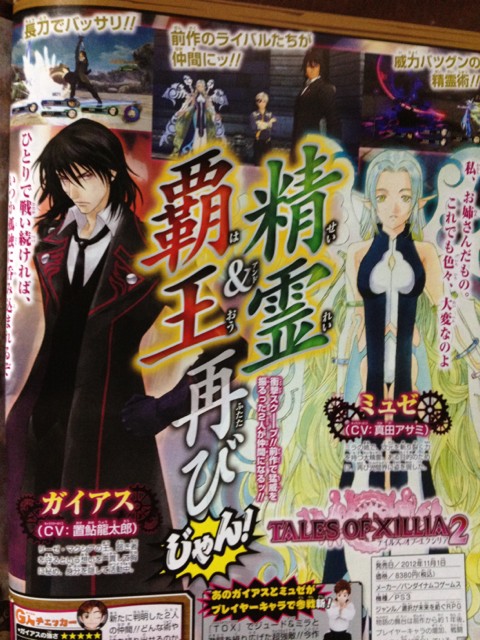 Gaius
(VA: Ry?tar? Okiayu) - The king of Rieze Maxia. He keeps the belief that the weak must be protected close to his heart. He is currently hiding his status as he moves about.
Musee (VA: Asami Sanada) - A Great Spirit who has the power to cut through dimensions. She is Milla's older sister. She has appeared once again in the human world to fulfill some goal.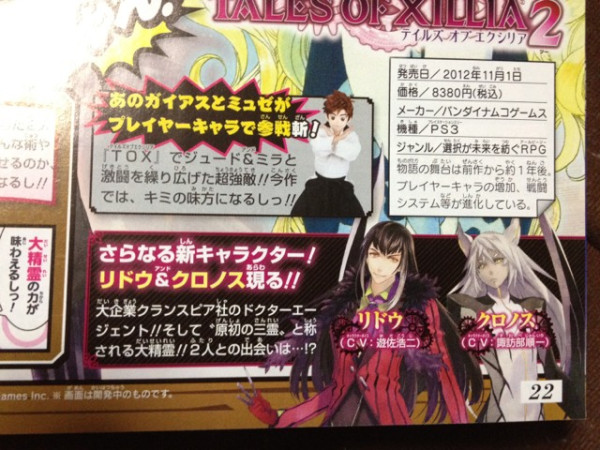 The two other characters include the man in red we've been seeing in trailers,
Ridou
, and he will be voiced by K?ji Yusa. The other character named
Chronos
, who I'm assuming is the Great Spirit they mentioned before (but he might not be, we still need to confirm this) will be voiced by Junichi Suwabe.
Tales of Xillia 2 will be released in Japan on November 1, 2012. Pre-orders are now available at the following places. Be quick, pre-orders run out fast!
Tales of Xillia 2 JP Version - Play-Asia | CDJapan | Amiami | YesAsia
Tales of Xillia 2 Asia Version - Play-Asia
Tales of Xillia 2 Famitsu DX Pack - Play-Asia | CDJapan
Tales of Xillia 2 Lalabit Market Kyun Chara Pack - Play-Asia | CDJapan
Tales of Xillia 2 X Edition (w/ PS3 controller) - Play-Asia (all slots currently sold out, check again later) | YesAsia