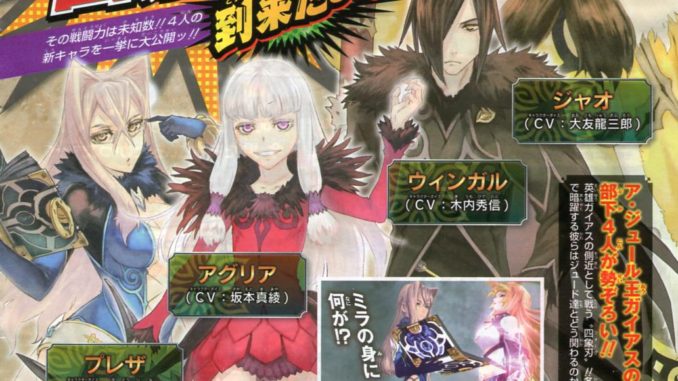 These new magazine scans from Jump finally reveal what most of us in the community have been wondering about: the game's Hi-Ougis/Mystic Artes. We get a first look at Jude's Hi-Ougi and we finally get to meet some of the characters that were shown in the third trailer. UPDATE: Full scan added.
As seen in the first scan, the Hi-Ougis have full-body cut-ins, similar to what they did in Tales of Graces/Graces f. We still don't know if the Hi-Ougis themselves would be similar to ToG Blast Calibers in terms of speed, or the slow type, as we've seen in games like Tales of Vesperia. From what I can read though, it just 
might
 be like Blast Calibers. Jude's Hi-Ougi is Final Fury ( ?????, 
Satsugeki Bukouken
), as seen in the screenshot.
We also get to meet four of the new characters that were shown in the game's 3rd trailer. All of them are apparently from the Kingdom of A Jule, under Gaius's rule. For the girls, we have the girl clad in blue, Preza ( ???, pureza) and is voiced by Rina Sat?. The creepy woman in red is Agria ( ????, aguria) and is voiced by Maaya Sakamoto.'
For the guys, we have Wingar ( ?????, wingaru) voiced by Hidenobu Kiuchi. If you'll recall, he was the man with King Gaius whom Rowen regarded as one of the pair of A Jule's Black Wings (this is not the same as the "Black/Dark Wings" we have recurring in the Tales series). We then have the big guy who was confronting Jude and Elise in the trailer, Jao, voiced by Ry?zabur? ?tomo.
No concrete info yet on who these people really are. All is said is that they are warriors all under King Gaius.
Sorry for the lateness, was doing homework~.