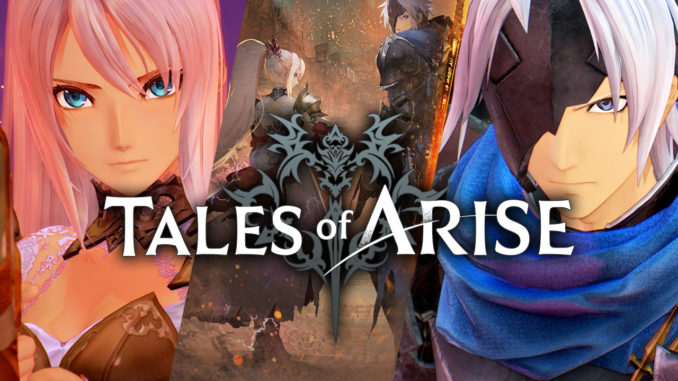 Well, here's our confirmation, straight from Microsoft's press conference at E3 2019!
The Next Tales of, "Tales of Arise" has just been "officially" announced over at Microsoft's Press Conference at E3 2019! Of course, not before being blatantly leaked online prior to the conference.
So there's really not much new to add to that leak aside from the confirmation that, well, it's real, and a stunning new trailer.
Without further ado, our Next Tales of game, "Tales of Arise" will be released for the PlayStation 4, Xbox One and PC next year, 2020.
UPDATED with the trailer, artwork, screenshots and information from the official press release.
Check out the reveal trailer below (the press trailer is a bit different from the E3 conference trailer, which only had music):
E3 2019 Reveal English Trailer
Check out the stunning visuals from the game trailer.
From the trailer, we're introduced to what seems to be the hero and heroine, previously shown in the leaks. It seems our hero is able to draw out a sword from the heroine. Also, heroine wields a gun. There's also another character shown very briefly in one of the scenes.
Key Visual and Logo
From the press release, the game description is as follows:
Game Information
Platform: PlayStation 4, Xbox One, PC Digital via Steam
Genre: RPG
Release: 2020
Publisher: BANDAI NAMCO Entertainment America, Inc.
Developer: BANDAI NAMCO Studios, Inc.
Rating: RP
Voiceovers: English, Japanese
Subtitles: English, Neutral Spanish, Brazilian Portuguese
Challenge the Fate That Binds You
On the planet Dahna, reverence has always been given to Rena, the planet in the sky, as a land of the righteous and divine. Stories handed down for generations became truth and masked reality for the people of Dahna.
For 300 years, Rena has ruled over Dahna, pillaging the planet of its resources and stripping people of their dignity and freedom.
Our tale begins with two people, born on different worlds, each looking to change their fate and create a new future.
Featuring a new cast of characters, updated combat, and classic Tales of gameplay mechanics, experience the next chapter in the world-famous Tale of series, Tales of Arise.
The Next Chapter
Experience the next chapter in the Tales of series, brought to life in stunning HD powered by Unreal Engine 4.
Dynamic Action
Dynamic action RPG featuring an updated battle system that retains classic Tales of gameplay.
A New Tale Awaits
Rich story featuring a vibrant world and new cast of characters.
Stunning Visuals
High quality animation created by ufotable.
Screenshots
High quality screenshots (...that were mostly previously leaked):
This would be the second time we got a major game reveal during a Microsoft conference in E3, with Tales of Vesperia: Definitive Edition having been announced first during the said conference in last year's E3. Hopefully, this is looking to be Bandai Namco Entertainment's attempt at being more "global" with their Tales of releases.
Tales of Arise
is now available at the following shops (
Note: Please keep in mind that we may receive a commission when you click on our links and make a purchase. This, however, has no bearing on our reviews and comparisons.
):

 North America:

 Europe:
We'll probably be getting more information on Tales of Arise during the upcoming Tales of Festival 2019. We'll be covering the event again with the help of Bandai Namco Entertainment Europe, so see you then!
Tales of Arise

Tales of Arise
is the latest mothership title (new classification: original title) of the Tales of Series which was first announced during 
Microsoft's Press Conference in E3 2019
. The game was released for the PS5, PS4, Xbox Series X, Xbox One and PC Digital via Steam on September 9, 2021 for Asia and Japan and September 10, 2021 for the rest of the world. The game features use of the Unreal Engine 4 and works on the theme of tradition versus evolution of the series.
Info Page | News | Gallery | Official Website (US) | Official Website (JP)