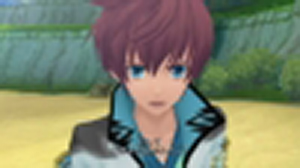 The Tales of Graces official site has been updated with two new character videos of Asbel Lhant and Pascal. Other updates of the ToG site include images and info on the Wii bundle and BoA's Mamoritai ~White Wishes~ single.

In Asbel's video, we witness him getting angry at Cheria for doing something that could have endangered her life. In Pascal's video, we see her talking together with Asbel and Richard. The two videos will be added to our 
ToG Videos Page
 at another time.
In the other updates of the ToG site, the Spec section has been updated with the packaging of the ToG Wii bundle. The Special section of the site has been updated with information on the contents of BoA's Mamoritai ~White Wishes~ single, as well as info on BoA herself.
Regarding AC, I have been getting some reports that people have been experiencing Trojan virus alerts when visiting some parts of the site. In order to fix this, I will need some help =. To those who are experiencing this, could you please take a screenshot of the virus alert (preferably the detailed report, if your antivirus offers it) that you get, and tell us which specific parts of AC you experience getting the alerts? That way, we can hopefully somehow narrow down the source. Thank you very much to those who will cooperate ?.