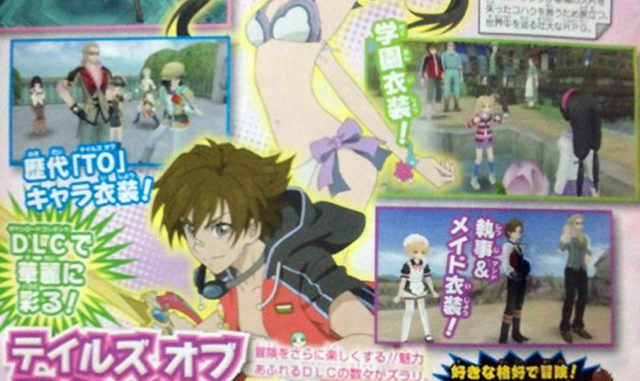 This week's Tales of Hearts R update comes from their recent episode during Bandai Namco Live TV. Some gameplay of the main game and Infinite Evolve were shown, along with some upcoming products about the game. The other update includes a scan featuring a bunch of new costumes for the characters and what seems to be a modification of the characters' Mystic Arte cut-ins.
Tales of Hearts R: Main Game and Infinite Evolve Gameplay
The new scan features new Tales Cameo Costumes. The image we have is currently too small, but from what I can make out, we have Jadeite/Hisui as Spada Belforma (Tales of Innocence/Innocence R), Kohak/Amber as Marta Lualdi (Tales of Symphonia: Dawn of the New World), Beryl as Patty Fleur (Tales of Vesperia PS3), Galando as Malik Caesars (Tales of Graces/Graces F) and Innes as Judith (Tales of Vesperia). Other costumes that were announced include Idol Costumes, Maid & Butler Costumes and School Costumes.
UPDATE (03/05/2013): Apparently, the other Tales cameo costumes include Shing as Caius Qualls (Tales of the Tempest), Calcedny as Yggdrasill (Tales of Symphonia) and Kunzite as Repede (Tales of Vesperia). No scans or anything on this, so I'm not sure exactly how Kunzite=Repede would even work...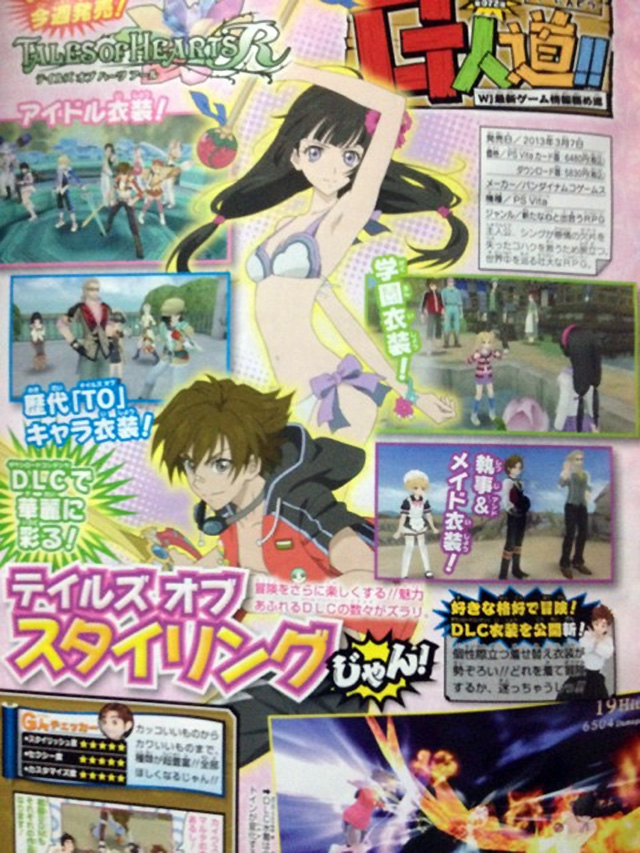 But not only that. It seems that these DLC will also include
modified Mystic Arte cut-ins for the characters, reflecting the costumes they're wearing during the Mystic Arte
. I'm not sure if this will affect all costumes, but so far it's been confirmed for the previously announced
Swimsuit Costumes
.
Tales of Hearts R will be released in Japan on March 7, 2013. Pre-orders are now available at the following places:
Tales of Hearts R Regular Edition (Japan ver) - Play-Asia | CDJapan | Amiami | YesAsia
Tales of Hearts R Regular Edition (Asia ver) - Play-Asia
Tales of Hearts R Link Edition - CDJapan (still available) | Amiami | Play-Asia (all slots currently sold out, check again later)
Tales of Hearts R Lalabit Market Edition - Play-Asia | CDJapan