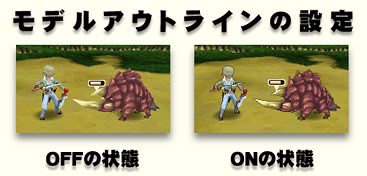 And we said we wouldn't pay much attention to the Staff Voice... Oh the irony >_<.
Anyway, an update has been made over at the Tales of Innocence Staff Voice Page. Again, it's Dai Yakata-san bringing us the scoop on what's happening to the game. He starts off with how the New Game and New Game+ options work (YES, THERE'S A NEW GAME+ THIS TIME), and about the game having a max of 3 save files (T_T). Also, as illustrated above, they've given players the option to turn on and off the "Model Outline" feature of the game (that is, having this border around the characters for better viewing) in the options menu of the game.
And... that's it >_<.