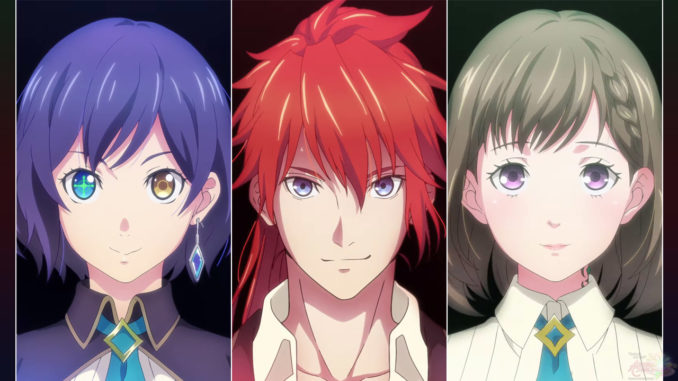 Introducing three characters from the Federation.
We'll try to space this out and not make 21 posts for 21 character introduction trailers.
Bandai Namco Entertainment has just shared three character introduction trailers for three characters from the Federation side in Tales of Luminaria.
Leo Fourcade (レオ・フルカード, reo furukaado)
There's only one way forward. That's to keep on fighting nobly. Because that's the Fourcade family way!
CV: Aaron Dismuke (English); Ryohei Arai (Japanese)
Birthday: July 24th, 982 Year of the Creator
Japanese version trailer here.
A young man who's taken his deceased grandmother's teaching to 'live nobly' as his creed. He enters the knight academy along with his friends, Celia and Hugo. He and Hugo were taken in by Celia's relatives after losing their hometown as children. Passionate to a fault, his efforts often spin him in circles as a result of his 'act first, think later' attitude. To defeat the empire that destroyed his hometown, he joins Blaze to improve his skills alongside his companions.
Celia Arvier (セリア・アルヴィエ, seria aruvie)
If I'm gonna be a knight than a helpless princess, then I need to be able to handle myself and combat.
CV: Cristina Vee (English); Miho Okasaki (Japanese)
Japanese version trailer here.
Birthday: January 8th, 982 Year of the Creator
Leo and Hugo's childhood friend. She enters the knight academy with them and joins the ranks of Blaze. A natural caretaker, she always keeps a close eye on her friends, even as she feels they've grown distant from her, a trend that started when she was the only one absent when their hometown was destroyed. With good sight and a discerning eye, she specializes in long-distance attacks with her bow.
Michelle Bouquet (ミシェル・ブーケ, misheru buuke)
I wanna be a kind of person who can always make the right decision.
CV: Dawn M. Bennett (English); Yuna Ogata (Japanese)
Birthday: September 10th, 982 Year of the Creator
Japanese version trailer here.
Her doctor parents died while she was young. Raised and trained in medicine at her grandfather's clinic, she entered the knight academy after receiving encouragement from a certain individual. Along with her contemporaries, Celia, Leo, and Hugo, she's training to be a knight, but she acts somewhat awkward around Leo. While her supportive healing artes give her a gentle impression, she's equally capable of inspiring her allies in desperate situations.
You'll note that the end of each character trailer has a sneak peek on the next character to be introduced. From Michelle's trailer, it seems the next character will be Maxime Hasselmans, as voiced by Ricco Fajardo.
Pre-registration for Tales of Luminaria has already begun for iOS and Android.
Tales of Luminaria

Tales of Luminaria
is an upcoming Tales of Series original title for iOS and Android released November 2021. The game was first announced during
Gamescom Opening Night Live
. Unlike the recent Tales mobile games, Luminaria has been
reported
to have its own original world with only original characters and no previous Tales characters, as well as an English dub. Unfortunately, the game has announced termination of service worldwide on July 19, 2022.
Info Page | News | Gallery | Official Website (EN) | Official Website (JP)