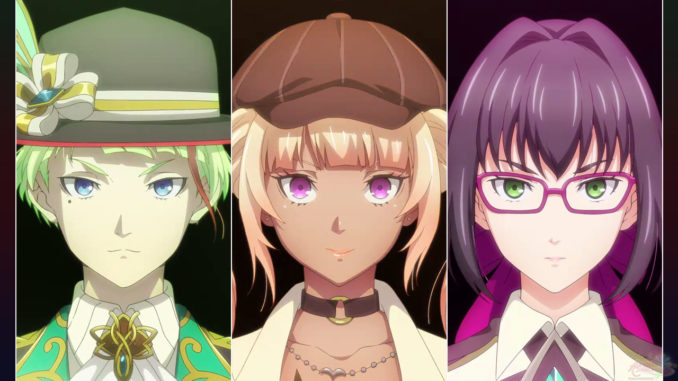 Introducing three more new characters from the Federation.
Here is the next batch of Tales of Luminaria character trailers. Bandai Namco is releasing one trailer a day, but for the purposes of the website, we're spacing them out to every three trailers.
Maxime Hasselmans (マクシム・アセルマン, makushimu haseruman)
I am second son of the renowned Hasselmans family.
CV: Ricco Fajardo (English); Saito Souma (Japanese)
Birthday: December 21st, 980 Year of the Creator
Weapon: Bow
Japanese version trailer here.
''On the pride of the Hasselmans'' is this young scion's favorite phrase. He insists Lucien is his rival, but Lucien doesn't pay him much mind. Sometimes stuck-up and sometimes cowardly, he's often the butt of his underclassmen's teasing. But he's considerate of those around him and when the chips are down, he's got what it takes to do what must be done. He lives in the shadow of his talented older brother and dreads that his father expects nothing of him.
Yelsy (イェルシィ, ierushii)
Come at me! I'll take you all on!
CV: Suzie Yeung (English); Himika Akaneya (Japanese)
Birthday: February 24th, 981 Year of the Creator
Weapon: Spear
Japanese version trailer here.
The daughter of the Divine Queen and princess of Amr Qhaghan. Lives together with Toto, a creature only she can see. Laid back in both her speech and attitude, Yelsy has the kind of cheerful personality that can make anyone feel like an equal. She's friendly with everyone in Amr Qhaghan, regardless of age or gender. She's even able to get along with her classmate Vanessa, who is her polar opposite in personality.
Vanessa Morax (ヴァネッサ・モラクス, vanessa morakusu)
I am but a sword. A sword to cut down our foes!
CV: Jamie Marchie (English); Anna Yamaki (Japanese)
Birthday: April 25th, 981 Year of the Creator
Weapon: Twin Blades
Japanese version trailer here.
A member of Blaze whose strength is second only to Lucien's. Her skills have earned her the respect of the younger members, but she struggles with decision-making and relies on others to determine how she should act, as if seeking someone to take the lead for her. Although she has a serious and formal demeanor, she is adorably thrown into a panic when caught off guard.
You'll note that the end of each character trailer, there is a sneak peek on the next character to be introduced. From Vanessa's trailer, it seems the next character will be Lucien Dufaure, as voiced by Micah Solusod.
Pre-registration for Tales of Luminaria has already begun for iOS and Android.
Tales of Luminaria

Tales of Luminaria
is an upcoming Tales of Series original title for iOS and Android released November 2021. The game was first announced during
Gamescom Opening Night Live
. Unlike the recent Tales mobile games, Luminaria has been
reported
to have its own original world with only original characters and no previous Tales characters, as well as an English dub. Unfortunately, the game has announced termination of service worldwide on July 19, 2022.
Info Page | News | Gallery | Official Website (EN) | Official Website (JP)