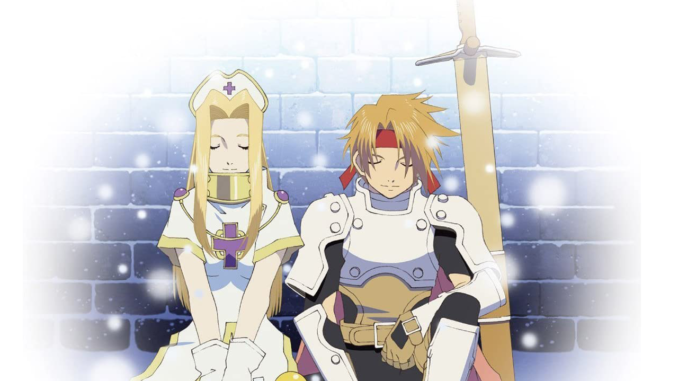 On their Twitter page, Anime licensing company Discotek Media has announced that they have licensed Tales of Phantasia: The Animation and will release the series on Blu-Ray in April of 2022.
Another announcement!

Tales of Phantasia! Based on the classic JRPG.

Japanese w/ subs and the English dub along with some nice interview extras.

Out in April! pic.twitter.com/ux4OT1YMGE

— 💿Discotek Media (@discotekmedia) December 14, 2021
At the moment, the only information available on this release is that it will include the original Japanese audio with English subtitles, as well as the English dub. Other known features include "some nice interview extras", though the image included in the tweet notes that other features are currently to be announced. The tweet also includes what seems to be the cover art of the release, featuring Cress Albane and Mint Adnade as well as a new logo.
Tales of Phantasia: The Animation was previously released on DVD back in 2007 by GENEON USA with an English dub featuring Johnny Yong Bosch, who has also played Guy Cecil in Tales of the Abyss and Emil Castagnier in Tales of Symphonia: Dawn of the New World, playing Cress. After GENEON USA shut down, FUNimation took over the license (this is generally considered a "license rescue" by anime fans) and released their own DVD of the series in 2008, though the content of their version remained the same as in GENEON USA's release. There has been no other English physical release of this series in North America until this announcement. The series is, however, available for streaming on Crunchyroll, also licensed by Discotek Media.
Breaking character once again (y'all can stop me at any time), this is great news for fans who weren't able to pick up either of the old DVDs back then, which have long been out of print. And as a collector myself, I think that Discotek does a great job with their high quality film and audio masters. It'll be worth the wait to get it and it'll look and sound amazing!
Tales of Phantasia: The Animation

Tales of Phantasia: The Animation
is four-part OVA (original video animation) adaptation of the events of
Tales of Phantasia
. Animated by Actas, Inc. and produced by Frontier Works and Geneon Entertainment, the OVA also received a localized release, complete with an English dub.
Tales of Phantasia

Tales of Phantasia
is the first and founding title for the Tales of Series, first released back in 1995. At present, it is the title with the most number of ports and/or remakes and also has an anime OVA adaptation. The game features heavy influences of time travel and a bit of Norse mythology. It is confirmed as a distant sequel to
Tales of Symphonia
.