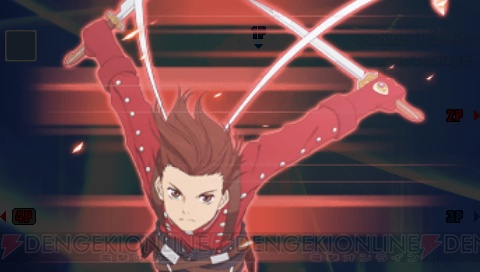 The Tales of VS. Official Site has just been updated with five new character videos of previously revealed characters, namely Lloyd Irving, Senel Coolidge, Rita Mordio, Tear Grants and Colette/Collet Brunel.
All of them are performing their hi-ougis in their respective videos. The hi-ougis used are:
» Lloyd - ????? (Tenshou Souhazan, Falcon's Crest)
» Senel - ????? (Banbutsu Shintsuigeki, Lord of Creation, this used to be a base throw in Tales of Legendia)
» Rita - ????????????? (Ancient Catastrophe)
» Tear - ????????? (Innocent Shine)
» Colette - ??????????? (Holy Judgment)
All of their official art from the VS. site have been added to the gallery. And I realized that I haven't done the translation of the character descriptions for the said characters. Will have it done once I'm not that busy with school anymore.
Also, from this interview of Go Shiina (music composer for Tales of Legendia), Shiina will be doing arranges of some of the tracks in the upcoming Tales of VS. The interview included samples of the themes Seeking Victory (from ToL) and THEME OF BATTLE (from ToD2). You can listen to them/download them below. Another fun fact, Go Shiina was actually responsible for a few of the original tracks in Tales of Fandom Vol 2 and Tales of the World: Radiant Mythology 2. Well, that explains the number of awesome original tracks for those games.
Sample Tracks from Tales of VS. - Go Shiina
Seeking Victory (ToL) - Listen | Download
THEME OF BATTLE (ToD2) - Listen | Download